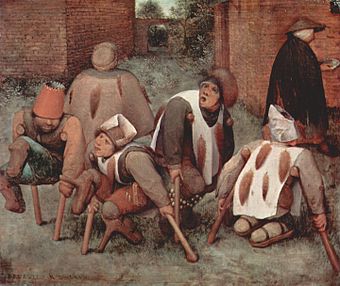 Bethesda Lutheran Communities has a phenomenal vision and perspective on supporting people with disabilities. Bethesda Lutheran Communities firmly believes that those with disabilities are indispensable to the church, which is the body of Jesus Christ (Go to this video link for their promotion of this theme). Of particular import is 1 Corinthians 12:22, which reads: "…the parts of the body that seem to be weaker are indispensable" (ESV). Here is the full context:
The eye cannot say to the hand, "I have no need of you," nor again the head to the feet, "I have no need of you." On the contrary, the parts of the body that seem to be weaker are indispensable, and on those parts of the body that we think less honorable we bestow the greater honor, and our unpresentable parts are treated with greater modesty, which our more presentable parts do not require. But God has so composed the body, giving greater honor to the part that lacked it, that there may be no division in the body, but that the members may have the same care for one another. If one member suffers, all suffer together; if one member is honored, all rejoice together (1 Corinthians 12:21-26; ESV).
The Corinthian Christians celebrated the spiritual gifts that were more visible and showy, that is, when used wrongly (See 1 Corinthians 12 and 14). They celebrated a fleshly kind of power and wisdom rather than the weakness and foolishness of the cross, as revealed in 1 Corinthians 1. Given their lack of spiritual discernment, they would often fail to discern Godly power and wisdom. Thus, it is no wonder that Paul needs to highlights how indispensable the weaker parts of the body are. In Bethesda Lutheran Community's view, those who are indispensable include those with disabilities in the church. I heartily agree.
Rather than see ministry among those with disabilities involving simply "to" and "for," Bethesda also emphasizes "with." Those with disabilities have gifts that benefit the body of Jesus Christ. We need those with disabilities as much as they need us. Perhaps we even need them more in American culture given the dominant emphasis in the States on intellectual prowess and efficiency. While intellect and efficiency have their place, we must not allow these traits to shape how we expect the Spirit to operate. After all, even a cursory  glance at the New Testament reveals that God often operates in a counter-cultural, upside-down and paradoxical way.
Speaking of paradoxical, the journal Social Science and Medicine published an article titled "The Disability Paradox: High Quality of Life Against All Odds." The authors ask about what they take to be a "disability paradox": "Why do many people with serious and persistent disabilities report that they experience a good or excellent quality of life when to most external observers these individuals seem to live an undesirable daily existence?"
Not only do we find a paradox, but at least in the case of Down Syndrome, there is an advantage. A 
New York Times
 article titled
"The Truth About Down Syndrome"
 discusses the "Down syndrome advantage." For example, there is often less familial stress for families with pre-schoolers suffering from Down syndrome than those with pre-schoolers suffering from autism. In fact, it is sometimes comparable to families with non-disabled children. Moreover, divorce raters are lower for parents of children with Down syndrome than for parents of non-disabled children and those of children with other congenital disabilities. A very high percentage of siblings claim to be better people as a result of their Down syndrome family members. Moreover, Down syndrome individuals have much greater adaptive skills than their low IQ scores may convey.
Speaking of IQ scores, we need to account for multiple forms of intelligence, including the need for an expansive imagination. Indeed, a narrow view of intelligence is often accompanied by a failure of imagination. An article on disabilities in the Stanford Encyclopedia of Philosophy argues that "the difficulty in appreciating that people with disabilities may have lives as good as those of people without disabilities, objectively as well as subjectively, may arise in part from a failure of imagination by nondisabled people." I would go so far as to say that those of us who are not disabled may be crippled in our emotional and imaginative states and need those with disabilities to instruct and help us.
In future posts, I hope to discuss further how indispensable people with disabilities are to the life of the church and society at large. Among other things, including our need for growing imaginatively, people with disabilities reveal to us the nature and character of God's kingdom, as already indicated in this post. As the Apostle Paul writes in 1 Corinthians 1,
For consider your calling, brothers: not many of you were wise according to worldly standards, not many were powerful, not many were of noble birth. But God chose what is foolish in the world to shame the wise; God chose what is weak in the world to shame the strong; God chose what is low and despised in the world, even things that are not, to bring to nothing things that are, so that no human being might boast in the presence of God. And because of him you are in Christ Jesus, who became to us wisdom from God, righteousness and sanctification and redemption, so that, as it is written, "Let the one who boasts, boast in the Lord" (1 Corinthians 1:26-31; ESV).
If God uses what is deemed by the world weak and foolish to shame the strong and wise, we should be quick to repent of our sense of adequacy in our own might and what we deem right in our autonomy and self-sufficiency. People with disabilities reveal to us our deep need to depend on God at every turn!
Moreover, further to what was referenced above in scholarly literature, people with disabilities reveal to us our need to enhance our own quality of life. They are often far-better adjusted and more grateful, since they do not take as much as we–who are able-bodied but crippled in thanksgiving–do for granted.
So, rather than sweep those with disabilities out of the church, or remove them to some downstairs backroom, or simply minister to them, include those with disabilities in various forms of leadership. After all, they are indispensable.
Join The Institute for Cultural Engagement: New Wine, New Wineskins for our conference "From Isolation to Inclusion: A Conference on Disabilities" scheduled for Saturday, March 16th in Portland, Oregon at Multnomah University and Multnomah Biblical Seminary. Bethesda Lutheran Communities will be participating with New Wine, along with others.