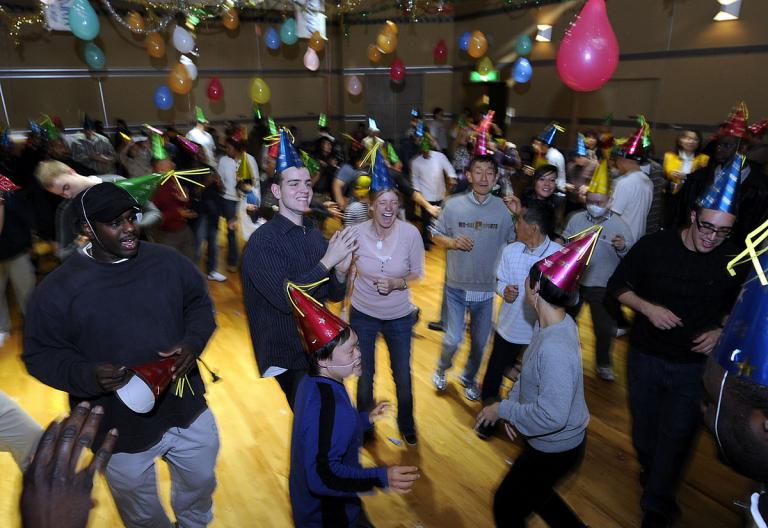 We all need encouragement to gain courage to take risks in life. Thus, it is no wonder that people with disabilities need encouragement and support, just like the rest of us. Gratefully, there are places and people who provide support for people with disabilities to flourish. The key for us is to move from isolation to invitation and inclusion so that the only place that is truly disabled is where people with disabilities are not welcome.
Stephen's Place in Vancouver, Washington is a place that supports those with disabilities and finds ways to connect their residents to the community at large. Stephen's Place  "focuses on family and community."  The website provides the following overview:
We partner with families to provide a loving, supportive adult care home for adults with developmental disabilities. Our unique approach is to create a safe, active and healthy environment that is rich in community interaction and family involvement. We are committed to providing a beautiful space for our residents to thrive – to make friends, work, play, volunteer and enjoy life.
I had the opportunity to interview Heather Stenberg, the Executive Director, of Stephen's Place. You can find the video of the interview at the close of this blog post. Heather's love for Stephen's Place's vision and mission and the people who live there is life-giving. Heather will be the first to say that the residents also renew her life and bring her meaning and joy. Heather understands full well that society often approaches those with disabilities in unimaginative terms that places limits on them. Stephen's Place exists to support them and assist them with removing those barriers and impositions so that they can experience life to the full.
Heather wants to make sure that the residents at Stephen's Place have the same opportunities the rest of us have, and which they themselves create, so as to flourish in society. My colleague Derrick Peterson and I met some of the residents when we interviewed Heather on site at Stephen's Place. One of the residents was on his way to work. Living at Stephen's Place has opened up new vistas for him to express himself and make vital contributions in his surrounding community. Another person living at Stephen's Place has started college. It is something she has always wanted to do, but really needed the encouragement and support that would make it possible to take the necessary risks and exercise her agency. Heather and the team at Stephen's Place encouraged her to go for it. Of course, there are challenging days at school, but her supportive community helps her build resilience. Heather also mentioned a dance all the residents attended, and how they supported and had one another's backs in public. The residents and the surrounding public also have one another's backs as Stephen's Place and its residents partner with Habitat for Humanity, a church next door, a community garden initiative, a Montessori preschool, and an elementary school across the street.
Heather mentioned that if the society at large were to include and provide encouragement for those with disabilities rather than exclude and easily institutionalize them, and if we supported one another rather than operate in an impaired, isolated manner, there would not be a need for caring, inclusive communities like Stephen's Place. Until then, we need supportive environments like Stephen's Place to inspire us and lead us forward in understanding and supporting one another–every one of us–in the midst of the various challenges we face. Communities like Stephen's Place encourage us to be courageous and move out from our disabled and distorted reality of stranger-hood and into a heart-set and mindset of neighborhood wherever we go in society, migrating from isolation to invitation and inclusion.
Join Heather Stenberg and New Wine, New Wineskins for the upcoming conference "From Isolation to Invitation: A Conference on Disabilities" on March 16th at Multnomah University and Biblical Seminary.