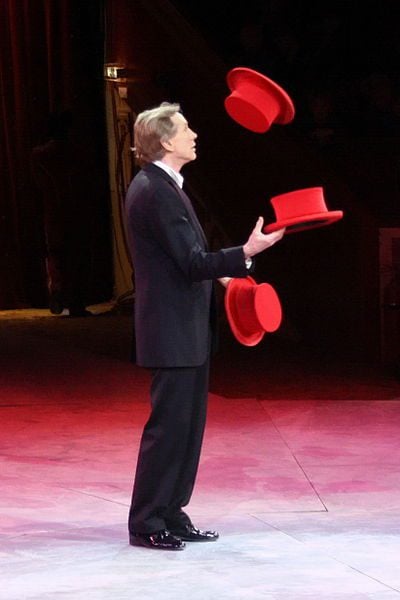 No doubt you have seen hat jugglers perform. They demonstrate great adroitness in juggling hats to the amazement of many. The same thing happens in various other sectors of life, including Christian ministry, where people manifest amazing agility in performing many tasks well, and all at once! Such is the case with Pastor Jay DeBeir. He serves as Executive Vice President and C.O.O. of Lutheran Hour Ministries (LHM). Jay also serves on the Board of Bethesda Lutheran Communities. In addition, he provides pastoral care. The following interview highlights Jay's humble mastery of various ministry skills in genuine service to Jesus and people of diverse walks of life around the globe. You can reach Jay at Twitter ( @debeirj ) to learn more about his many-hatted ministry.
Paul Louis Metzger (PLM): What's it like "juggling" so many hats? For example, you serve as a Lutheran pastor, Executive Vice-President and C.O.O. of Lutheran Hour Ministries, and as a board member of Bethesda Lutheran Communities.
Jay A. DeBeir (JAD): I am blessed to serve in a variety of areas. Like most people, when you look back on your life, you can see how God has perfectly prepared an imperfect person to serve the Lord. I started as a master's level clinical psychologist and eventually was an executive accountable for the operations of multiple inpatient psychiatric programs spread across the country. Both my clinical training as well as my background in executive management led me to pursue working more directly in ministry. I am a highly relational person and love to help and serve others. All these pursuits have been super fulfilling for me.
About 15 years ago, I began working in various executive capacities within my denomination (LCMS). I also started attending the denominational seminary at that time. My current "day job" at Lutheran Hour Ministries is mainly working as the executive accountable for developing and executing our ministry's strategy and providing leadership to keep the ministry's momentum moving forward. This is the type of work I have done most of my career.
My board work with Bethesda Lutheran Communities also leverages these skills in a healthcare ministry that serves the developmentally disabled. Here I also draw on the healthcare executive management skills that I developed during the first part of my career.
What really keeps me grounded is serving as a volunteer pastor in a local parish where I provide hospital visitation, pre-marital counseling, as well as lead worship. All of these activities are related to areas of my life that I have a passion for – using my abilities to serve others. Plus, I guess I get bored easily!
PLM: I'm sure Martin Luther would be thrilled with your move to connect pastoral work to the surrounding culture (given his particular move from the cloister to the public square). How do you see your work in these three domains operating in harmony and synergy? Or to put it another way, how does your pastoral work impact the other two spheres, and how do they impact your pastoral work?
JAD: Wow! That's a great question! My work at Lutheran Hour Ministries provides a really good way to answer this question. What I find interesting at LHM is that we are a global ministry serving more than 50 countries out of 35 offices. We use a ministry model that is unique as well in that we employ local (indigenous) people in each country—about 350 people outside the United States. This allows us to be cultural "insiders" in each country where we serve (similar to how Paul was a "Roman when he was in Rome"). Being imbedded in any given culture allows us to first develop relationships with people, where we can share the love of Jesus with them and speak His truth into their lives. Often this begins by leveraging social media to build relationships as well as leveraging mass media that is produced in their culture. For example, we partner with another ministry to broadcast in the Middle East. We broadcast a TV variety show in the Arabic, Farsi, and Dari languages. We use these shows to provide Christian examples of love, empathy, and forgiveness as an outreach effort to highlight the unique and distinctive qualities of the Christian faith. We also develop social media content that is not overtly Christian but seeks to engage those who do not know Jesus in a non-judgmental conversation where we hope to gain a hearing for the Gospel.
All in all, we reach about 1 million people each week in the United States with the Gospel, and, in terms of scale, we reach another 130 million outside of the US with the Gospel. Our public square proclamation is really about meeting people with the grace, mercy, forgiveness, and acceptance that the Gospel offers through Jesus. I firmly believe the faith will continue to grow in the US as well as across the globe as the Holy Spirit manifests the love and compassion of Jesus through us.
PLM: Please tell us about Bethesda Lutheran Communities.
JAD: Bethesda Lutheran Communities is a 100-year-old ministry that serves the developmentally disabled in various states across the country. Interestingly, when Bethesda was founded, their initial campus was located on a river. Due to a lack of understanding (and a misapplication of germ theory, which was rather new at the time), they were forced to move from the original location in fear that developmental disabilities could be passed down stream through the river water.
Today, Bethesda has grown to be a national leader in providing homes and support for thousands of people. The ministry also promotes awareness and advocacy for people with intellectual and developmental disabilities. Many people with these disabilities can be integrated into the community, live independently, and can be employed. We have even developed a program called Bethesda College in partnership with Concordia University Wisconsin, where the people we serve can have an abbreviated residential college experience.
Essentially, Bethesda partners with our clients, and often their families, in order to help the disabled flourish. In the past, many of these saints were secluded and disengaged from society. Bethesda offers support and service to help our clients live life to the fullest and be integrated into our society.
We also help our clients integrate into communities of faith (often local congregations) where they also can grow in their walk with the Lord and be vital contributors in these communities of faith. Personally, the congregation to which I belonged during my childhood had a robust relationship with a local Bethesda group home. It was wonderful to get to know these Christian brothers and sisters as well as participate in worship with them on a regular basis. It has been an honor to participate on Bethesda's Board of Directors and serve this population.
PLM: What excites you about your work as a pastor that gets you out of bed in the morning? What do you see as an urgent need in the pastorate today in our society?
JAD: Probably the most exciting thing that motivates me and gets me going is the joy I have in serving at so many levels in various ministry endeavors. The scope, scale and creativity of the people that make up Lutheran Hour Ministries foster a challenging and fun environment. We have gathered a group of people who are passionate about Gospel proclamation and are extremely creative in leveraging new and emerging technologies around the world to reach more and more people to gain a hearing for the Gospel. It is very exciting.
It's equally exciting to get a call to visit someone in the hospital one-on-one and bring Jesus' love to bear on an individual level. Similarly, the volunteer work at Bethesda is also rewarding in knowing that our collective efforts make a significant difference for these brothers and sisters in need.
Probably the most urgent need in the world today from a pastoral perspective is to meet people in our society right where they are. This is especially difficult in the United States, where there are such deep polarities, which are often exacerbated by social media. We face the risk of losing an ability to simply engage people in conversation, build relationships, and exercise our faith among our neighbors. One of my favorite Luther quotes is "God doesn't need your good works, but your neighbor does." That's the truth! … but it seems it's more important to "be right" than to be compassionate. The most urgent need is literally to love our neighbor. God has placed our mission fields in our backyards. You can literally have a stay-at-home mission trip.
PLM: Lastly, what are one or two matters of pressing import related to the future of Lutheranism, Lutheran Hour Ministries, and Bethesda Lutheran Communities, and how does that future bear on your ongoing work?
JAD: Again, my primary "day job" is at Lutheran Hour Ministries, where the most important pressing matter is opportunity. Technology helps to collapse the world's size. We now have people in rural areas of Africa with cell phones and cell phone service!
The Church in the global south, Asia, and Africa is rapidly expanding. Non-western cultures are open to and often seeking the message of the Gospel. One factor is the lack of "normal nihilism" that we experience in the west (that's a topic worthy of a dissertation). These people are seeking truth that is outside them. They are open to conversations of forgiveness, acceptance, and eternal life.
It is immensely exciting to see technology expand into these areas and to figure out how to leverage the technology to proclaim the Gospel and Biblical truths to new populations. It is a great time to be in ministry!