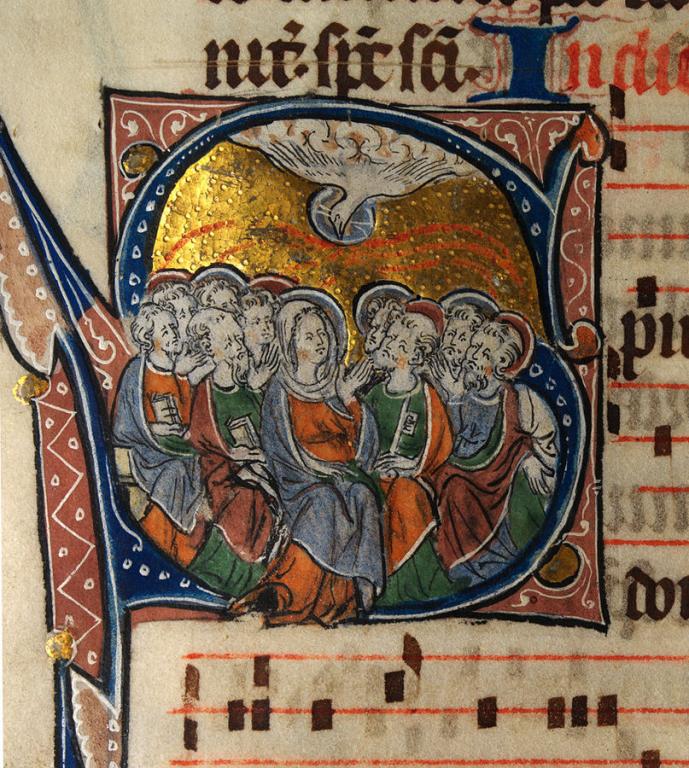 Have you heard the saying, "They are of such heavenly value that they're of no earthly good"? Sometimes this statement is taken to refer to Christians whose heads and hearts are above the clouds, lost in thought about spiritual ideals that have no bearing on life here on earth. The dual teaching of the Ascension and Pentecost, which is celebrated on consecutive Sundays, flies in the face of this saying. Those who take to heart this dual teaching and seek to live it out will be of such heavenly value that they will be of great earthly good. They hit the ground running, since the ascended Jesus extends his incarnate ministry through the Spirit in them. They are above the fray, yet their feet are firmly on the ground. We find this dynamic at work in The Acts of the Apostles. Take for example the opening verses of Acts chapter 1:
In the first book, O Theophilus, I have dealt with all that Jesus began to do and teach, 2 until the day when he was taken up, after he had given commands through the Holy Spirit to the apostles whom he had chosen. 3 He presented himself alive to them after his suffering by many proofs, appearing to them during forty days and speaking about the kingdom of God. 4 And while staying with them he ordered them not to depart from Jerusalem, but to wait for the promise of the Father, which, he said, "you heard from me; 5 for John baptized with water, but you will be baptized with the Holy Spirit not many days from now." 6 So when they had come together, they asked him, "Lord, will you at this time restore the kingdom to Israel?" 7 He said to them, "It is not for you to know times or seasons that the Father has fixed by his own authority. 8 But you will receive power when the Holy Spirit has come upon you, and you will be my witnesses in Jerusalem and in all Judea and Samaria, and to the end of the earth." 9 And when he had said these things, as they were looking on, he was lifted up, and a cloud took him out of their sight. 10 And while they were gazing into heaven as he went, behold, two men stood by them in white robes, 11 and said, "Men of Galilee, why do you stand looking into heaven? This Jesus, who was taken up from you into heaven, will come in the same way as you saw him go into heaven" (Acts 1:1-11; ESV).
Right out of the gate, the author, who is traditionally recognized as Luke, refers Theophilus, the recipient of this book, to his former volume, which is generally understood to be the Gospel of Luke. Luke claims that in his first book (Luke) he recounted "all that Jesus began to do and teach" until his ascension (See Acts 1:1-2). The implication is that Jesus was not finished with working here on earth. Indeed, now he continues to act and teach through his apostolic community. It is worth pointing out at this juncture that according to Acts 1:1-2, we do not extend Jesus' holistic ministry of word and deed. Rather, Jesus extends his ministry through us.
Moreover, just as Jesus is not finished teaching and operating here on earth with his ascension, so the Spirit did not begin his ministry at Pentecost. As Acts 1:2 makes clear, Jesus instructed his followers in his commands through the Spirit prior to Jesus' ascension. We find here biblical support for St. Irenaeus' teaching that Jesus and the Spirit are the two hands of God. God always works through Jesus and the Spirit, who are always operating together.
As God's two hands, Jesus and the Spirit reveal that God rolls up his sleeves and gets to work in the dirt and grime of daily life. The ascension shows that Jesus is above the fray, as are his people who have been raised with him in spirit through the Spirit to the heavenly throne. However, while on earth, Jesus entered fully into our struggles and poured out his life's blood, sweat, and tears. Even on earth, while tackling evil head on and identifying with us sinners in our daily struggles, he still stayed above the fray. So, too, through the Spirit, he continues to act in and through his true followers throughout the ages, leading us to place our feet firmly on the ground while staying above the fray and sharing the good news of Jesus in word and deed at great cost to ourselves for the sake of others.
It's easy to lose sight of either staying above the fray or failing to get to work. In Acts 1, the angelic messengers appear to challenge the apostles to get to work, "Men of Galilee, why do you stand looking into heaven?" (Acts 1:11; ESV). Yes, Jesus will return "in the same way" (Acts 1:11). The implication appears to be Now, it's time to get to work, beginning with waiting for the Spirit's descent at Pentecost in a spirit of prayer. The disciples may have been tempted to lose themselves in the cloud that hid Jesus from their sight, becoming of such heavenly value that they were of no earthly good (Acts 1:9). However, the angels snapped them out of their seeming dream-like state to take action—which is exactly what they did. That is why the book is called "The Acts of the Apostles."
The rest of the book is about the apostolic community being Jesus' witnesses in Jerusalem, Judea, Samaria, and the ends of the earth. The preached and taught, they prayed, they performed miraculous signs and healings, they served, they broke bread together and shared everything in common (See the summary statements in Acts 2:42-47 and 4:32-37). In other words, they were of greatly earthly good.
The ascension and Pentecost go together, as without the ascension, there is no point of reference for staying above the fray. Persecution ensued as a result of the missional movement of God's Spirit. They could easily have gotten lost as a community in their service and/or in their suffering. They could have easily lost sight of the need to serve others in costly ways, if they had lost sight of Jesus, who poured out his life for the sake of the world. It is important that we ourselves keep in mind Jesus' ascended state and that we reside with him spiritually in our hearts, minds, and imaginations:
If then you have been raised with Christ, seek the things that are above, where Christ is, seated at the right hand of God. 2 Set your minds on things that are above, not on things that are on earth. 3 For you have died, and your life is hidden with Christ in God. 4 When Christ who is your life appears, then you also will appear with him in glory (Colossians 3:1-4; ESV).
It is also important to keep in mind Jesus' return. Acts 1:11 reminds us, Jesus will return in like manner, and as Colossians 3:4 highlights, Jesus will appear and we will appear with him in glory.
Lastly, we must also keep in mind that it is vitally important to guard against spiritual insularity and escapism. If we are Spirit-filled people, we will place our feet firmly on the ground and move forward missionally as Jesus' witnesses in word and deed in communal service to the world at large, as the book of Acts models for us. Like the apostolic community that Acts presents to us, may we hold true to the ascended Jesus and descended Spirit and be of such heavenly value that we are of incredible earthly good.