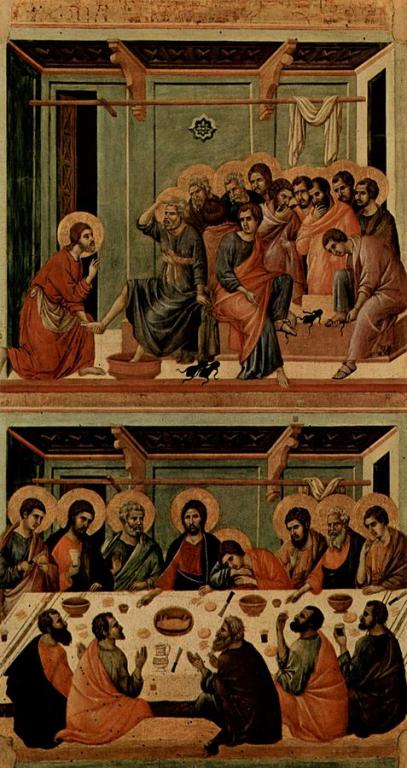 Today is Corpus Christi Sunday. "Corpus Christi" (the body of Christ) often follows Trinity Sunday in ecclesial celebrations, though not always. Moreover, not all Christians celebrate this day, parallel to how not all Christians share the same view of the Lord's Supper or Eucharist, which this day commemorates. Roman Catholicism, various Orthodox traditions, and some Anglican churches honor this feast to commemorate the institution of the sacrament of Holy Communion. It is most unfortunate that the very institution intended to bring Christians together should be the cause or source of so much division. In what follows, we will seek to discern Christ's real bodily presence that should serve to unite all of us regardless of our important differences on the nature and significance of Holy Communion.
Before we turn to discern what should unite all Christians in discerning Christ's real bodily presence, we must first account for some  items pertaining to this feast day of Corpus Christi Sunday. One may ask why the Feast of Corpus Christi is not honored on Maundy Thursday, when the Lord Jesus instituted holy communion. The rationale is often given that a separate day is required to celebrate the feast given that Christ's church focuses on the Lord's passion and suffering at that time.
One may also wonder why Corpus Christi appears on the Sunday following Trinity Sunday. In my estimation, it appears quite fitting given that the Eucharist signifies the church's participation in the divine life, namely, what St. Peter refers to as "partakers of the divine nature," which comes about through God's "precious and very great promises" (2 Peter 1:4), and which no doubt includes the New Covenant confirmed with Jesus' broken body and shed blood.
St. Thomas Aquinas speaks to the church's partaking of the divine nature in the words attributed to him for the mass honoring this day:
Desirous that we be made partakers of His divinity, the only-begotten Son of God has taken to Himself our nature so that having become man, He would be enabled to make men gods. Whatever He assumed of our nature He wrought unto our salvation. For on the altar of the Cross He immolated to the Father His own Body as victim for our reconciliation and shed His blood both for our ransom and for our regeneration. Moreover, in order that a remembrance of so great benefits may always be with us, He has left us His Body as food and His Blood as drink under appearances of bread and wine.
Indeed, Jesus' followers have been made partakers of the divine nature through the Son of God taking to himself our human nature and becoming human. Here Thomas drinks from the ancient Christian well. As Irenaeus, Athanasius and others in the historic faith claimed before Thomas, "He became what we are so that he might make us what he is." Where Thomas and the Roman Catholic tradition since Thomas have often differed from Christendom as a whole concern the statement that Christ has "left us His Body as food and His Blood as drink under appearances of bread and wine." The next statement unpacks further Thomas' perspective:
O banquet most precious! O banquet most admirable! O banquet overflowing with every spiritual delicacy! Can anything be more excellent than this repast, in which not the flesh of goats and heifers, as of old, but Christ the true God is given us for nourishment? What more wondrous than this holy sacrament! In it bread and wine are changed substantially, and under the appearance of a little bread and wine is had Christ Jesus, God and perfect Man. In this sacrament sins are purged away, virtues are increased, the soul is satiated with an abundance of every spiritual gift. No other sacrament is so beneficial. Since it was instituted unto the salvation of all, it is offered by Holy Church for the living and for the dead, that all may share in its treasures.
According to Thomas, the sacrament or means of grace entails the substantial changing of the bread and wine into the body and blood of Christ (often referred to as transubstantiation). Many Protestants following Martin Luther took issue with this view of the mass and also the idea often associated with the mass that virtues increase and salvation takes effect by a power of the rite within itself (ex opere operato—literally by the work worked). Luther's fear was that this operation "made the sacrament mechanical and magical" rather than "mystical," as Roland Bainton makes clear in Here I Stand. One might counter that it is Christ himself that makes the sacrament efficacious rather than any human agent, including the priest (ex opere operato—literally by the work worked). No doubt, Luther would agree, but as Bainton notes, Luther claimed that faith which is itself a gracious gift of God to the human agent and not a human work itself is essential for salvation to be appropriated with or without the sacrament (Here I would highlight that in Luther we find "by Christ alone" is accompanied by "by grace alone" and "by faith alone"). Bainton also argues in Here I Stand: for Luther, faith is necessary, "since faith is itself a gift of God, but this faith is given by God when, where, and to whom he will and even without the sacrament is efficacious; whereas the reverse is not true, that the sacrament is of efficacy without faith."
More could be said on the nature and significance of the Eucharist, far more than can be discussed in one entry. Christian traditions will debate the relation of Christ's real presence to the sacraments or the necessity of faith for the rite to be efficacious, but we should not debate Christ's real presence to us as his people in relation to and beyond the sacrament or that we are really his body one to another in the world.
Of course, this is easier said than done. But even more difficult than coming to agreement on the nature and significance of the Lord's Supper or Eucharist is living out what Jesus calls us to as his people. Not only did he institute the Lord's Supper on the night of his passion, but also he was passionate at the Last Supper in providing an example for us as his followers to love another, humble ourselves before one another, and wash one another's feet. Regarding the foot washing, Jesus states:
12 When he had washed their feet and put on his outer garments and resumed his place, he said to them, "Do you understand what I have done to you? 13 You call me Teacher and Lord, and you are right, for so I am. 14 If I then, your Lord and Teacher, have washed your feet, you also ought to wash one another's feet. 15 For I have given you an example, that you also should do just as I have done to you. 16 Truly, truly, I say to you, a servant is not greater than his master, nor is a messenger greater than the one who sent him. 17 If you know these things, blessed are you if you do them (John 13:12-17; ESV).
Notice here in John's account that we are not blessed if we consider Jesus' teachings, know them or believe in them, but rather if we "do" them. And yet, how unfortunate though equally unsurprising it is that instead of following suit, his disciples immediately following the institution of the Lord's Supper debate who is the greatest among them! In Luke 22, we read:
24 A dispute also arose among them, as to which of them was to be regarded as the greatest. 25 And he said to them, "The kings of the Gentiles exercise lordship over them, and those in authority over them are called benefactors. 26 But not so with you. Rather, let the greatest among you become as the youngest, and the leader as one who serves.27 For who is the greater, one who reclines at table or one who serves? Is it not the one who reclines at table? But I am among you as the one who serves (Luke 22:24-27; ESV).
For his part, Paul instructs believers that we are members or parts of Christ's body following his teaching on the Lord's Supper. He also exhorts believers to love one another as we express our various spiritual gifts through the excellent way of love made available by the same Spirit who gifts us (See 1 Corinthians 11-14). And yet, Paul rebukes the believers in Corinth that they have partaken of the agape feast involving the Lord's Supper in an unworthy manner (See 1 Corinthians 11:17-34) whereby the well-to-do have kept the food to themselves while those without means were on the outside looking in. In other words, the Corinthian church functioned more like a fraternity than a healthy family, in keeping with the social customs of their day (Refer to my treatment of Gordon Fee's exposition of this passage at a previous blog post, which can be found here).
While it is important to seek to discern the nature and significance of the body and blood in the Lord's Supper or Eucharist theologically, the biblical-theological thrust for Paul in 1 Corinthians 11 is to discern the well-being of the body of Christ as his people. Paul writes,
27 Whoever, therefore, eats the bread or drinks the cup of the Lord in an unworthy manner will be guilty concerning the body and blood of the Lord. 28 Let a person examine himself, then, and so eat of the bread and drink of the cup. 29 For anyone who eats and drinks without discerning the body eats and drinks judgment on himself. 30 That is why many of you are weak and ill, and some have died. 31 But if we judged ourselves truly, we would not be judged. 32 But when we are judged by the Lord, we are disciplined so that we may not be condemned along with the world. 33 So then, my brothers, when you come together to eat, wait for one another— 34 if anyone is hungry, let him eat at home—so that when you come together it will not be for judgment. About the other things I will give directions when I come (1 Corinthians 11:27-34; ESV).
Let us examine ourselves to see if we get it right on caring for other members of Christ's body. Based on the Lord Jesus' and the Apostle Paul's exhortation to us, getting it right on caring for one another at the agape feast and beyond should be what brings all of Christendom together. Let us not fight over our important differences on the nature and significance of the elements and miss out on what is most pressing in importance: loving God's people humbly and sacrificially so that all are included and no one goes without faithfully declares that Christ is really present.