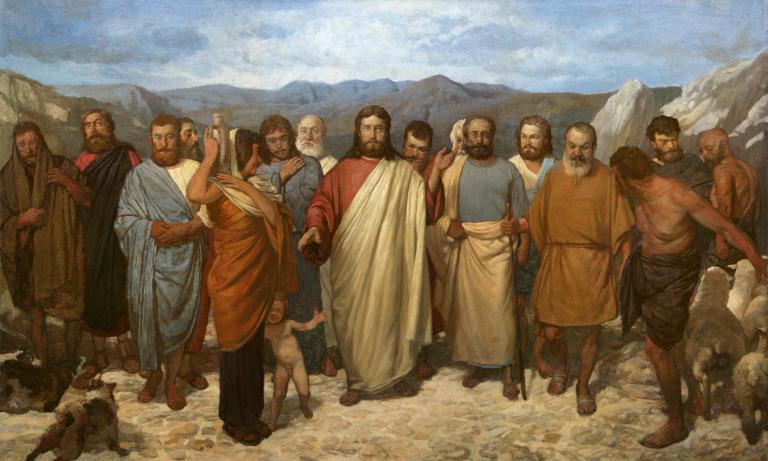 For those of us who aspire to be missional Christian leaders, what will characterize us? What kind of missional leaders will we be? The kind that cast out demons? Something else? Something more? Hopefully not something less, like the kind weighed down by demons and who make their converts twice the sons and daughters of hell that they are (for which Jesus rebuked the scribes and Pharisees: "Woe to you, scribes and Pharisees, hypocrites! For you travel across sea and land to make a single proselyte, and when he becomes a proselyte, you make him twice as much a child of hell as yourselves." Matthew 23:15; ESV). Another way of getting at addressing the kind of missional leaders we aspire to be is to answer this question: what impresses us as missional leaders?
We will engage these issues in this blog post. However, before proceeding further, it is worth noting the source of my reflections and questions. These questions arose upon reflecting on Jesus welcoming back the seventy-two who had just returned from their missions trip recorded in Luke 10:17-24 (ESV). Let's take a look:
17 The seventy-two returned with joy, saying, "Lord, even the demons are subject to us in your name!" 18 And he said to them, "I saw Satan fall like lightning from heaven. 19 Behold, I have given you authority to tread on serpents and scorpions, and over all the power of the enemy, and nothing shall hurt you. 20 Nevertheless, do not rejoice in this, that the spirits are subject to you, but rejoice that your names are written in heaven." 21 In that same hour he rejoiced in the Holy Spirit and said, "I thank you, Father, Lord of heaven and earth, that you have hidden these things from the wise and understanding and revealed them to little children; yes, Father, for such was your gracious will. 22 All things have been handed over to me by my Father, and no one knows who the Son is except the Father, or who the Father is except the Son and anyone to whom the Son chooses to reveal him." 23 Then turning to the disciples he said privately, "Blessed are the eyes that see what you see! 24 For I tell you that many prophets and kings desired to see what you see, and did not see it, and to hear what you hear, and did not hear it."
As we find here in Luke 10, Jesus was not too impressed that his disciples reported having cast out demons on their short-term missions trip. After all, for one, he'd been there, done that, casting out demons on a daily basis. Moreover, as Jesus shared here with his disciples, Jesus was present when Satan fell from heaven and had a hand or two in Satan's removal from heaven. Furthermore, Jesus was the source of the disciples' authority to cast out demons. It was a forgone conclusion that they would perform such mighty signs. Why were they so amazed? All they needed to do was consider the source of their power and authority—Jesus.
What impressed Jesus in reflecting on his disciples' short-term missions trip report was his Father's determination to reveal heaven's mysteries to "little children," namely Jesus' followers. What should have impressed Jesus' followers was not casting out demons in Jesus' name, but that their names were written in heaven on account of Jesus.
What impresses you and me? If casting out demons in Jesus' name is what impresses you, be warned: those fixated on casting out demons easily become those overwhelmed by them, not unlike the warrior Boromir's fixation with the ring of power in Tolkien's 
Lord of the Rings
.
A friend of mine named David recently shared with me that in his estimation the grand question in Tolkien's Lord of the Rings was whether the hobbit Frodo's heart would remain pure, or become corrupted by the ring of power that he aimed to take and cast into Mordor's fire. In the same context, David shared that we should not seek to make names for ourselves. After all, we will be forgotten soon enough after we're gone. Rather, we should cherish the realization that God knows our names. Not only was David's reflection striking, but also his occupation is worth highlighting. David is a missional Christian engaged at a senior level in global outreach for humanitarian aid work involving global powers. The aid work is not what feeds David's soul, but rather the precious truth that he has a Father in heaven who knows him by name. This precious truth keeps him from grasping for the ring of power and instead frees him to keep reaching out to aid those in need of daily bread.
If what impresses you and me is that our names are written in heaven, we realize what is most important: relationship with God based completely on God's mysterious grace and mercy. If you and I marvel like Jesus did that God chooses the simple and powerless to whom to reveal the mysteries of his kingdom, and that you and I are those simple and unsophisticated ones, no matter how lofty our positions, we are safe and secure people. We can then cast out demons in Jesus' name without being taken captive to the power by which we perform such miraculous signs.
What made Jesus so safe and secure was that he was secure in his Father's love. We find Jesus' confidence in God the Father's loving purposes for him in various places in the gospels, including this passage. Note the following: "All things have been handed over to me by my Father, and no one knows who the Son is except the Father, or who the Father is except the Son and anyone to whom the Son chooses to reveal him" (Luke 10:22; ESV). Those of us who are secure in God the Father's and his Son's loving purposes for us in the Spirit will not seek to make a name for ourselves through missional expeditions of short-term or long-term duration. Rather, as we are secure in knowing that our names are written in heaven, we will go out on mission to share the good news of God's liberating love. There are no exploits we can perform to gain heaven's approval. Rather, God's unconditional affirmation and intimate knowledge of us by name—even us "little children"—frees us to share the good news free of vain glory. Such intimate awareness of God's call and care for us by name exorcises our own 'demons' that manifest themselves in global conquest as we cast out demons as little children on divine mission in Jesus' name.