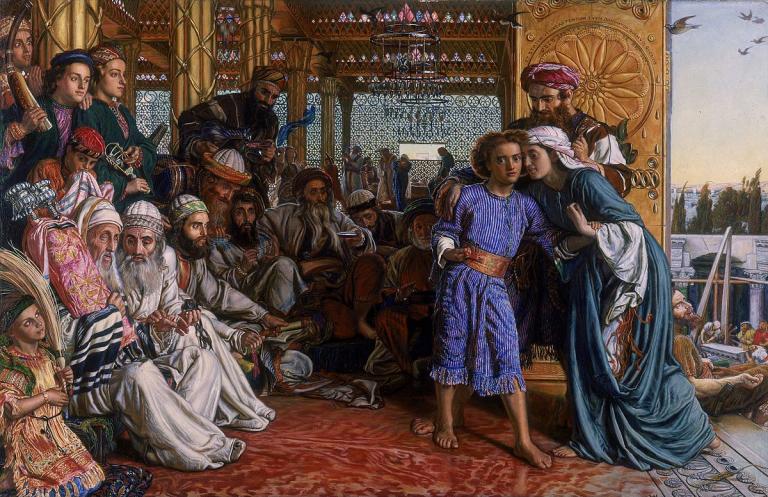 Father's Day is a national holiday that was first celebrated in Washington state in 1910. Father's Day was later honored nationwide beginning in 1972. As far as I know, the Jewish nation did not celebrate a holiday equivalent to Father's Day in ancient times. So, it is difficult to answer the question set forth in the title of this piece: What would Father's Day be like for Jesus? Yet it is worth exploring as a thought experiment, for we can learn about Jesus' relationship with his earthly father and heavenly Father by trying to answer the question. We may also learn a thing or two about how to relate to our earthly fathers and heavenly Father.
We don't know much about Jesus' relationship with his earthly father, Joseph. What do we know about Joseph in relation to Jesus? We do know that according to the New Testament, Joseph determined not to divorce Mary after the angel announced to him that her pregnancy (Jesus) was conceived by the Holy Spirit, not sexual intercourse with another man (Matthew 1:18-25). We also know that Joseph protected Mary and Jesus, as he took them and fled to Egypt after an angel warned him of Herod's plan to kill Jesus, who was a small child (Matthew 2:13-15; ESV). As Matthew 1 tells us, Joseph was a just man. He was also protective, as Matthew 2 indicates. Lastly, we find that he was devout. Not only did he listen to the angelic witnesses who instructed him about Jesus, but also Joseph and Mary followed Jewish sacred customs and tradition, including Jesus' dedication as a newborn baby in the Temple and later their pilgrimage to Jerusalem for the Passover when Jesus was twelve (Luke 2:22-42). The last appearance of Joseph in the canonical gospels takes place here in the Temple immediately after the Passover. Let's take a look:
41 Now his parents went to Jerusalem every year at the Feast of the Passover. 42 And when he was twelve years old, they went up according to custom. 43 And when the feast was ended, as they were returning, the boy Jesus stayed behind in Jerusalem. His parents did not know it, 44 but supposing him to be in the group they went a day's journey, but then they began to search for him among their relatives and acquaintances,45 and when they did not find him, they returned to Jerusalem, searching for him. 46 After three days they found him in the temple, sitting among the teachers, listening to them and asking them questions. 47 And all who heard him were amazed at his understanding and his answers.48 And when his parents saw him, they were astonished. And his mother said to him, "Son, why have you treated us so? Behold, your father and I have been searching for you in great distress." 49 And he said to them, "Why were you looking for me? Did you not know that I must be in my Father's house?" 50 And they did not understand the saying that he spoke to them. 51 And he went down with them and came to Nazareth and was submissive to them. And his mother treasured up all these things in her heart. 52 And Jesus increased in wisdom and in stature and in favor with God and man. (Luke 2:41-52; ESV)
No doubt, Jesus' parents were in a frenzied panic searching everywhere for Jesus. Had he gotten lost? Was he kidnapped? What could have happened to him? Mary rebuked him, "Son, why have you treated us so? Behold, your father and I have been searching for you in great distress" (Luke 2:48; ESV).
I'm not sure how Joseph responded to Jesus' statement that "Why were you looking for me? Did you not know that I must be in my Father's house?" (Luke 2:49; ESV). The statement might have appeared rather dismissive and disrespectful, though we are told that "they did not understand the saying" (Luke 2:50; ESV). We do know from the following statement that Jesus "was submissive to them" in his return to Nazareth during his youth (Luke 2:51; ESV) and that Mary "treasured up" all that occurred there in Jerusalem in her heart (Luke 2:51; ESV).
Jesus had a way of making sure his parents understood that he was ultimately submissive to his heavenly Father and his divine purpose for Jesus. A similar example is found in John 2:
On the third day there was a wedding at Cana in Galilee, and the mother of Jesus was there. 2 Jesus also was invited to the wedding with his disciples. 3 When the wine ran out, the mother of Jesus said to him, "They have no wine." 4 And Jesus said to her, "Woman, what does this have to do with me? My hour has not yet come." 5 His mother said to the servants, "Do whatever he tells you" (John 2:1-5; ESV).
Jesus again appears dismissive in his response to his mother. What he may be doing is reminding Mary that his ultimate loyalty is to his Father in heaven.
The canonical gospels make clear that Jesus had a unique, one-of-a-kind relationship with God. We see this in Jesus' baptism recorded in Matthew 1, where the Father speaks from heaven:
16 And when Jesus was baptized, immediately he went up from the water, and behold, the heavens were opened to him, and he saw the Spirit of God descending like a dove and coming to rest on him;17 and behold, a voice from heaven said, "This is my beloved Son, with whom I am well pleased" (Matthew 3:16-17; ESV).
Mark's Gospel declares at the very start that Jesus is God's Son: "The beginning of the gospel of Jesus Christ, the Son of God" (Mark 1:1; ESV). We also find consideration of Jesus' unique relationship with his heavenly Father in John's Gospel. Take for example the following account. Jesus has just healed a lame man on the Sabbath and is being persecuted for his act of mercy and reference to God as his personal Father. This was a staggering claim, as God was viewed at this time as the Father of the nation, but not of individuals. Jesus' claim puts him on the same level with God, and so, they sought to persecute him all the more: "This was why the Jews were seeking all the more to kill him, because not only was he breaking the Sabbath, but he was even calling God his own Father, making himself equal with God" (John 5:18; ESV). In response to their accusations and aim to kill him, Jesus defends his actions and claims by arguing that he simply does what his Father does and acknowledges the Father's honor of him. Like Father, like Son:
19 So Jesus said to them, "Truly, truly, I say to you, the Son can do nothing of his own accord, but only what he sees the Father doing. For whatever the Father does, that the Son does likewise. 20 For the Father loves the Son and shows him all that he himself is doing. And greater works than these will he show him, so that you may marvel. 21 For as the Father raises the dead and gives them life, so also the Son gives life to whom he will. 22 For the Father judges no one, but has given all judgment to the Son, 23 that all may honor the Son, just as they honor the Father. Whoever does not honor the Son does not honor the Father who sent him. 24 Truly, truly, I say to you, whoever hears my word and believes him who sent me has eternal life. He does not come into judgment, but has passed from death to life (John 5:19-24; ESV).
Jesus understood early on (at least from the age of twelve) that his relationship with his heavenly Father was all-important. Jesus' father Joseph was a good and righteous man, but he could never take the place of Jesus' Father in heaven. Jesus would have all of us relate to his Father as "Our Father in heaven," as he instructs his disciples to pray (See the Lord's Prayer recorded in Matthew 6:9-13; ESV). This Father's name is alone hallowed. His kingdom alone will come in its fullness (See Matthew 6:9-10; ESV). We are ultimately dependent on the heavenly Father for our daily sustenance, forgiveness of sins, and protection from evil (See Matthew 6:11-13).
Mention was made at the outset of this piece that Father's Day was first celebrated in Washington state in 1910. Sonora Smart Dodd and her five siblings had been raised by their dad, who was a widower. No doubt grateful for her father's faithful investment and care for the family, she convinced local establishments to set aside a day to honor male parents. A friend of mine named David also hails from Washington state. His father died of cancer when David was a youth. His father told David as his death drew near how much he valued being David's father. He also counseled David on his death bed to see him as his brother from then onward, and to look to God as his ultimate Father to whom he entrusted David's care. David heeded his good father's sound advice. I have admired how David's cherishes his heavenly Father's care for him to this day.
Many of us are grateful for our earthly fathers' care for us. Others of us did not experience the blessing of an earthly father's loyal love. Yet all of us can experience what David has encountered—the blessing that comes from knowing God as our heavenly Father. Through faith in Jesus, we can experience through grace the care of God as "Abba," that is, as Daddy Father. Jesus' joy includes making a home for us with his Father as our Father through Jesus. As he told Mary Magdalene, "I am ascending to my Father and your Father, to my God and your God" (John 20:17; ESV). Consider also Jesus' high priestly prayer in which he envisions our being with him in his Father's presence—a Father who loves us just as he loves his Son (John 17:20-26; ESV). Through faith in Jesus, we receive the Spirit of God who pours God's love into our hearts (Romans 5:5), not fear. As Paul writes, "For you did not receive the spirit of slavery to fall back into fear, but you have received the Spirit of adoption as sons, by whom we cry, "Abba! Father!" (Romans 8:15; ESV).
No doubt, Jesus would have celebrated the equivalent of Father's Day out of respect for his earthly father, Joseph. However, he would always ensure that his ultimate affection for a father be expressed to God. My friend David to whom I referred above learned early on in life that God alone is our ultimate Father through Jesus and that we can count on him, just as Jesus urged us. Will you and I do the same and trust in Abba?