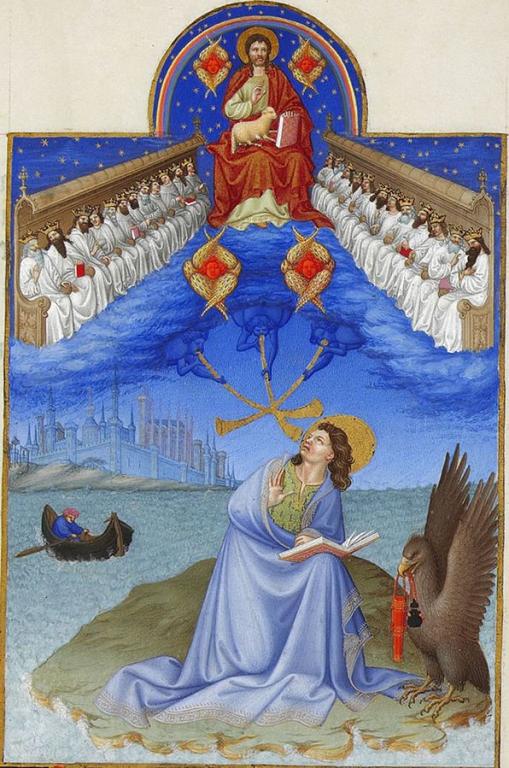 The Church calendar reorders us in time. How so? For example, the ecclesial calendar helps us see ourselves in communal relation to the saints who have gone before us over the span of the centuries and in communal relation to the saints dispersed across the expanse of the earth today. As it relates to the church of the ages and global church, the span of the centuries concerns "through time" (diachronic) and the time frame of all people alive today (or at any one period) across the earth concerns this time or "together time" (synchronic). As we consider the lives of saints who are honored during the church year, and as we recite the liturgy and pray in unison every week in churches across the earth, we find that the church calendar reorders our past and present to expand our sense of community. We are not alone. There is a great cloud of witnesses that surrounds us.
In the last two entries on the church calendar, we discussed the assumption (exaltation to heaven) and dormition (mortal sleep) of Mary, who in my estimation, is the first great patron saint of the church as Jesus' mother. Iconic paintings of Mary's mortal sleep picture her with the Apostles Peter and Paul at her head and feet and elders and bishops in the church standing around them (with Christ above them). We belong to this great cloud of witnesses, as I noted in the entry on Mary's dormition.
The biblical text for the "great cloud" imagery is found in Hebrews 12:1: "Therefore, since we are surrounded by so great a cloud of witnesses, let us also lay aside every weight, and sin which clings so closely, and let us run with endurance the race that is set before us…" (ESV). This "great cloud of witnesses" hearkens further back than the apostolic community, as it includes the great cloud of witnesses pictured in Hebrews 11 that highlights the saints portrayed in the Hebrew Scriptures. They include Abel, Enoch, Abraham, Isaac, Jacob, Joseph, Moses, and Rahab, among others. Whether they are conscious of us in their eternal abode, we are to be conscious of their faithful witness. Moreover, we should be mindful of other faithful witnesses to Christ throughout the centuries and in our world today.
It is so very easy for American Christians like myself to falsely think that the church began with my conversion and that the Christian faith is all about me. If we attend church, we may be inclined to think in terms of how the services and programs benefit us individually rather than how do each of us integrate into the community of faith as vital parts or members of an even greater whole. Given such an individualistic focus, it is vitally important that we see ourselves as connected to the community of faith throughout the centuries and throughout the earth today. Hebrews 11 and 12:1 highlights the importance of the community of faith throughout time whereas Hebrews 10:24-25 highlights the importance of the community of faith in our time. The text in Hebrews 10 reads,
And let us consider how to stir up one another to love and good works, not neglecting to meet together, as is the habit of some, but encouraging one another, and all the more as you see the Day drawing near (Hebrews 10:24-25; ESV).
We will take up the subject of the temporal future, namely, the "day drawing near" in the next entry on the church calendar. For now, consideration centers only on the past and present.
Protestants are often wary of awarding attention to saints, since Protestantism tends to view all Christians as saints. While we who are Protestants should certainly cherish the Reformation teaching of the priesthood of all believers (derived from such texts as 1st Peter 2:5), we all too easily slip into deferring to certain pastoral figures to act as priestly functionaries to do all the heavy lifting.
We who are Protestants may also easily point to the errors of those in other traditions who come close to worshiping saints. But that does not mean we should throw out the saints with the dirty bad practice bathwater. As with icons, saints are not meant to be worshiped, but to be viewed as windows through which we see God. As Paul writes to the Corinthians to "Be imitators of me, as I am of Christ" (1 Corinthians 11:1; ESV), we are to imitate faithful witnesses to Christ to become more like Christ ourselves.
Saints like Polycarp, Francis of Assisi, and Mother Teresa have much to teach us. In his homily declaring Mother Teresa a saint, Pope Francis claimed:
Mother Teresa, in all aspects of her life, was a generous dispenser of divine mercy, making herself available for everyone through her welcome and defence of human life, those unborn and those abandoned and discarded. She was committed to defending life, ceaselessly proclaiming that "the unborn are the weakest, the smallest, the most vulnerable". She bowed down before those who were spent, left to die on the side of the road, seeing in them their God-given dignity; she made her voice heard before the powers of this world, so that they might recognize their guilt for the crime – the crimes! – of poverty they created. For Mother Teresa, mercy was the "salt" which gave flavour to her work, it was the "light" which shone in the darkness of the many who no longer had tears to shed for their poverty and suffering.

Her mission to the urban and existential peripheries remains for us today an eloquent witness to God's closeness to the poorest of the poor. Today, I pass on this emblematic figure of womanhood and of consecrated life to the whole world of volunteers: may she be your model of holiness! I think, perhaps, we may have some difficult in calling her "Saint Teresa": her holiness is so near to us, so tender and so fruitful that we continual to spontaneously call her "Mother Teresa". May this tireless worker of mercy help us increasingly to understand that our only criterion for action is gratuitous love, free from every ideology and all obligations, offered freely to everyone without distinction of language, culture, race or religion. Mother Teresa loved to say, "Perhaps I don't speak their language, but I can smile". Let us carry her smile in our hearts and give it to those whom we meet along our journey, especially those who suffer. In this way, we will open up opportunities of joy and hope for our many brothers and sisters who are discouraged and who stand in need of understanding and tenderness.
Indeed, Mother Teresa, like Mother Mary before her, serves as a "model of holiness" for us. Such modeling and ordering does not begin and end on days dedicated to their honor like August 15th for Mother Mary or September 5th for Mother Teresa. Their example shines bright every day of the year. Of course, there are other people past and present who operate in saintly ways as models of holiness and compassion for us each and every day. Such saintly people do not have to achieve official sainthood to make an indelible mark on our lives. Imitate them as they imitate Christ Jesus.
The church did not begin with us, and it will not end with us. We are surrounded by a great cloud of witnesses that spans the entire history of the church and indeed salvation history, as well as spans the entire earth here and now. Such communal encouragement creates in us greater courage to model saintly lives as well for those who come after us. The church calendar with its pageantry of saintly models reminds and reorders us in our worship of God in unison through the ages and across the globe that we are not alone.