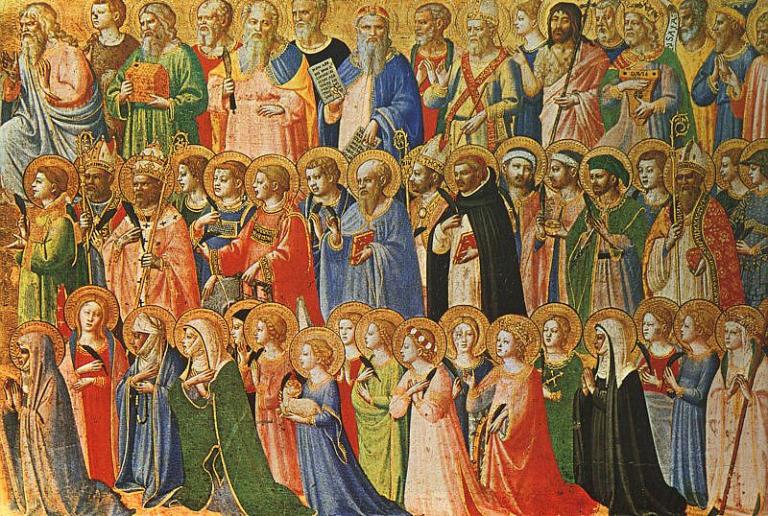 Last Sunday, we paid tribute to what I termed "All Sinners' Day." The focus was on the need to identify with the repentant tax collector rather than the self-righteous pharisee in Jesus' parable recorded in Luke 18:9-14. This Sunday, which is generally referred to as "All Saints' Sunday," we will focus on the need to identify with saints like the Apostle Paul, imitate their godly lives, and set a good example for others to follow. With this point in mind, we must not allow our past failures or those of others to get in the way of modeling saintly lives presently and in the future. It is worth noting at the outset that St. Paul painfully believed he was the least of the Apostles due to how he had persecuted the church prior to becoming a Christian (1 Corinthians 15:9). Moreover, he recognized that he still had not attained the goal of the Christian faith (Philippians 3:12-14). Even so, Paul struggled hard to set a good example for his fellow Christians to follow: "Be imitators of me, as I am of Christ" (1 Corinthians 11:1; ESV). We should do the same.
Before proceeding to consider the importance of imitating saintly people old and new, we need to consider those impediments that stand in our way of honoring All Saints' Day and Sunday and/or following saintly examples (for a helpful article on this subject, refer here). Unfortunately, many low-church Protestants who place little emphasis on church tradition tend to discount All Saints' Day and All Saints' Sunday. Reasons can include the later association of All Saints' Day with Halloween and wariness of the Roman Catholic teaching on Purgatory, which comes into play with All Souls' Day on November 2nd (one day after All Saints' Day), as well as the fear that Catholics' celebration of saints takes away from the centrality of Jesus Christ in Christian devotion. There is perhaps a more recent concern that is not necessarily associated with Protestantism, namely wariness of any claim to saintliness or affirmation of its pursuit given the epidemic of cynicism. In what immediately follows, we will consider this problem and how Paul's exhortation to imitate his example as he follows Jesus Christ takes on even more importance in our cynical age.
We hear often enough of priest and clergy scandals involving sexual and financial abuses. Such infamous stories leave a devastating impact on the church. It's almost as if the church becomes a Halloween haunted house throughout the year with ghouls and ghosts and skeletons in the closet. While it is certainly true that we who are Christians should make sure that Christ Jesus—who will never disappoint us—is our focus, we cannot help but be shaken when those who are called to lead the way in imitating Jesus falter badly.
I recall a shaky situation a few years ago. I was speaking to a small group of Christian lay leaders who had grown disillusioned with the need to set a good example for others based on the poor example of a pastor mentor. As I unpacked Paul's exhortation found in different places in his epistles to follow his example as he follows Christ, they pushed back and said it was not possible or even credible for them to imitate Christ and encourage others to imitate their example. They had become so disillusioned based on their mentor's duplicity.
Reports of scandalous activity of Christian leaders not only serve to distract us from gazing on Christ but also can cause us to forget the examples of others who are incredibly credible followers of Jesus and leaders in the Christian community. It is not simply Saints like Paul of Tarsus or Francis of Assisi or Teresa of Calcutta or John Wesley (who loved All Saints' Day) or Corrie ten Boom and her family who are worthy of honor. Simple saints past and present who virtually no one knows about also merit consideration. I love what this article at a Methodist site has to say about the matter:
Alongside the likes of Paul from the New Testament, Augustine, Martin Luther, and John and Charles Wesley, we tell stories of the grandmother who took us to church every Sunday. We remember the pastor who prayed with us in the hospital, and the neighbor who changed the oil in the family car. We give thanks for the youth leader who told us Jesus loved us, the kindergarten Sunday school teacher who showered us with that love, and the woman in the church who bought us groceries when we were out of work.
The meditation continues:
Retelling these stories grounds us in our history. These memories teach us how God has provided for us through the generosity and sacrifice of those who have come before us. The stories of the saints encourage us to be all God has created us to be.
Further to this point on simple saints, my own parents' simple, unadorned faith and daily sacrificial love were instrumental in my own return to faith from disillusionment with churchianity in young adulthood. Perhaps similar saintly examples impacted you. Now the question is: what kind of saintly impact are we seeking to have?
Whatever our background and experience, we need to do everything possible to set a good example for others to follow. All Sinners' Day, to which I paid tribute last week, must never overshadow All Saints' Day and Sunday (which is often when high church Protestants honor the occasion, since Protestants generally only attend church on Sundays for services). Let us make every effort to imitate Jesus well for those entrusted to our spiritual care, and regardless of whether we become famous like some of the saints of old. Faithfulness, not fame, is valuable. May we pursue faithful witness, not fame, and may we guard with every ounce of energy against infamy. Moreover, in the midst of negative examples that often derail us from setting our gaze on Christ Jesus, take time to reflect on the lives of faithful Christians who inspire us to follow Jesus daily until the end of the age. May we also take to heart the example of saints like the Apostle Peter and later John Newton, who faltered terribly at points along the way, but who fervently repented and renewed their commitment to follow Christ and lead by exemplary witness. Don't let your past example or that of others trip you up. Get up. Look up. Get going.
The end of the liturgical year is fast-approaching with Christ the King Sunday. In view of Jesus' example here on earth, his anticipated return, and the faithful witness of others, let us not spiral downward and fall short. Rather, let us hold true to what we have already attained and keep pressing on until we win the prize of our upward calling in Christ Jesus. These points call to mind the Apostle Paul's saintly words of inspirational advice from Philippians, with which I close:
Not that I have already obtained this or am already perfect, but I press on to make it my own, because Christ Jesus has made me his own. Brothers, I do not consider that I have made it my own. But one thing I do: forgetting what lies behind and straining forward to what lies ahead, I press on toward the goal for the prize of the upward call of God in Christ Jesus. Let those of us who are mature think this way, and if in anything you think otherwise, God will reveal that also to you. Only let us hold true to what we have attained.

Brothers, join in imitating me, and keep your eyes on those who walk according to the example you have in us. For many, of whom I have often told you and now tell you even with tears, walk as enemies of the cross of Christ. Their end is destruction, their god is their belly, and they glory in their shame, with minds set on earthly things. But our citizenship is in heaven, and from it we await a Savior, the Lord Jesus Christ, who will transform our lowly body to be like his glorious body, by the power that enables him even to subject all things to himself (Philippians 3:12-21; ESV).