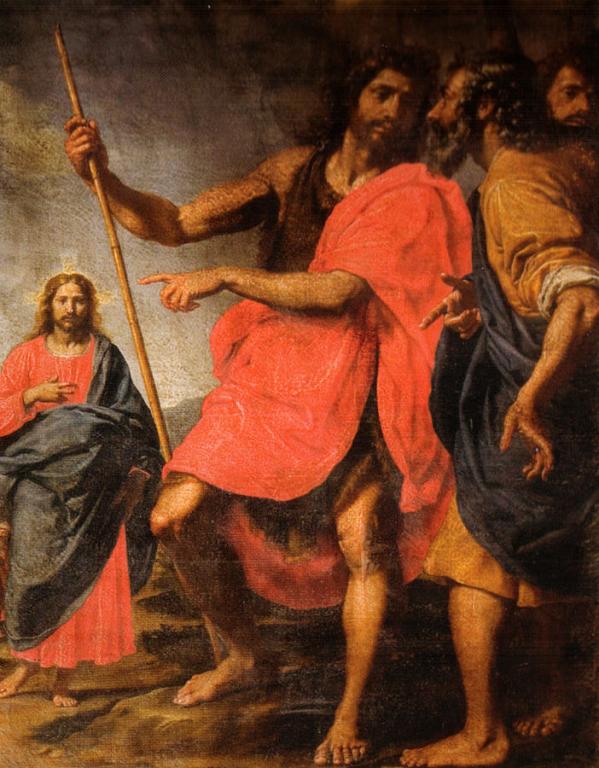 The approach of year's end leads many people to review what transpired over the preceding months, and their entire lives in some cases. Unfulfilled resolutions and unmet expectations often come to mind, including with Jesus. As we look forward, may we examine our lives and rightful from wrongful expectations and renew hope that the next year or even next life will be better. May we take careful stock of what we need to do to prepare to meet Jesus face to face.
In this light, it is fitting that the church calendar designates November as a time dedicated to careful consideration of life's end—for us personally and for the world. According to one source,
During November, as in all of Ordinary Time (Time After Pentecost), the Liturgy signifies and expresses the regenerated life from the coming of the Holy Spirit, which is to be spent on the model of Christ's Life and under the direction of His Spirit. As we come to the end of the Church year we are asked to consider the end times, our own as well as the world's. The culmination of the liturgical year is the Feast of Christ the King. "This feast asserts the supreme authority of Christ over human beings and their institutions…. Beyond it we see Advent dawning with its perspective of the Lord's coming in glory."— The Liturgy and Time, A.G. Martimort.
As we approach the end of the church liturgical year that closes this month, let's consider our life's end and reflect upon unmet expectations and how they can stand in the way of our relationship with God.
Unmet expectations can really hurt relationships, perhaps especially when they are unreasonable. Here I call to mind John the Baptist, who was one of the most righteous individuals who ever lived. However, even John might have had unmet expectations concerning Jesus. As John languished in prison, no doubt aware that his life was nearing its end, he appeared to question whether he had mistakenly hoped in Jesus to deliver Israel and usher in God's kingdom.
In Luke 7, we find John receiving reports of Jesus' miracles from his disciples and then sending his disciples to Jesus to ask him whether he is indeed the Messiah in whom John himself has hoped. Before proceeding further, it is important to provide a rationale for why I think this passage suggests that John might have doubts even in the face of Jesus' astounding miracles.
Consider that John earlier displays great confidence that Jesus is indeed the Messiah. Luke 3 highlights Jesus' baptism, which according to Matthew's Gospel, was performed by John the Baptist. In Luke's Gospel, we find a voice from heaven declaring Jesus as God's Son as the Spirit descended on him during his baptism (Luke 3:21-22). In parallel fashion, the other canonical gospels indicate that John clearly recognizes and identifies Jesus as the Son of God and Lamb of God who takes away the world's sins as a result of God confirming to him Jesus' identity based on the Spirit's descent on Jesus during his baptism (John 1:29-34; see also Matthew 3:13-17 and Mark 1:1-11). However, by the time we get to Luke 7, it appears that John is not so sure. Perhaps he is wondering: "Why am I languishing in prison if I am the forerunner of the Messiah? Why isn't Jesus freeing Israel from the pagan reign of Rome and its proxy rulers like the corrupt Herod who has put me behind bars?'
Let's take a closer look now at Luke 7. I cherish this passage's healthy dose of realism, including John's honesty, vulnerability, and Jesus' measured though still staggering response:
The disciples of John reported all these things to him. And John, calling two of his disciples to him, sent them to the Lord, saying, "Are you the one who is to come, or shall we look for another?" And when the men had come to him, they said, "John the Baptist has sent us to you, saying, 'Are you the one who is to come, or shall we look for another?'" In that hour he healed many people of diseases and plagues and evil spirits, and on many who were blind he bestowed sight. And he answered them, "Go and tell John what you have seen and heard: the blind receive their sight, the lame walk, lepers are cleansed, and the deaf hear, the dead are raised up, the poor have good news preached to them. And blessed is the one who is not offended by me."

When John's messengers had gone, Jesus began to speak to the crowds concerning John: "What did you go out into the wilderness to see? A reed shaken by the wind? What then did you go out to see? A man dressed in soft clothing? Behold, those who are dressed in splendid clothing and live in luxury are in kings' courts. What then did you go out to see? A prophet? Yes, I tell you, and more than a prophet. This is he of whom it is written,

"'Behold, I send my messenger before your face,
who will prepare your way before you.'

I tell you, among those born of women none is greater than John. Yet the one who is least in the kingdom of God is greater than he." (When all the people heard this, and the tax collectors too, they declared God just, having been baptized with the baptism of John, but the Pharisees and the lawyers rejected the purpose of God for themselves, not having been baptized by him) (Luke 7:18-30; ESV).
Even the great John the Baptist may have had doubts and possibly experienced disillusionment with Jesus. If not checked, his unrealized expectations—which from the New Testament perspective were not ultimately valid since Jesus first had to offer himself up as the sacrifice for cleansing from sin before returning to reign on the earth—would hurt John's relationship with God. But Jesus did not scold John. Rather, Jesus provided an answer that the miraculous works he performed and the word he declared on behalf of the needy were signs that he is indeed the Messiah. John had not hoped in him in vain.
Jesus went on to praise John, and yet even more so anyone who belongs to God's kingdom, which Jesus has inaugurated. Jesus hailed John as the greatest of those born of women. But given Jesus' superiority as the very one John proclaimed as the Messiah, even the least who belongs to Jesus' kingdom was and is greater than John.
We have no idea how John processed Jesus' words that John's disciples relayed to him. What we do know is that some time later Herod had John beheaded (See Luke 9:7-9). We should also know that so many people had and have unrealized expectations of Jesus based on an overly-realized eschatology. Just as in the past, whether John the Baptist or Jesus' disciples and others, people expect Jesus to take all our problems away, conquer all forms of evil, and reign over all (and us with him)–right now.
As noted in Luke 7, Jesus does provide signs of his future reign of peace and wholeness in his miraculous interventions on behalf of the blind, deaf, lame, and poor. But there are many things left unresolved. John's head will soon come off. Jesus will die on a cross. His people will continue to suffer. The creation will keep on groaning until he makes all things new.
Jesus never promises to shield us from various relational, financial, physical, mental, emotional and vocational disappointments. He does promise to be with us, to deliver us in the midst of these challenges, and someday make all things new. We must not allow unrealized expectations that are really unrealistic expectations in the here and now stand in the way of coming to terms with Jesus as he really is and what he promises to do now and in the future. As we examine our expectations, it will help us examine our own lives and discern how to prepare for the end of the liturgical year, the end of our lives, and the end of the age. Remember that as great as John the Baptist was, those who are least in the kingdom are greater than John. May we take to heart John's message, as he prepared the way for us to follow Jesus. Let's make sure that we ourselves are doing everything possible to meet the real Jesus–free of unrealistic expectations–face to face.