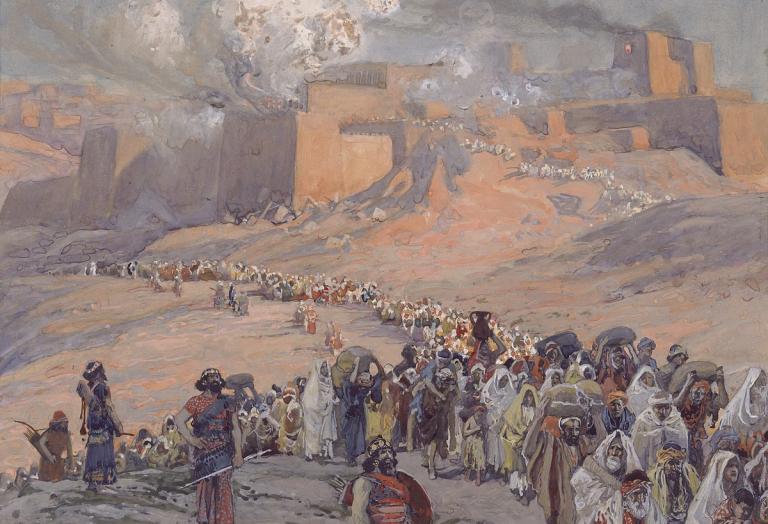 Many Christians in the United States feel as if they are spiritually and culturally in exile. For some, the feeling of exile results from their perception that the dominant Christian subculture is materialistic and power-driven. For others, the feeling of exile emerges from the growing religious and ethical pluralism surrounding the Christian community in the U.S., as well as from what they consider attacks on Christian identity and witness. No doubt, there are other reasons for this feeling of exile. In this context, we might resonate with the biblical book of Daniel in which Daniel and his Jewish friends Hananiah, Mishael, and Azariah display wisdom and faithful witness to the God of Israel while in exile in Babylon. Let's consider this biblical book in the hope of discerning how to be faithful, missional witnesses to God while facing the possibility and reality of spiritual exile. This first post will focus on Daniel chapter 1.
Daniel 1 recounts the traumatic exile of Judeans to Babylon following the Babylonian siege, Judah's surrender, and the removal of temple spoils from Jerusalem to the treasury in the house of Babylonian King Nebuchadnezzar's god (Daniel 1:1-2). King Nebuchadnezzar forced young Jewish men of royal and noble stock into his royal service, including Daniel and his friends (Daniel 1:3-6). The Babylonian ruler determined that they should eat food from his table, learn Chaldean literature and its language, and bear Babylonian names (Daniel 1:4-5, 7).
It is interesting that Daniel and his friends did not appear to take issue with studying the various disciplines and language required for civil service in the Babylonian empire but did object to eating food and drinking wine taken from the king's table. It is also worth noting here that Daniel pleaded respectfully—and no doubt with due consideration of the chief official's own well-being—that they be permitted to eat only vegetables and drink only water. While risky to Daniel, his friends, and to the chief official (who responded to the request, "So you would endanger my head with the king;" 1:10), their request was granted. The ensuing verses record that Daniel and his friends looked healthier than the king's other subjects on account of their different diet. As a result, they were permitted to continue honoring their Jewish dietary restrictions (Daniel 1:8-16).
Readers should account for the emphasis on divine providence in this chapter. Daniel 1:9 indicates that God granted them favor in the eyes of the chief official responsible for their training. Later, in 1:17, we find that God granted to Daniel and his three friends great wisdom and skill, and to Daniel the ability to interpret visions and dreams. As with their physical vitality, so, too, here, Daniel and his Jewish companions stood out as exemplary subjects:
As for these four youths, God gave them learning and skill in all literature and wisdom, and Daniel had understanding in all visions and dreams. At the end of the time, when the king had commanded that they should be brought in, the chief of the eunuchs brought them in before Nebuchadnezzar. And the king spoke with them, and among all of them none was found like Daniel, Hananiah, Mishael, and Azariah. Therefore they stood before the king. And in every matter of wisdom and understanding about which the king inquired of them, he found them ten times better than all the magicians and enchanters that were in all his kingdom. And Daniel was there until the first year of King Cyrus (Daniel 1:17-21; ESV).
Mention was made above of Daniel's differing responses to what was required of him and his friends in Nebuchadnezzar's court. One might ask: why did Daniel make a big deal about consuming Babylonian food and drink, but not the study of its literature and wisdom, which likely entailed the study of the Babylonian religions, myths, and astrology? In response, there is no prohibition in the Torah of studying pagan literature, culture, and religious texts. To study them does not entail adopting them.* However, the Torah is quite clear that touching and eating unclean food is prohibited (See Leviticus 11 and Deuteronomy 14). Moreover, one might also ask: why did they appear committed to serving Nebuchadnezzar and other pagan rulers while in exile? As we will also see in the chapters that follow, Daniel and his friends are loyal subjects who work hard to promote and ably benefit the welfare of Babylon. Such hard work was not a sign of disloyalty to the God of Israel, but loyalty. After all, the prophet Jeremiah had told the people of Judah to seek the well-being of Babylon to which they would indeed be exiled, contrary to the deceptive teaching of other Jewish prophets. Here's the relevant passage in Jeremiah, which is well worth quoting at length:
Thus says the Lord of hosts, the God of Israel, to all the exiles whom I have sent into exile from Jerusalem to Babylon: Build houses and live in them; plant gardens and eat their produce. Take wives and have sons and daughters; take wives for your sons, and give your daughters in marriage, that they may bear sons and daughters; multiply there, and do not decrease. But seek the welfare of the city where I have sent you into exile, and pray to the Lord on its behalf, for in its welfare you will find your welfare. For thus says the Lord of hosts, the God of Israel: Do not let your prophets and your diviners who are among you deceive you, and do not listen to the dreams that they dream, for it is a lie that they are prophesying to you in my name; I did not send them, declares the Lord.

For thus says the Lord: When seventy years are completed for Babylon, I will visit you, and I will fulfill to you my promise and bring you back to this place. For I know the plans I have for you, declares the Lord, plans for welfare and not for evil, to give you a future and a hope. Then you will call upon me and come and pray to me, and I will hear you. You will seek me and find me, when you seek me with all your heart. I will be found by you, declares the Lord, and I will restore your fortunes and gather you from all the nations and all the places where I have driven you, declares the Lord, and I will bring you back to the place from which I sent you into exile (Jeremiah 29:4-14; ESV).
The message here is that God's people were to be faithful to God while in exile and seek the welfare of the land of their sojourn. In view of such faithfulness, God promised in due time to restore their fortunes and bring them home.
It's time to conclude our reflections on Daniel chapter 1 with some applications. Christians of different spiritual and cultural convictions will vary in evaluating the state of affairs in this country, including whether Christians are in effect living in exile in the U.S. Nonetheless, there are points in this chapter that bear on how all Christians are to live missionally in cultural contexts that prove very challenging to faithful Christian witness.
First, be faithful to Biblical prescriptions and prohibitions and flexible on what is permissible. Here we have in mind the contrasting responses to the unclean food to consume and the literature and language to learn. It was one thing to eat and drink what the Law prohibited. It was quite another to study Babylonian literature, including pagan religion, myths and magic arts, albeit without practicing fortune-telling or sorcery, which the Law forbad (Deuteronomy 18:10). As we see in this chapter and throughout the book of Daniel, God was the one who granted Daniel and his friends exceptional wisdom and understanding and to Daniel the incomparable ability to interpret dreams (See Daniel 1:17, 20). In the case of dreams, Daniel inquired of God for insight and rightful interpretation (See Daniel 2). Here we find a similarity between the books of Daniel and Exodus, where the Egyptian sorcerers and magicians could not ultimately compete with Moses who performed miraculous signs and wonders in dependence on God (See for example Exodus 7:8-13, 9:8-12). After all, God controls the universal matrix and is the source of all knowledge and power, which those who rebel against God distort to diabolical ends.
Second, be respectful of those you serve, though not subservient, whereby you obey them unquestioningly. As noted above, Daniel asked the chief official for permission not to consume the food and drink prohibited by the Torah. Perhaps as a bargaining chip, and out of concern for the magistrate who would be taking a risk in not requiring them to eat the royal food, Daniel asked the chief official to test Daniel and his friends for a brief period of time to see how they compared with their fellow apprentices in court and then act accordingly (Daniel 1:12-14). Their faithfulness to God not only benefited them but also paid dividends for the royal official in that Daniel and his friends' appearance and form stood out favorably among their peers. As a result, the royal official allowed them to continue their diet of vegetables and water (Daniel 1:15-16).
Third, be confident that God is in control and concerned for the welfare of the land where you live in exile. The same God who gave Jehoiakim king of Judah into Nebuchadnezzar's hand, along with some of the vessels of the house of God (Daniel 1:2), is the same God who gave Daniel and his friends favor in the eyes of the Babylonian court. Not only did God preserve them from having to eat what the Torah prohibited and blessed the royal official in the process, but also God blessed Daniel and his friends and made them prosper in their service in the royal court, far exceeding their peers in appearance and wisdom. Though there will likely be incredible challenges and persecution along the way—as in the case of Daniel's friends being thrown into the fiery furnace as recorded in Daniel 3:8-30 and Daniel being thrown into the lion's den as recorded in Daniel 6, God will fulfill the divine plan for Jesus' faithful remnant and honor them in his future kingdom reign.
_______________
*I wish to express appreciation to my colleague in Hebrew Bible, Dr. Karl Kutz, for his interaction on this point and his insight into Daniel's regard for the well-being of the chief royal official.