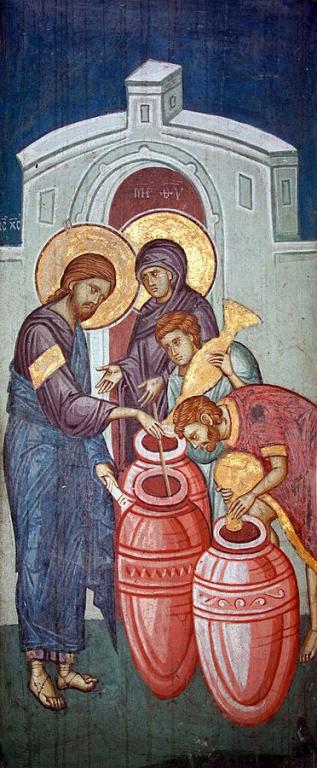 One of the main events in Jesus' life that the church celebrates during Epiphany-tide is the miraculous sign of water being turned into wine at the wedding at Cana in Galilee. The event is recorded in John 2:1-11. It is the first of the recorded signs in this gospel. The story goes that a major mishap occurs at a wedding that Jesus, his family, and disciples attend. They have run out of wine! For some of us, that may be like forgetting to bring the wedding cake. For others of us, it's even worse. So, Jesus' mother gets involved in problem-solving by offering Jesus' services. Maybe she had witnessed him in similar situations at home, where he was asked to create a full menu of food out of nothing and in short order for unsuspecting guests that had just arrived at their house. But Jesus does not appear to be so inclined at the wedding to lend a hand to get the master of ceremonies and newly married couple out of their bind. When his mother tells Jesus that they have run out of wine, he responds: "Woman, what does this have to do with me? My hour has not yet come" (John 2:4; ESV). Undeterred by his apparent lack of enthusiasm (likely intended to create space for his ultimate mission in life), Mary told the servants, "Do whatever he tells you" (John 2:5; ESV).
Regardless of his apparently initial reluctance, Jesus springs into action and tells the servants what to do. They were to fill five very large jars to the brim with water. These jars could hold twenty to thirty gallons of water, and were the kind used for ceremonial cleansing. The servants follow his command. Jesus then tells the servants to have the master of the feast sample the contents of the jars. When he does, he is amazed. Jesus has turned the water into wine, and the last wine is far better than the first. The usual plan at weddings was to serve the best wine first until people had "drunk freely," then serve the "poor wine." Not so in the case of this wedding. The best is unintentionally, though miraculously, saved for last (John 2:6-10; ESV).
Besides demonstrating that Jesus can be the life of the party, and that he cherishes marriage, what is most important for the purposes of John's Gospel as well as Epiphany-tide is that this miracle serves as a sign aimed at creating faith. As with all of Jesus' miraculous signs recorded in John's Gospel, the point as far as John is concerned is that people believe. Let's look at the book-end treatments of "signs." They are recorded in John 2:11 and 20:30-31.[1]
In John 2:11, we find that the turning of the water into wine creates faith in the hearts of the disciples. They have an epiphany. In other words, they see Jesus' glory and believe in him: "This, the first of his signs, Jesus did at Cana in Galilee, and manifested his glory. And his disciples believed in him" (John 2:11; ESV). In John 20:30-31, we find an explicit indication of the gospel writer's aim in composing this book: "Now Jesus did many other signs in the presence of the disciples, which are not written in this book; but these are written so that you may believe that Jesus is the Christ, the Son of God, and that by believing you may have life in his name" (John 20:30-31; ESV). Throughout this gospel, we find Jesus performing other miracles, including the healing of the lame man in John 5, the feeding of the five thousand in John 6, the healing of the blind man in John 9, and the raising of Lazarus from the dead in John 11. The raising of Lazarus points to the ultimate sign to follow: the hour of glory coming to fruition with Jesus' death by crucifixion and resurrection from the dead. Jesus says as much when he declares, "The hour has come for the Son of Man to be glorified" (John 12:23; ESV). He is referring to his victory over death that ensues.
As we are informed in John 20:30-31, the purpose of the miraculous signs, like John's Gospel as a whole, is to create faith. They are not intended to produce fanfare.[2] Of course, many follow Jesus for a time because of the miraculous signs he performs, only to abandon him when they realize he is not their father's Oldsmobile (remember that car model?!), run-of-the-mill Messiah.
One of the clearest illustrations of this problem is recorded in John 6. The exceptionally large crowd that Jesus feeds with only a few loaves and fish is utterly amazed. But while they declare with fanfare that he is the great Prophet Moses spoke about (John 6:14), they do not truly believe in him. They wish to make him an imperial king by force, so Jesus departs (John 6:15). Still, they catch up with him and urge him to perform another miraculous sign. Here is the conversation that ensues between Jesus and the crowd:
When they found him on the other side of the sea, they said to him, "Rabbi, when did you come here?" Jesus answered them, "Truly, truly, I say to you, you are seeking me, not because you saw signs, but because you ate your fill of the loaves. Do not work for the food that perishes, but for the food that endures to eternal life, which the Son of Man will give to you. For on him God the Father has set his seal." Then they said to him, "What must we do, to be doing the works of God?" Jesus answered them, "This is the work of God, that you believe in him whom he has sent." So they said to him, "Then what sign do you do, that we may see and believe you? What work do you perform? Our fathers ate the manna in the wilderness; as it is written, 'He gave them bread from heaven to eat.'" Jesus then said to them, "Truly, truly, I say to you, it was not Moses who gave you the bread from heaven, but my Father gives you the true bread from heaven. For the bread of God is he who comes down from heaven and gives life to the world." They said to him, "Sir, give us this bread always."

Jesus said to them, "I am the bread of life; whoever comes to me shall not hunger, and whoever believes in me shall never thirst. But I said to you that you have seen me and yet do not believe. All that the Father gives me will come to me, and whoever comes to me I will never cast out. For I have come down from heaven, not to do my own will but the will of him who sent me. And this is the will of him who sent me, that I should lose nothing of all that he has given me, but raise it up on the last day. For this is the will of my Father, that everyone who looks on the Son and believes in him should have eternal life, and I will raise him up on the last day." (John 6:25-40; ESV).
The crowd loves fanfare and full bellies. They want the bread that Jesus provides, but not Jesus as the bread of life. When the conversation takes a turn for the harder words, the crowd and many of his disciples abandon him. His claim to be the bread that comes down from heaven and that they must eat his blood and drink his blood signifies that he is not merely Joseph's son, nor an imperial messianic figure. Jesus comes to take away the sins of the world. Only those whom he chose remain (John 6:41-69). When Jesus asks the twelve if they, too, will abandon him, Peter remarks in his typical, genuine fashion: "Lord, to whom shall we go? You have the words of eternal life, and we have believed, and have come to know, that you are the Holy One of God" (John 6:68-69; ESV).
Unlike the lame man who does not believe (John 5) and the religious leaders who seek a way to destroy Jesus after he raises Lazarus from the dead (John 11), it is only blind men who receive their sight and who do not fear the establishment that can shun and kick them out of polite society (John 9) and fishermen like Peter who, unlike the crowd, hang their lives like fishing nets on his words (John 6) that truly see his miraculous signs and believe.
How about us? Are we like the crowd or those followers who follow Jesus at first because of full bellies and fanfare, but who abandon Jesus when he does not operate like a deity on demand or when his words become difficult to swallow? (John 6:52-66) Are we like the lame man who comes up lame in his response to Jesus making him whole by turning Jesus in to the authorities who persecute Jesus for healing the man on the Sabbath (John 5:1-17)? Are we like the religious establishment, who fears that if Jesus continues to gain steam, the Romans will take away their established positions and their nation (John 11:45-53)? Or are we like Peter and John who see Jesus' miraculous signs and truly believe? As we engage Jesus today during Epiphany-tide, may we realize that Jesus' miraculous signs great and small in our midst are not ends in themselves, nor aimed at creating a buzz or fanfare. Their intent is to reveal Jesus in his glory so that we might find eternal life through abiding faith in him (John 20:30-31).
_______________
[1]"Signs" function prominently in John's Gospel, so much so that different commentators have conceived the fourth canonical gospel according to "signs" and "glory" or "passion." For others, the entire gospel is one of signs. Raymond E. Brown outlines the "Book of Signs" and "Book of Glory" structure and C. H. Dodd conceives the "Book of Signs" and "Book of the Passion" framework in their respective treatments. See Raymond E. Brown, The Gospel According to John (I-XII): Introduction, Translation, and Notes, The Anchor Bible 29 (New York: Doubleday, 1966), pages cxxxviii-cxxxix; C. H. Dodd, The Interpretation of the Fourth Gospel (Cambridge: Cambridge University Press, 1953), page 289. See D. A. Carson's critique of this overarching approach in his commentary, The Gospel According to John (Grand Rapids: Eerdmans, 1991), pages 103-104.
[2]As I write in my commentary on John's Gospel on the nature of the canonical gospels: "John's words recorded as John 20:30-31 specify the nature of 'Gospel' literature. What is a Gospel? A biography? A history? A theology or catechism? A Gospel includes elements of each, but cannot be identified with any one of them. A Gospel is a category unto itself; it is God's good news written to help people come to faith and grow in their faith in Jesus, their Messiah." Paul Louis Metzger, The Gospel of John: When Love Comes to Town, Resonate Series (Downers Grove: InterVarsity Press, 2010), page 21. See also D. A. Carson's discussion of this theme in "Matthew," in Matthew, Mark, Luke, The Expositor's Bible Commentary 8 (Grand Rapids: Zondervan, 1984), pages 38-39.