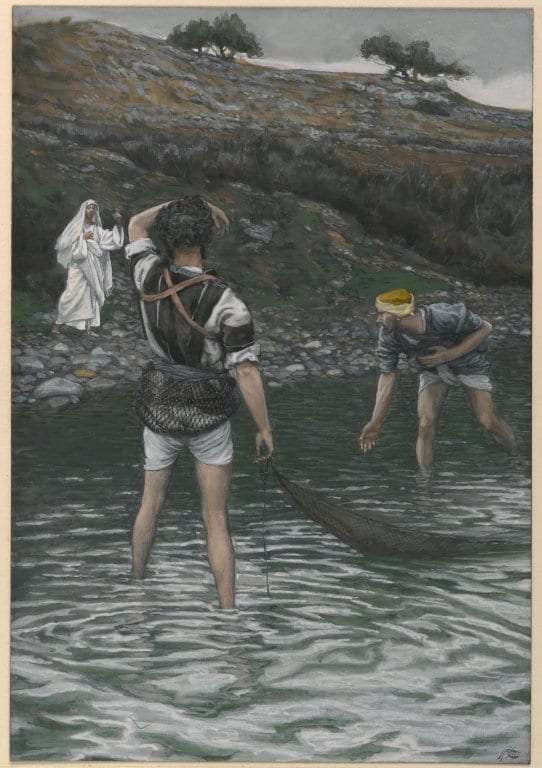 Jesus' call to discipleship and our responses to that call shed light on him and on us at any time of the year, including Epiphany-tide. The prior entry on Epiphany-tide focused on the revelation of Jesus' call of his first disciples. Here we highlight briefly the nature of that call and the appropriate response.
In Discipleship, Dietrich Bonhoeffer writes about "simple obedience." Jesus "demanded voluntary poverty of the rich young man." The man's "only choices were obedience or disobedience." Jesus' call is never a wish or a plea, but a command. As with Matthew the tax collector and Peter the fisherman, Jesus' call was/is total: "They were supposed to leave everything and follow him." Bonhoeffer goes on:
Only one thing was demanded in each of these cases. That was their entrusting themselves to the word of Jesus Christ, believing it to be a stronger foundation than all the securities of the world. The forces that wanted to get between the word of Jesus and obedience were just as great back then as they are today. Reason objected; Conscience, responsibility, piety, even the law and the principle of Scripture intervened to inhibit this most extreme, this lawless "enthusiasm." Jesus' call broke through all of this and mandated obedience. It was God's own word. Simple obedience was required.[1]
What does Jesus' simple though staggering call say about him? What did these individuals' responses say about them? The call and responses shed light on the respective parties. Just as it is only God who can forgive sins (Mark 2:7), it is only God, or someone playing God, who can make such a total, all-encompassing demand on their/our lives. Certainly, a madman could do so, but not someone simply trying to present him or herself as a "great moral teacher," to adapt a thread of thought from C.S. Lewis. But Jesus did not leave open to the rich young ruler or anyone else the option to label him merely as "Good Teacher" (Mark 10:17; ESV).[2] If the rich young ruler truly wished to gain everlasting life, Jesus' command reveals that he had to sell his possessions, give the proceeds to the poor, and follow Jesus (Mark 10:17-31).
Jesus may not call us to a life of voluntary poverty, but he does call us unequivocally to leave everything to follow him, as in the case of Matthew and Peter. As Peter says in response to Jesus' encounter with the rich young ruler and ensuing instruction to his disciples: "See, we have left everything and followed you" (Mark 10:28; ESV). What that means in each case, only time will tell. What is most telling is whether we follow unequivocally, or if we equivocate. Jesus certainly leaves no room for doubt—he calls us to simple obedience. Nothing super or sophisticated about it. Just obedience—pure and simple. His call and our responses shed light on Jesus and us during Epiphany-tide and beyond. During this season, even as we move toward Lent, reflect on the gospel accounts of Jesus' call on people's lives. Sing the song, "I Have Decided to Follow Jesus." Let's ask ourselves: can we really sing, "No turning back," or do we find ourselves inserting qualifying asterisks and escape clauses while singing and while following? It's a question to ask and live daily. Our daily answer? Only time will tell.
_______________
[1]Dietrich Bonhoeffer, Discipleship, Bonhoeffer Works, vol. 4, edited by Geffrey B. Kelly and John D. Godsey, translated by Barbara Green and Reinhard Krauss (Minneapolis: Fortress Press, 2003), page 77.
[2]See C.S. Lewis, Mere Christianity, with a foreword by Kathleen Norris, C.S. Lewis Signature Classics, revised and enlarged edition (New York: HarperOne, 2015), page 53.