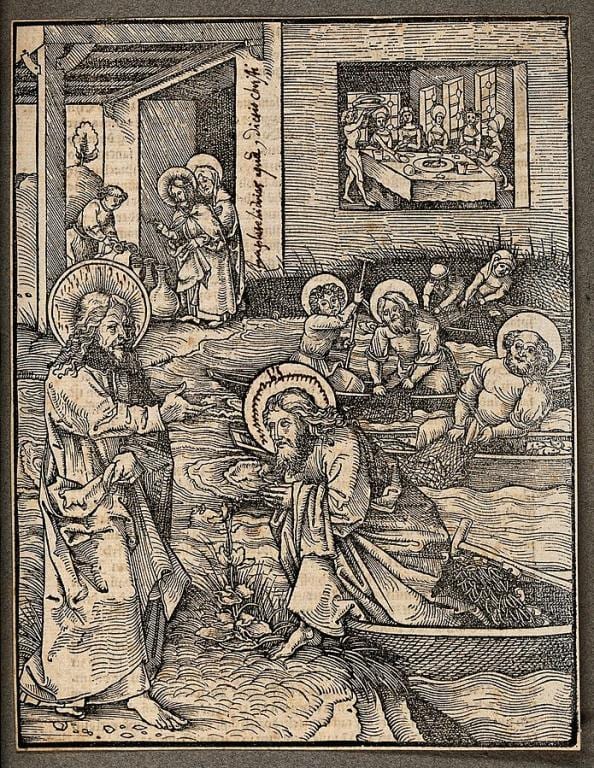 Many churches celebrate Epiphany Season from January 6 with the visit of the Magi to the Transfiguration just before the beginning of Lent. Epiphany-tide focuses on the manifestation of Jesus and his glory. In the Western church tradition, Epiphany Sunday focuses on the visit of the Magi whereas the Sunday following Epiphany reflects on the manifestation of the triune God at Jesus' baptism (See Matthew 2 and 3 respectively for treatment of these two accounts). To truly see Jesus is believing and following, as the Magi followed the star in the east to worship him and obey God rather than Herod in returning home another way to protect the infant Jesus (Matthew 2:1-12). Similarly, John the Baptist submits to Jesus' determination to be baptized by John in fulfillment of all righteousness. John prepares the way for him and relinquishes the spotlight joyfully so that Jesus' star shines brighter and brighter, and John's less (Matthew 3; John 1:19-42; 3:22-30). As passages in John 1 and John 3 indicate, John delights in pointing others—including his own disciples—to Jesus so that they turn to him. As Jesus' ultimate identity is disclosed to them, they believe and follow him. Here we find a theme often developed on the second Sunday following Epiphany, namely, the calling of Jesus' disciples.
John's Gospel develops what becomes an Epiphany-tide theme in accounting for John the Baptist's rationale for his ministry of baptism—that Jesus may be manifested or revealed. John 1:31 reads: "I myself did not know him, but for this purpose I came baptizing with water, that he might be revealed to Israel" (ESV). May our entire existence as believers reflect John's singular passion: that Jesus may be revealed—to Israel and to the world! May those who hear of Jesus truly see, which involves believing and following him.
The canonical gospel writers share John the Baptist's singular passion to see Jesus revealed not simply to the Magi or to John the Baptist, but to a multitude of others. To this end, they draw attention to Jesus' calling of his first disciples who will take the good news of Jesus to Israel and the world.
John's testimony about Jesus certainly draws attention to the Lord to such an extent that two of his disciples depart to follow Jesus. Jesus tells them to come and see where he lives. One of them is Andrew, who tells his brother Peter about Jesus. Peter also turns to follow him. Later Philip tells Nathaniel about Jesus. In each of these episodes, we find manifestations of Jesus to the people and how he calls his disciples to him. Notice the emphasis on revealing, seeing, and beholding in his entire section. Here are several examples (taken from the ESV translation):
John the Baptist: "that he might be revealed to Israel" (1:31).

John the Baptist: "Behold, the Lamb of God!" (1:36)

Jesus to Andrew and a fellow disciple of John: "Come and you will see" (1:39)

Philip to Nathaniel: "Come and see" (1:46).

Jesus about Nathaniel: "Behold, an Israelite indeed, in whom there is no deceit!" (1:47)
We will come to one last example shortly. Before doing so, it is worth noting that John the Baptist indicates he did not know who Jesus was as the Lamb of God who baptized with the Holy Spirit apart from God revealing it to him:
And John bore witness: "I saw the Spirit descend from heaven like a dove, and it remained on him. I myself did not know him, but he who sent me to baptize with water said to me, 'He on whom you see the Spirit descend and remain, this is he who baptizes with the Holy Spirit.' And I have seen and have borne witness that this is the Son of God" (John 1:32-34; ESV).
At the close of John chapter 1, we find Jesus knowing who Nathaniel is in the depths of his being and from a distance. Jesus does not need anyone to reveal it to him. After all, as we are informed in John 2, Jesus knows what is in people's hearts (John 2:23-25). However, Nathaniel is skeptical when Philip declares he has met the one prophesied by the Law and Prophets, since Philip added that Jesus is from the seemingly God-forsaken town of Nazareth (1:45-46). Nathaniel only realizes Jesus to be the Messiah based on Jesus' assertion that he knew who Nathaniel was from afar. The passage closes with the following claim by Jesus:
Nathanael answered him, "Rabbi, you are the Son of God! You are the King of Israel!" Jesus answered him, "Because I said to you, 'I saw you under the fig tree,' do you believe? You will see greater things than these." And he said to him, "Truly, truly, I say to you, you will see heaven opened, and the angels of God ascending and descending on the Son of Man" (1:49-51; ESV).
Jesus is alluding to Jacob's encounter with God when he fled from his brother Esau to his uncle Laban's house (Genesis 27:41-28:1-5; 28:10-22). God gave Jacob a dream in which angels were ascending and descending at the very spot where Jacob slept. Jacob named the spot Bethel, the place or house where God dwells. Jesus is the ultimate dwelling place of God. That is why he performs all manner of miraculous signs that reveal his glory, as John's Gospel portrays.
Whereas Jesus reveals his glory to his followers, he does not need anyone to reveal to him who people truly are, for he knows what is within each of us. However, we need signs to recognize who he really is, as John 2:23-25 reads:
Now when he was in Jerusalem at the Passover Feast, many believed in his name when they saw the signs that he was doing. But Jesus on his part did not entrust himself to them, because he knew all people and needed no one to bear witness about humankind, for he himself knew what was in each one of them (ESV).
Next week, we will reflect on the first miraculous sign that John's Gospel highlights—the turning of water into wine at the wedding of Cana. Jesus reveals his glory to his disciples there (John 2:1-11).
Those who really see Jesus believe. Those who truly believe follow. There is no such thing as detached observation. Jesus calls those who want to know more about him to "Come and see." Real faith is not simply head knowledge. Nor does it end with heart knowledge. It also entails hands and feet knowledge, whereby we get up and follow him.
Are we content with observing Jesus, critically redacting him ideally or historically, studying what he is as fully divine and fully human without coming to terms with who he is in his person and who he is who calls us to respond? There can be no abstract consideration of Jesus or discipleship, or focused consideration on the disciple. They are nothing more than dead ends. "Come and see" refers to him—to Jesus, not to his divinity or humanity in the abstract, nor to ourselves apart from him. Come and see him, as revealed in his active signs that manifest the glory of his person.[1] Seeing Jesus is believing and following. If we would see him, we must follow him. As Dietrich Bonhoeffer writes in Discipleship, "only the believers obey, and only the obedient believe."[2]
We close with another quotation from Bonhoeffer's Discipleship:
Discipleship is commitment to Christ. Because Christ exists, he must be followed. An idea about Christ, a doctrinal system, a general religious recognition of grace or forgiveness of sins does not require discipleship. In truth, it even excludes discipleship; it is inimical to it. One enters into a relationship with an idea by way of knowledge, enthusiasm, perhaps even by carrying it out, but never by personal obedient discipleship. Christianity without the living Jesus Christ remains necessarily a Christianity without discipleship; and a Christianity without discipleship is always a Christianity without Jesus Christ. It is an idea, a myth.[3]
Let us move from the myth to the reality of Jesus' manifestation during and beyond Epiphany-tide, which inevitably leads us to believing in and following him.
_______________
[1]As I reflect in this paragraph on the canonical gospels' manifestation of Jesus to those who follow him, I call to mind two passages of Bonhoeffer: Christ the Center, translated by Edwin H. Robertson, Harper's Ministers Paperback Library (New York: Harper and Row, 1978), pages 44-45; Discipleship, Bonhoeffer Works, vol. 4, edited by Geffrey B. Kelly and John D. Godsey, translated by Barbara Green and Reinhard Krauss (Minneapolis: Fortress Press, 2003), pages 58-59, 63.
[2]Bonhoeffer, Discipleship, page 63
[3]Bonhoeffer, Discipleship, page 59.