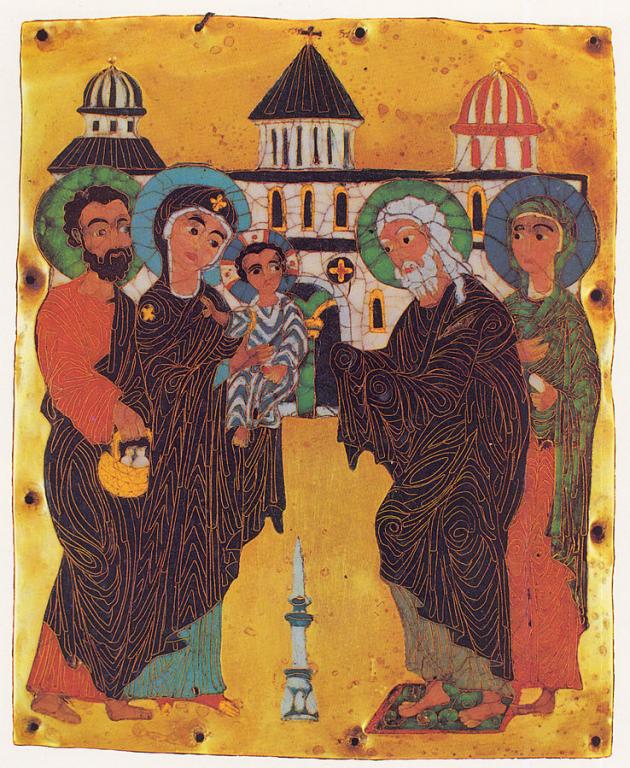 Usually, a baby dedication is sweet, uneventful, and yet memorable for the family and close friends. The worst thing that can happen at a baby dedication or baptism is that the infant may start to cry. Based on what occurs at Jesus' dedication in the Temple recorded in Luke 2, memorable is correct, but certainly not uneventful or sweet. This event recorded in Luke 2 stands at a crossroad in the church calendar, as it marks the first recorded instance of Jesus and his mission being revealed/manifested to the public. Celebrated on February 2nd, the "Presentation of the Lord" or dedication closes out the longer version of Christmastide as well as the birth narrative (forty days after Jesus' birth), is a key date during Epiphany-tide, is part of Ordinary Time, and foreshadows Lent as well as Good Friday and Easter. Jesus' baby dedication in the Temple in Jerusalem reveals the new world order that Jesus' life inaugurates. So much for the possibility of Jesus' baby dedication being uneventful.
Jesus' parents' determination to have Jesus' dedication or purification in the Temple marks them as an observant Jewish couple. They are pious and devout, as are Simeon and Anna who approach and give glory to God for the baby Jesus. We will focus on the encounter with Simeon. One of the most striking features of the narrative is the emphasis on the Holy Spirit. Three times, the text mentions Simeon's vital connection to the Spirit: "…the Holy Spirit was upon him" (Luke 2:25; ESV); "…it had been revealed to him by the Holy Spirit that he would not see death before he had seen the Lord's Christ" (Luke 2:26; ESV); "and he came in the Spirit into the temple" (Luke 2:27; ESV).
Given that the location is the Temple in Jerusalem, which was viewed as the place where God dwelt, and given the emphasis on the Holy Spirit's guiding presence in the story, we should be expecting something eventful to transpire. Indeed, it does. Simeon's words lead Jesus' parents to marvel. Taking the baby in his arms, Simeon speaks:
"Lord, now you are letting your servant depart in peace,

according to your word;

for my eyes have seen your salvation

that you have prepared in the presence of all peoples,

a light for revelation to the Gentiles,

and for glory to your people Israel."

And his father and his mother marveled at what was said about him. And Simeon blessed them and said to Mary his mother, "Behold, this child is appointed for the fall and rising of many in Israel, and for a sign that is opposed (and a sword will pierce through your own soul also), so that thoughts from many hearts may be revealed" (Luke 2:29-35; ESV).
Again, as the text makes note, Jesus' parents marvel at Simeon's declaration about Jesus. The scene was certainly eventful, indeed momentous, and memorable, but by no means sweet. Why not sweet? As Simeon says to Mary, many in Israel will fall and rise on account of Jesus' divinely appointed call. And given that many will fall and rise because of him, many will oppose Jesus (Luke 2:34). Simeon adds in his words directed to Mary: "a sword will pierce through your own soul also," even while the "thoughts from many hearts may be revealed" (Luke 2:35; ESV).
While the meaning surrounding the sword piercing is not entirely clear, it is likely the case that Mary will encounter untold grief in witnessing her son's appointed call. As much as he loves his mother and family and nation, Jesus will make very clear that he is about his heavenly Father's mission. As Luke's Gospel recounts in what immediately follows, Jesus later tells his parents in the very temple in Jerusalem when he is twelve: "Why were you looking for me? Did you not know that I must be in my Father's house?" (Luke 2:49; ESV). Just as his parents marveled at Simeon's words, no doubt grasping for their meaning, here we find Joseph and Mary at a loss for comprehension. Even so, Mary held tight to Jesus' words and took them to heart: "And they did not understand the saying that he spoke to them. And he went down with them and came to Nazareth and was submissive to them. And his mother treasured up all these things in her heart" (Luke 2:50-51; ESV).
Later we find Jesus distancing his mission from filial piety and familial ties in even more striking terms:
Then his mother and his brothers came to him, but they could not reach him because of the crowd. And he was told, "Your mother and your brothers are standing outside, desiring to see you." But he answered them, "My mother and my brothers are those who hear the word of God and do it" (Luke 8:19-21; ESV).

As he said these things, a woman in the crowd raised her voice and said to him, "Blessed is the womb that bore you, and the breasts at which you nursed!" But he said, "Blessed rather are those who hear the word of God and keep it!" (Luke 11:27-28; ESV)
Imagine how such words would hit his hearers given the honor due to parents in traditional Jewish society! Consider, too, how they would strike Mary's heart! It is important to point out that Jesus means no offense or harm to Mary, but to make clear to his mother and brothers and everyone else that his ultimate loyalty is to his Heavenly Father's call and divine vocation and the family of faith that holds firmly to Jesus' word. Ponder, too, Jesus' distancing himself from Mary at the wedding in Cana in telling her "Woman, what does this have to do with me? My hour has not yet come" (John 2:4; ESV; even so, Mary is not deterred and instructs the attendants at the wedding to do what Jesus tells them based on her request to him to help in view of the wine running out). There's no question that Jesus loved and honored Mary. Even on the cross, in his hour of untold agony, he accounts for her own travail and vulnerability and ensures that she will be cared for after his death and departure:
but standing by the cross of Jesus were his mother and his mother's sister, Mary the wife of Clopas, and Mary Magdalene. When Jesus saw his mother and the disciple whom he loved standing nearby, he said to his mother, "Woman, behold, your son!" Then he said to the disciple, "Behold, your mother!" And from that hour the disciple took her to his own home (John 19:25-27; ESV).
To return to Luke's Gospel, we find that it is not simply Jesus' family that Jesus distances himself from in fulfilling his divine appointment. Jesus also challenges established orders of national allegiance, power and hierarchy, and religious purity codes of conduct. Regarding national allegiance, while Jesus provides salvation for his own people, he is salvation for "all peoples" (2:31; ESV). "He is a light for revelation to the Gentiles," not only "…for glory to your people Israel" (Luke 2:32; ESV).
Moreover, as already noted, within Israel itself, not all will respond well to him. Many of his own people will fall, though many will rise, on account of him (Luke 2:34). Mary's own song at the news that she will bear the Messiah makes a similar claim:
He has shown strength with his arm;
he has scattered the proud in the thoughts of their hearts;
he has brought down the mighty from their thrones
and exalted those of humble estate;
he has filled the hungry with good things,
and the rich he has sent away empty (Luke 1:51-53; ESV).
Luke's Gospel makes very clear how Jesus breaks through social barriers involving Jews and Gentiles, rich/powerful and poor, and clean and unclean to bring the fullness of salvation to all people.[1] Jesus' rejection in Nazareth (which involves Jesus' claim that he will work wonders among the Gentiles, as in the days of Elijah and Elisha, and not among his own people due to their hardness of heart; Luke 4:16-30), his cleansing of the leper with his own hand (Luke 5:12-14), eating with tax collectors and sinners (Luke 5:27-32), and blessing of the poor with the kingdom and cursing of the rich (Luke 6:20, 24) certainly did not win him friends in established circles. Here we find that Jesus is salvation for all people, as God does away with the old rule and establishes the new world order in Jesus through the Spirit.
As we remember Jesus' dedication or purification in the Temple this day, may we seriously ponder the state of our heart and presumed allegiance to him. Does filial piety, national pride and established hierarchies and structures overshadow him and the family of faith that holds firmly to his word? May we ask God to purify our hearts and may we dedicate ourselves anew to treasuring Jesus' word and finding the fullness of salvation in him.
_______________
[1]For a keen discussion of this theme, see Joel B. Green, The Gospel of Luke, The New International Commentary on the New Testament (Grand Rapids: Eerdmans, 1997), pages 394-395. Green's treatment includes mention of Mary's Magnificat and Simeon's pronouncement.