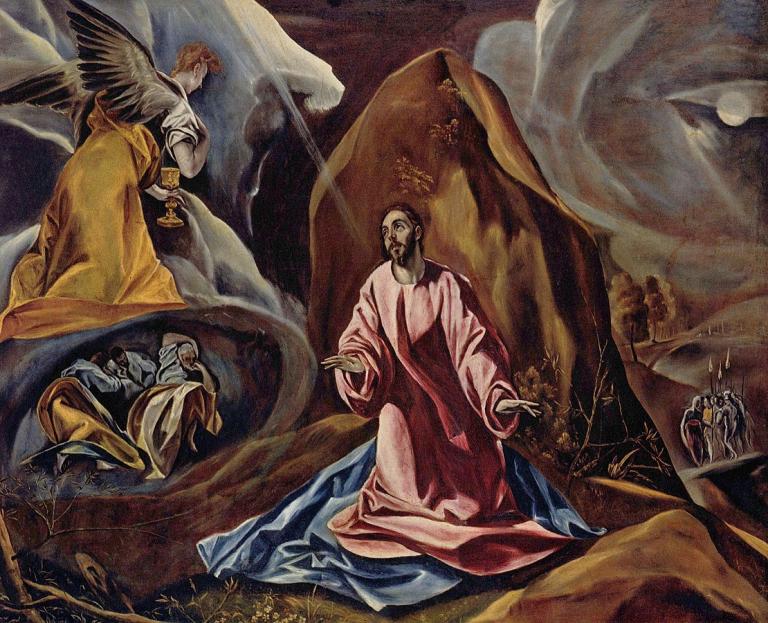 Those who would live authoritatively as Christians must learn to live under authority, as in the case of Jesus, whose dedication to do God's will should lead the way. Anything else is either authoritarian or anemic.
As Jesus' dedication as a baby reveals, Jesus was born of a woman under the Law in the fullness of time (Luke 2:22; Galatians 4:4). Jesus learned obedience through what he suffered during his entire life here on earth (Hebrews 5:7-8; cf. Luke 22:42-44). Rather than learning to obey based on the suffering entailed by disobedience, as in our case so many times, he learned experientially what his dedication to obedience in coming into the world entailed—suffering[1] (On such predetermined dedication, see Hebrews 10:5-7).
How about those of us who claim to dedicate ourselves to following him? Will we obey to the point of suffering with him, as Hebrews encourages us to do? Do we dedicate our lives to obeying Jesus even when it hurts? We do, if we desire to live authoritatively, indeed, if we desire to live in vital communion with him. All authority has been given to Jesus, which he then shares with his obedient disciples (See Matthew 28:18-20).
One of the most striking features of Jesus' authoritative life involves how he lives under authority. Ultimately, he lived under his Heavenly Father's authority here on earth, but also under his parents' authority and the Mosaic Law. We find this dynamic in play in Luke 2, where Jesus' parents dedicate him as a baby in the Temple in Jerusalem, as prescribed by the Law (Luke 2:22). We also find this dynamic at work later in the same chapter, when the twelve-year-old Jesus tells his frantic and frustrated parents (who find him in the same Temple after losing him following the Passover feast) that he must be about his Heavenly Father's business (Luke 2:48-50). Again, we find this dynamic at work in Jesus returning home and submitting himself to their parental authority: "And he went down with them and came to Nazareth and was submissive to them. And his mother treasured up all these things in her heart. And Jesus increased in wisdom and in stature and in favor with God and man" (Luke 2:51-52; ESV). Elsewhere in the Gospels, we find Jesus taking part in Jewish worship in the synagogue on the Sabbath (See Luke 4:16), participating in the festivals (See John 7 and 8), and honoring the Law's requirements (Matthew 8:4). Jesus even respects the position of those in Moses' seat of authority, while warning people not to follow their authoritarian example, since they themselves do not adhere to the Law and are a law to themselves (Matthew 23:1-3). Jesus does not come to abolish the Law, but to complete it (Matthew 5:17-20). Jesus was born of a woman under law, living in the fullness of time: "But when the fullness of time had come, God sent forth his Son, born of woman, born under the law" (Galatians 4:4; ESV).
From Jesus' dedication to the end of his life on earth, Jesus lives under authority—not in some servile, anemic sense, but with overwhelming authority. As the close to the Sermon on the Mount indicates, the people are amazed because Jesus speaks with authority, not like their religious leaders: "And when Jesus finished these sayings, the crowds were astonished at his teaching, for he was teaching them as one who had authority, and not as their scribes" (Matthew 7:28-29; ESV). Jesus' way of life and teaching is a direct challenge to the religious establishment, whom he confronts for their hypocrisy (Matthew 23:1-36). In contrast to them, Jesus practices what he preaches in fulfillment of the Law as its perfect embodiment. Jesus, who is the Living Law as the eternal Word made flesh, is the eternal expression/communication of God's ultimate values (John 1:1-3). How striking it is then that he submits to the Law of Moses, since the New Testament portrays him as the divine Logos! Jesus submits to the Law even while perfecting it in accordance with its inner logic and spirit. After all, he is the Law's final end.
So where does this lead us? Does consideration of Jesus' authoritative obedience, including suffering, lead us away from him, or closer to him? Remember Jesus said that a student is not above his teacher, nor a servant above his master (Matthew 10:24). If Jesus—who is truly above the Law as its author and embodied blueprint—puts himself under the Law and authority, so can and must we. Of course, Jesus' ultimate allegiance is to his Father, whose will he determines to do here on earth (Hebrews 10:7), and which puts him in direct conflict with those who were laws unto themselves, or who failed to obey God's Word. If we would live authoritative lives that are in vital communion with Jesus, we must dedicate ourselves to follow him daily, no matter the suffering that results. Just as Jesus, the author of our salvation was made perfect through obedient suffering (Hebrews 2:10; cf. Luke 22:42-44), we who are his brothers and sisters are made perfect through participation in his obedience. Otherwise, our leadership pursuits in the Christian life are either authoritarian or anemic and result in our demise.[2]
Jesus' dedication in the Temple as a baby and his obedience to God throughout his life flow from his predetermination and dedication to come to earth to do God's will (Hebrews 10:5-7). In view of his example, we must live under his authority from his Father to live into the authority we derive in communion with him (See Mathew 28:18-20). Let us dedicate each day to him and pray as we rise, "Lord Jesus, I have come to do your will, no matter the sacrifice. You who possess all authority are worthy of my obedience."
_______________
[1]See F.F. Bruce's discussion of Hebrews 5:8 in The Epistle to the Hebrews, rev. ed., The New International Commentary of the New Testament (Grand Rapids: Eerdmans, 1990), pages 131-132.
[2]Consider Bruce's discussion of Jesus' perfection through his obedient suffering and the call to follow his example and so proceed toward perfection in relation to Jesus—the author of our salvation. Bruce, The Epistle to the Hebrews, page 132.