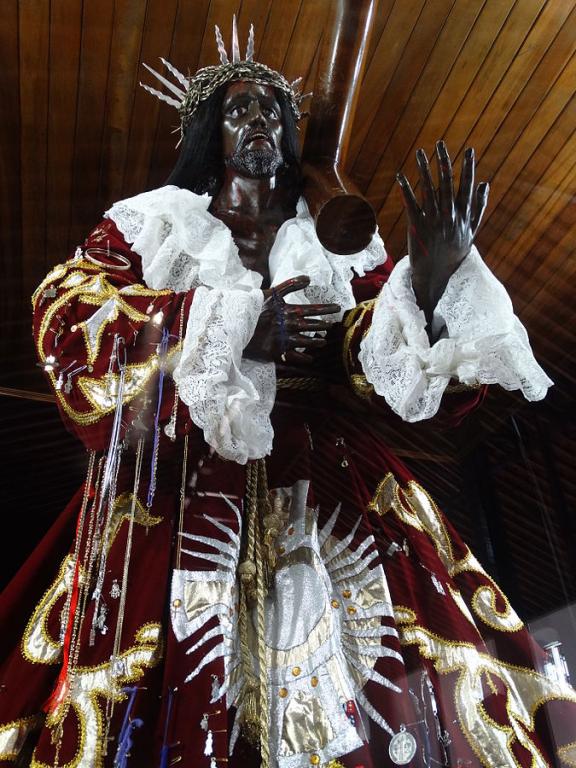 Those who are an authoritarian law to themselves do not live authoritatively. Nor do those who champion anarchy against all rule. Authoritative living requires living under God's authority with those on history's underside, namely the disinherited and oppressed. We will develop this theme in what follows.
One of the most striking features of Jesus' authoritative life involves how he lives under authority. We find this dynamic in play in Luke 2, where Jesus' parents dedicate him as a baby in the Temple in Jerusalem, as prescribed by the Law (Luke 2:22). We also find this dynamic at work later in the same chapter, when the twelve-year-old Jesus tells his frantic and frustrated parents (who find him in the same Temple after losing him following the Passover feast) that he must be about his Heavenly Father's business (Luke 2:48-50). Again, we find this dynamic at work in Jesus returning home and submitting himself to their parental authority: "And he went down with them and came to Nazareth and was submissive to them. And his mother treasured up all these things in her heart. And Jesus increased in wisdom and in stature and in favor with God and man" (Luke 2:51-52; ESV). Elsewhere in the Gospels, we find Jesus taking part in Jewish worship in the synagogue on the Sabbath (See Luke 4:16), participating in the festivals (See John 7 and 8), and honoring the Law's requirements (Matthew 8:4). Jesus even respects the position of those in Moses' seat of authority, while warning people not to follow their example, since they themselves do not adhere to the Law (Matthew 23:1-3). Jesus does not come to abolish the Law, but to complete it (Matthew 5:17-20). Jesus was born of a woman under law, living in the fullness of time: "But when the fullness of time had come, God sent forth his Son, born of woman, born under the law" (Galatians 4:4; ESV).
From Jesus' dedication to the end of his life on earth, Jesus lives under authority—not in some servile sense, but with overwhelming authority. As the close to the Sermon on the Mount indicates, the people are amazed because Jesus speaks with authority, not like their religious leaders: "And when Jesus finished these sayings, the crowds were astonished at his teaching, for he was teaching them as one who had authority, and not as their scribes" (Matthew 7:28-29; ESV). Jesus practices what he preaches in fulfillment of the Law as its perfect embodiment. Jesus, who is the Living Law as the eternal Word made flesh, is the eternal expression/communication of God's ultimate values (John 1:1-3). How striking it is then that he submits to the Law of Moses, since the New Testament portrays him as the divine Logos! Jesus submits to the Law even while perfecting it in accordance with its inner logic and spirit. After all, he is the Law's final end.
In our day, it is very difficult to compute that laws, or at least some laws, have an objective basis. As it is Black History Month, it is worth highlighting that the Reverend Dr. Martin Luther King, Jr. led the Civil Rights movement with a profound awareness of divine Law and natural law, which he discerned were embedded in universal existence as the basis of a moral universe. King believed strongly in the importance of adhering to the moral law of the universe. As argued in his "Letter from a Birmingham Jail," King led the charge of civil disobedience in view of the fact that there are unjust laws that must be disobeyed, albeit civilly and nonviolently, because they do not match the eternal and natural law that serves as the basis for morality. King was willing to suffer the consequences for disobeying unjust laws of segregation because the price was too high not to honor God's just law that champions care for the orphan, widow, enslaved, and alien in their distress. In fact, in King's estimation, the founders of this great country failed to live up to the ideals embedded in The Declaration of Independence from British tyranny and which they discerned included tenets of Nature's Law: "all men are created equal, that they are endowed by their Creator with certain unalienable Rights, that among these are Life, Liberty and the pursuit of Happiness." The Declaration and the Constitution served together as a "promissory note" that all America's heirs could cash at the bank of liberty. While King's people were told that there were insufficient funds when they tried to cash the note for justice, King argued in front of the Lincoln Monument during the march on Washington that "we refuse to believe that the bank of justice is bankrupt. We refuse to believe that there are insufficient funds in the great vaults of opportunity of this nation. And so we've come to cash this check, a check that will give us upon demand the riches of freedom and the security of justice." Here it is important to highlight that, "King's conviction that an objective moral order exists is the ground of his doctrine of the beloved community and his expectation of its attainment. In other words, it is possible to actualize the beloved community precisely because it is based on the principle that the universe itself is friendly and therefore supports the realization of such a community."[1]
King and the Civil Rights community spoke and lived authoritatively, unlike the law-keepers of segregation, because King and his allies lived in keeping with the tenets of the Declaration of Independence and Constitution, which in his estimation reflect the moral order of the entire universe, which Jesus embodies in exemplary fashion. King sought to live out the Lord Jesus' teaching in the Sermon on the Mount, including the call to love one's enemies and pray for those who persecute his followers (See Matthew 5:43-48), as well as Jesus' words when he judges the nations, namely, to care for the hungry, thirsty, displaced, naked, sick, and imprisoned (Matthew 25:31-46). Those who care for and identify with those on history's underside are on the right side of history. King's particular construal of Black natural law was derived from the gospel of Jesus: "the highest form of law" is "the law of God as embodied in a perfect individual, Jesus."[2]
Today, do we live under Jesus' humane authority on behalf of those on the underside of history, or do we operate in authoritarian terms, whereby we try to enforce our will on others, living as a law to ourselves? Or do we seek to cast aside all laws in order to promote anarchy? Or better, do we live under authority, ultimately divine authority, as embodied in Jesus Christ? If we take to heart the canonical gospels, we will see that the embodied Law who is Jesus calls us to side with the law of truth, justice, and love, to live in solidarity with those who undergo oppression and marginalization, and as a result, to be marginalized with him and them. Those who are poor in spirit (Matthew 5:3) do not champion the rich who have received their consolation (Luke 6:24), but the poor who are blessed (Luke 6:20), just like the poor in spirit (Matthew 5:3). We will also see as with King's version of Black natural law that the oppressed experience "epistemic privilege" since "suffering attunes us to justice."[3] Furthermore, we will see that primary attention must be given to the inherent rights of those who are marginalized, excluded, and oppressed,[4] as reflected in the life and teaching of Jesus. The Jewish Jesus of Nazareth is the God of the Samaritan, the woman with the issue of blood, the repentant tax collector and prostitute, the little children, the lame and blind beggar, and the leper. Whose authority do we live under? The law of the person who is a law unto themselves, the law of oppression and marginalization, the law of anarchy, or the law of liberty and holy love for and with those on history's underside, namely the marginalized and oppressed?[5] Those who are an authoritarian law to themselves and who oppress others do not live authoritatively. Nor do those who champion anarchy against all rule. Authoritative living requires living under Jesus' divine authority in solidarity with those on the underside of history.
_______________
[1]Rufus Burrow, Jr., God and Human Dignity: The Personalism, Theology, and Ethics of Martin Luther King, Jr. (Notre Dame, IN: University of Notre Dame Press, 2006), 184. For a sustained, focused treatment of natural law in the African American tradition, see Vincent W. Lloyd, Black Natural Law (Oxford: Oxford University Press, 2016).
[2]Lloyd, Black Natural Law, 94.
[3]Lloyd, Black Natural Law, ix.
[4]Lloyd, Black Natural Law, 162.
[5]For sustained treatments of theologies espousing the law of liberty and holy love in solidarity with those on the underside of history and society, see James H. Cone, God of the Oppressed, rev. ed. (Maryknoll, NY: Orbis Books, 1997); Howard Thurman, Jesus and the Disinherited, with a foreword by Vincent Harding (Boston: Beacon Press, 1996).