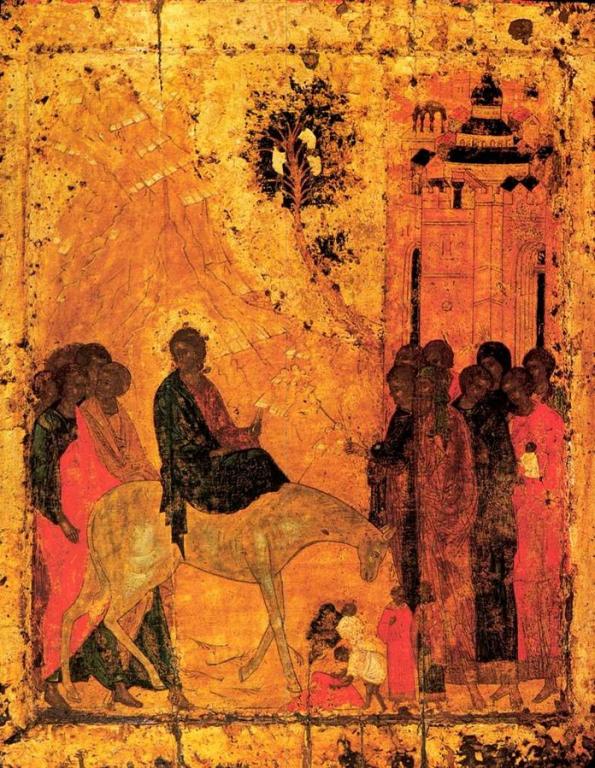 Palm Sunday marks the beginning of Holy Week with Jesus' triumphal entry into Jerusalem (Matthew 21:1-11). On this day, we celebrate Jesus in his humble glory riding a donkey into the city of David, as the crowds and children cry out, "Hosanna to the Son of David! Blessed is he who comes in the name of the Lord! Hosanna in the highest!" (Matthew 21:9; ESV). The crowds threw palm branches on the path before Jesus to celebrate him as their approaching King (Matthew 21:8), who came to bring lasting peace and gracious justice.
Many expected Jesus to deliver them from their Roman oppressors in keeping with their Messianic expectations. Like his disciples, they had no idea that Jesus would bring peace and justice paradoxically through the Roman symbol of oppression—the cross. In less than a week from Palm Sunday, Jesus would bear nail marks in his hands. How did they respond to his strategy for bringing about victory, when they saw it all play out? How about us?
Like the crowds, we may respond well during Palm Sunday celebrations. For instance, you will find many churches marking the occasion by distributing palm branches to those gathered for worship. This is a helpful, symbolic act. Palm Sunday helps us look back and forward at the same time: we look back to Jesus' first coming leading up to his sacrificial death for the sins of the world followed by his resurrection to new life. We also look forward to his second coming, when he returns to rule the world with a just peace. At that time, multitudes from among the nations will worship him (See Revelation 7:9-10).
Not everyone marks Palm Sunday joyfully, though. In Matthew's Gospel account, for example, many do not cast palm branches before Jesus' path. They do not approach Jesus with an open hand of praise, but a closed fist, as revealed behind the scenes and within a few days (See the following accounts of how some of the rulers, people, and Romans reacted to Jesus: Matthew 21:15, 45-46; 26:1-5; 27:15-31). How do you and I approach Jesus today—with an open hand revealing our palms, or a closed fist?
As with the rulers noted in Matthew 21, we might not be able to see Jesus working wonders if we are consumed with power and control, whereas the blind, lame, and little children can truly see him (Matthew 21:14-15). These vulnerable ones have everything to gain and nothing to lose as a result of Jesus, whereas these leaders fear losing their grip on power, which they hold onto tightly with a closed fist. They cannot reach out and touch Jesus, like those longing for him, though they long to seize him and do him in (Matthew 21:45-46). What about us? Did we journey with Jesus through the season of Lent with his disciples simply to take matters into our own hands, like Judas did in his conspiracy with the establishment?
In our individualized, privatized religious culture, we may find it difficult to grasp the political overtones of all that transpired during Holy Week, which really initiated God's holy war against idolatry, pride, and injustice. In Jesus' day, there was no separation of church and state, or more accurately, temple and state. Going back to the time of God's deliverance of Israel from Egypt through Moses and Aaron, God tabernacled with his people. Later, King Solomon built a temple for God's glory to dwell in Jerusalem, the city of his father, King David. Now here's David's greater Son, Jesus, riding into Jerusalem as a humble prince of peace. The crowds cheer because they recognize Jesus as David's greater Son (Matthew 21:9). Immediately following this event according to Matthew's Gospel, Jesus cleanses the temple (the second temple, which was reconstructed in remembrance of Solomon's). Kings and priests as well as prophets all shared the same public space in Jewish history. Jesus intertwines and integrates all three functions of king, priest and prophet in his own person.
It is worth noting that the Roman Emperor also operated as a priest in addition to king. Here's what N.T. Wright has to say about Tiberius, who like Caesar Augustus before him was hailed as divine:
After Augustus's death, he too was divinized, and his successor, Tiberius, took the same titles. I have on my desk a coin from the reign of Tiberius (there are plenty of them, readily available). On the front, around Tiberius's portrait, it says, "Tiberius Caesar, son of the Divine Augustus." On the back is Tiberius portrayed, and described, as "chief priest." It was a coin like this that they showed to Jesus of Nazareth, not long after he had ridden into Jerusalem, when they asked him whether or not they should pay tribute to Caesar. "Son of God"? "High priest"?…[1]
While many of the Jewish authorities wished for their Roman oppressors to be overthrown, they sought to trap Jesus at points by trying to get him to challenge Caesar's authority as divine king and chief priest, as indicated here (Matthew 22:15-22). Politics and religion were not separate, but one.
The Jewish religious establishment also questioned Jesus' authority to cleanse the temple. Matthew's Gospel transitions immediately from Jesus' triumphal royal entry on Palm Sunday to his priestly temple cleansing scene (Matthew 21:12-17). A few chapters later Jesus weeps over Jerusalem during Holy Week. Why? Rather than turn to him for his kingly and priestly rule of peace—which would have brought about their deliverance, the Jewish nationalists determined at an opportune time to pursue direct confrontation with Rome in pursuit of liberty from its tyrannical power. In Luke's Gospel, the lament over Jerusalem immediately follows the triumphal entry and immediately precedes the temple cleansing:
And when he drew near and saw the city, he wept over it, saying, "Would that you, even you, had known on this day the things that make for peace! But now they are hidden from your eyes. For the days will come upon you, when your enemies will set up a barricade around you and surround you and hem you in on every side and tear you down to the ground, you and your children within you. And they will not leave one stone upon another in you, because you did not know the time of your visitation (Luke 19:41-44; ESV).
Wright observes that Jesus
…continues with the warning of what was going to happen to Jerusalem, because, as he says, "You didn't recognise the time of your visitation by God." This is the moment, and you were looking the other way. Your dreams of national liberation, leading you into head-on confrontation with Rome, were not God's dreams. God called Israel so that through Israel he might redeem the world; but Israel itself needs redeeming as well. Hence God comes to Israel riding on a donkey, in fulfilment of Zechariah's prophecy of the coming peaceful kingdom, announcing judgment on the system and the city that have turned their vocation in upon themselves, and going off to take the weight of the world's evil and hostility onto himself, so that by dying under it he might exhaust its power.[2]
Here we witness Jesus' form of holy war. It does not involve an eye for an eye retributive pursuit of justice, but grace. Wright's own teacher G. B. Caird argued that "Evil is defeated only if the injured person absorbs the evil and refuses to allow it to go any further."[3] This is exactly what Jesus did. He took the evil and hostility upon himself and exhausted it, as Wright notes. As a result, Jesus' embrace and embodiment of grace threatened the logic and foundation stone of the Roman system of retributive justice, otherwise known as the Pax Romana or Roman peace.[4] If redemption is stronger than evil, hostility and retribution, having exhausted them, Rome rules the shadowy old world order, not the new age reality of the Messianic kingdom. Palm Sunday with its exemplification of Jesus' humble lordship, gracious disposition and redemptive and equitable rule begins Holy Week. It also sweeps us up in Jesus' ride into Jerusalem on a donkey to bring about God's holy war. As the New Testament proclaims, the resurrected Jesus will conquer the world's hostility by reigning in cruciform glory.
_______________
[1]N.T. Wright, "On Palm Sunday, Jesus Rides into the Perfect Storm," ABC Religion & Ethics, April 11, 2014; https://www.abc.net.au/religion/on-palm-sunday-jesus-rides-into-the-perfect-storm/10099320 (accessed on 3/31/2020).
[2]Ibid.
[3]G. B. Caird, Principalities and Powers: A Study in Pauline Theology, with a foreword by L. D. Hurst (Eugene, OR: Wipf and Stock, 2003 [1956]), page 98.
[4]Along similar lines, see Jürgen Moltmann, The Crucified God: The Cross of Christ as the Foundation and Criticism of Christian Theology (Minneapolis: Fortress Press, 1993), pages 136-145 for his distinct treatment of Jesus' confrontation of the Roman rule of retribution by non-violence and grace.