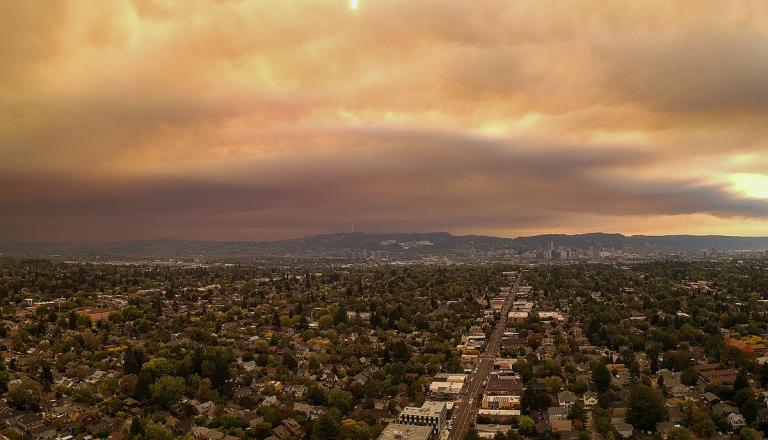 Loved ones and friends from across the States have reached out and asked how we are doing in the face of all the social tension in Portland. They have also raised concerns amid the fires raging in Oregon, Washington, and California. Add to that the ongoing alarm over COVID, which knows no geographical or ideological boundaries. And don't forget the upcoming November elections that affect us all. There are so many raging fires and disasters to put out across our region, country, and world—natural, viral, racial, political, religious. It can get so overwhelming. How do we respond or react when so many fires rage?
A day after the anniversary of 9/11, I found some solace in reading John W. Kiser's volume, The Monks of Tibhirine: Faith, Love, and Terror in Algeria (New York: St. Martin's Griffin, 2002). It is the story of the bond between a small group of Roman Catholic Trappist monks and their Muslim neighbors during the civil war in Algeria in the 1990's. The monks in the village of Tibhirine refused to depart for their homeland France. They determined to stay in solidarity with their Muslim neighbors as the war raged around them. All but one of the monks were taken hostage in a move at first intended to gain the freedom of rebel prisoners. Later, the monks were executed and decapitated by the rebel forces. And yet, their deaths and the civil war—which pitted French colonizers against Algerians and their French sympathizers like these monks, as well as the rebel Muslim forces against their fellow Algerian Muslims and French Catholic monastics—did not have the last word. The last word goes to the enduring bond of neighborliness and friendship that was evident between these French Catholic monks and their friends, the Algerian Muslim villagers. As we face various forms of extremism and polarization in our world today, and as various fires rage, I find here a story of solace, comfort, and hope.
One of the monks, Christian de Chergé, had been a soldier in the French military stationed in Algeria. During his tour of duty, he had become close friends with an older Muslim—an "unlettered policeman and family man" (10) named Mohammed. One day when they were walking, a group of rebels suddenly came upon them. They pointed their rifles at Christian's chest. Rather than step aside, Mohammed intervened, positioned himself between the guns and Christian, and sought to assure the rebels that this French soldier was a man of God and friend to Muslims. The rebels let them go, but the next day Mohammed was found dead, throat slit, not far from the home where he and his spouse with nearly a dozen children lived (9).
Mohammed saved Christian in more ways than one. Here I quote from the book in the context of Christian's bewilderment in the face of all the tensions and fires raging involving French colonizers and Algerian rebels, French Christians and Algerian Muslims, and Muslims and Muslims:
Depressed by the spiritual confusion he felt around him, de Chergé took solace in the exceptions. Mohammed had been a light in a morally confused landscape where "war had sterilized both the land and people's hearts," he wrote years later. "He changed my life by liberating my faith in spite of the complexity of daily life and showed me how to live it simply as a response to what is natural and authentic in others" (10).
This conversion was instrumental in Christian's determination to become a Cistercian monk and serve in Algeria, where later in 1996 he and his fellow monks died at the hands of their rebel captors.
In no way, shape, or form should we sweep under the carpet the issues that separate us today in our society. We must tirelessly, patiently and urgently work through them, including the debate over climate change and their alleged bearing on the raging fires on the west coast, the struggle to address and right the wrongs of racial inequity in our society, the best and most prudent course of action to subjugate COVID, as well as the other political, ideological, and religious issues that divide Americans , including Christian nationalism and cultural pluralism. I contend that we cannot have civility without equity. We cannot have unity without diversity. Nor can we achieve lasting equity and diversity without civility and unity. Amid the fires that rage without and within each of us, I hope that we can learn from Christian and Mohammed's example. We need a liberated faith that "in spite of the complexity of daily life" we resolve to "live it simply as a response to what is natural and authentic in others" (10).
All our fears over the "deep state" or "deep market," for example, will overwhelm us. It is vital that we experience a liberated faith shaped by divine love. Such love looks like this: "Love is patient and kind; love does not envy or boast; it is not arrogant or rude. It does not insist on its own way; it is not irritable or resentful; it does not rejoice at wrongdoing but rejoices with the truth. Love bears all things, believes all things, hopes all things, endures all things" (1 Corinthians 13:4-7; ESV). Faith in Jesus should never lead us to avoid or escape addressing the pressing issues that engulf us as raging fires. Rather, his deep, deep love and a community of faith, hope and love, including model examples like Christian and Mohammed's friendship, extinguish overwhelming anxiety. Such divine and humane resources provide a cushion and a shield as well as oxygen to press on to address the ills that plague us all so that someday we can breathe freely.