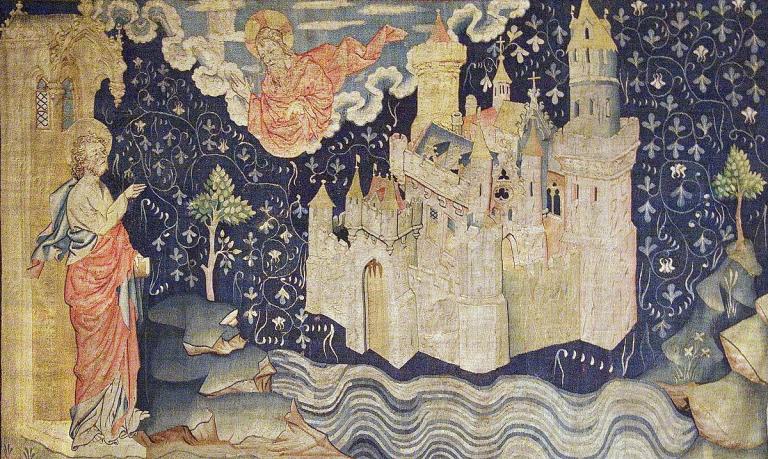 Today we remember 9/11 in the United States. Nineteen years ago today, two planes smashed into the Twin Towers in New York, and another plane crashed into the Pentagon. I remember those images vividly. Over and over, they played on the television screen. They still play in my head. Along with a multitude of Americans, I live with a sense of pain today.
Now how might these images be playing in my psyche as an American Christian? How has the pain and trauma shaped me and other Christians in the United States? Wounded people often wound others. Has 9/11 led us to build walls of defense so that other planes or bombs of various kinds don't crash into us? As a result, how do we respond or react to Muslim immigrants and refugees? How does it shape our politics? Do we see America as a Christian nation that is made for Christian members only, and so promote our rights and privileges at the expense and detriment of others? Jesus would have us see that his kingdom is not identified with this or that nation, but is made up of people from every tribe, tongue, and nation, and that we need the global church to guard against being a worldly church in the U.S. today.
I hope that we who are American Christians live with a sense of urgency today. What kind of urgency do I have in mind? I hope and pray that we see our need for the global church community, which can teach us how to be proactive rather than reactive in the face of trauma. So many Christian communities in various nations across the globe live as minority religious traditions. They do not have our rights and privileges. Many of these Christian communities experience persecution whereas we may be experiencing more the loss of certain Christian privileges in this country–an increasingly multi-faith society. Christian communities across the globe have had to negotiate space with other more dominant religious and secular traditions in their contexts and can teach us how to navigate and negotiate space in our increasingly diverse nation. They can teach us what is entailed by the biblical call to be good neighbors in pluralistic societies. They have often had to be very creative and resilient in their engagement. Whether we face persecution as Christians, or simply the loss of Christian privileges, we have much to learn from the global church so as not to be worldly Christians. In our own wounding, may we not wound others, but be agents of healing in our world today.
With these points in mind, I also hope that we as American Christians experience a sense of wonder as we engage the global Christian community. It is fitting that I draw attention to Revelation 7 in this context, as it narrates a scene in heaven where people from every tribe, tongue and nation stand before God's throne and the Lamb in worship. They have come out of the Great Tribulation on earth:
After this I looked, and there before me was a great multitude that no one could count, from every nation, tribe, people and language, standing before the throne and before the Lamb. They were wearing white robes and were holding palm branches in their hands. And they cried out in a loud voice:

"Salvation belongs to our God,
who sits on the throne,
and to the Lamb."

All the angels were standing around the throne and around the elders and the four living creatures. They fell down on their faces before the throne and worshiped God, saying:

"Amen!
Praise and glory
and wisdom and thanks and honor
and power and strength
be to our God for ever and ever.
Amen!"

Then one of the elders asked me, "These in white robes—who are they, and where did they come from?"

I answered, "Sir, you know."

And he said, "These are they who have come out of the great tribulation; they have washed their robes and made them white in the blood of the Lamb. Therefore,

"they are before the throne of God
and serve him day and night in his temple;
and he who sits on the throne
will shelter them with his presence.
'Never again will they hunger;
never again will they thirst.
The sun will not beat down on them,'
nor any scorching heat.
For the Lamb at the center of the throne
will be their shepherd;
'he will lead them to springs of living water.'
'And God will wipe away every tear from their eyes.'" (Revelation 7:9-17; NIV)
The text does not identify their trauma and pain in coming out of the Great Tribulation as being the fight of Christian nationalism. As we find in Revelation as a whole, the battle and war in which they participate is bearing witness to Jesus and his kingdom made up of people from every tribe, tongue, and nation, not one equated with a given nation(s), against the onslaught of this world system's empire. It is an inspiring vision that encourages me to partner with my brothers and sisters in Christ from across the globe, to learn from them and the global church, and to be agents of Jesus' kingdom shalom here on American soil in view of his blood, sweat, and tears shed for all people of all cultures, religions, and ways of life across the world. The global and expectant church participates in the city of the New Jerusalem, which is not identified with any city of this world, but descends to earth, as a bride adorned for her husband Jesus (Revelation 21:2). Rather than wounded people wounding others, may we live into the Wounded Healer–Jesus, who through the tree of life on which he hung at Ground Zero over 2000 years ago, brings about the healing of the nations (Revelation 22:2).
Check out this video where I reflect on this theme.