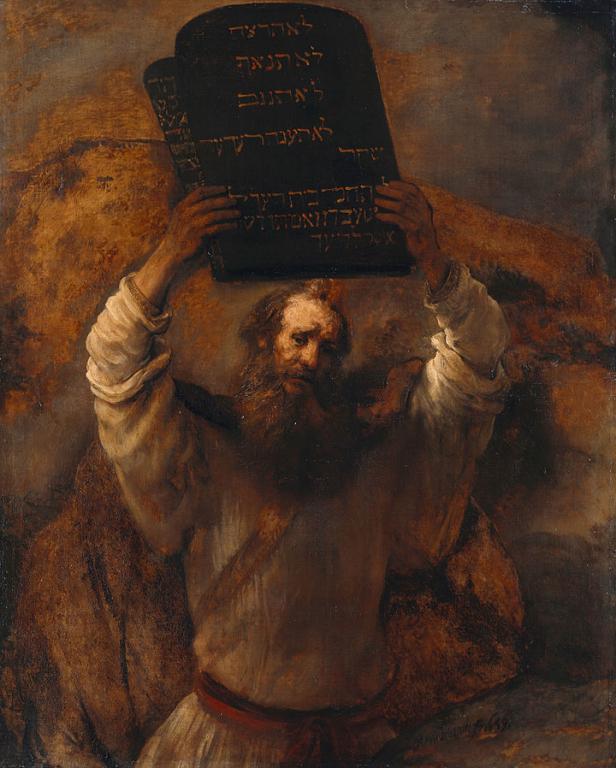 Politicians take God's name in vain when they employ it for personal benefit. The same holds true for the rest of us. The third commandment makes clear that God does not take divine name-dropping lightly: "You shall not take the name of the LORD your God in vain, for the LORD will not hold him guiltless who takes his name in vain" (Exodus 20:7; ESV). The bitter and tragic irony is that even as Moses was up on the mountain to receive the tablets of the Law, Aaron and Israel defiled God's name by making and worshiping a golden calf that was intended to convey their divine deliverance from Egypt: "When Aaron saw this, he built an altar before it. And Aaron made a proclamation and said, 'Tomorrow shall be a feast to the LORD'" (Exodus 32:5; ESV).  The LORD's fierce anger burned against Israel and Moses destroyed the tablets of the testimony in his anger (See Exodus 32). The third commandment's warning and Aaron's and Israel's actions and ensuing divine judgment should not lead us to stop naming God, though. Rather than drop God's name out of our vocabulary or name drop God, we need to drape or clothe ourselves in God's name "the LORD."
In this entry, which is the third post in a series, we will seek to discern how to engage the divine name—the LORD (YHWH). For a discussion of "the LORD" as God's personal name, refer to the second post in this three-part series. Scripture calls on us to use God's personal name "the LORD." Jesus encourages us to use or reference his name. It would be wrong and foolish to ignore it: "In that day you will ask nothing of me. Truly, truly, I say to you, whatever you ask of the Father in my name, he will give it to you. Until now you have asked nothing in my name. Ask, and you will receive, that your joy may be full" (John 16:23-24; ESV). While we should use God's name, we must also guard against the abuse of his name, as already noted with the third of the ten commandments (Exodus 20:7). So how do we guard against ignoring God's name on the one hand and safeguarding against taking it in vain on the other hand? Let's start with the appropriate use.
There are various texts to consider when reflecting upon the appropriate use of God's name (See John 14:12-14; 15:7, 16; 16:23-24; 20:31; Acts 4:12; 1 Corinthians 1:2; Colossians 3:17; 1 John 5:14). Here are two of them. As with John 16:23-24 quoted above, they are taken from the farewell discourse in John's Gospel:
Truly, truly, I say to you, whoever believes in me will also do the works that I do; and greater works than these will he do, because I am going to the Father. Whatever you ask in my name, this I will do, that the Father may be glorified in the Son. If you ask me anything in my name, I will do it. (John 14:12-14; ESV).

If you abide in me, and my words abide in you, ask whatever you wish, and it will be done for you. By this my Father is glorified, that you bear much fruit and so prove to be my disciples…You did not choose me, but I chose you and appointed you that you should go and bear fruit and that your fruit should abide, so that whatever you ask the Father in my name, he may give it to you (John 15:7-8, 16; ESV).
What we find here in these texts and elsewhere is that rather than abuse God's name for personal benefit, we must use it to promote God's kingdom aims revealed in obedience to Jesus' word. As God's people, Israel and the church bear God's name. God clothes us in his name. Thus, everything we think, say and do must reflect the character of this God to whom we belong.
In Acts 3-4, we find the Apostolic community using the name of Jesus rightly in healing a nameless beggar and then bearing witness to Jesus' name for God's glory:
And when they had set them in the midst, they inquired, "By what power or by what name did you do this?" Then Peter, filled with the Holy Spirit, said to them, "Rulers of the people and elders, if we are being examined today concerning a good deed done to a crippled man, by what means this man has been healed, let it be known to all of you and to all the people of Israel that by the name of Jesus Christ of Nazareth, whom you crucified, whom God raised from the dead—by him this man is standing before you well. This Jesus is the stone that was rejected by you, the builders, which has become the cornerstone. And there is salvation in no one else, for there is no other name under heaven given among men by which we must be saved" (Acts 4:7-12; ESV).
The Apostles did not benefit personally from this miraculous action, as they were imprisoned for their good deed. They did not gain political standing before the political and religious powers for caring for those like the nameless beggar in Jesus' name, but scorn and persecution. But their aim was not self-promotion but bearing true witness and promoting Jesus so that people might believe in his name: "But many of those who had heard the word believed, and the number of the men came to about five thousand" (Acts 4:4; ESV).
Having discussed briefly what rightful use of God's/Jesus' name entails, let's turn to its abuse. For starters, let's consider what the Heidelberg Catechism has to say about the third commandment:
Q & A 99

What is the aim of the third commandment?
That we neither blaspheme nor misuse the name of God

by cursing,1 perjury,2 or unnecessary oaths,3

nor share in such horrible sins

by being silent bystanders.4

In summary,

we should use the holy name of God

only with reverence and awe,5

so that we may properly

confess God,6
pray to God,7
and glorify God in all our words and works.8

1 Lev. 24:10-17
2 Lev. 19:12
3 Matt. 5:37; James 5:12
4 Lev. 5:1; Prov. 29:24
5 Ps. 99:1-5; Jer. 4:2
6 Matt. 10:32-33; Rom. 10:9-10
7 Ps. 50:14-15; 1 Tim. 2:8
8 Col. 3:17

Q & A 100

Is blasphemy of God's name by swearing and cursing
really such serious sin
that God is angry also with those
who do not do all they can
to help prevent and forbid it?
Yes, indeed.1

No sin is greater
or provokes God's wrath more
than blaspheming his name.

That is why God commanded it to be punished with death.2
No wonder God put to death the Priest Eli's sons Hophni and Phinehas. They did not honor God as priests but disobeyed him constantly. When they were first introduced in 1 Samuel 2:12, the text describes them in this way: "Eli's sons were scoundrels; they had no regard for the LORD" (NIV); "Now the sons of Eli were worthless men. They did not know the LORD" (ESV).
Eli's sons did not honor God with their lives but sought to "employ" God's name like a bumper sticker or sound bite to gain favor and favors. They treated the sacrifices, that is, "the offering of the LORD," with contempt for the sake of their palate. They also slept with the women who served at the entrance to the tent of meeting (1 Samuel 2:17, 22). They disgraced God's name and the reports about their evil deeds spread throughout Israel. Their father the priest Eli warned them:
"Why do you do such things? For I hear of your evil dealings from all these people. No, my sons; it is no good report that I hear the people of the LORD spreading abroad. If someone sins against a man, God will mediate for him, but if someone sins against the LORD, who can intercede for him?" But they would not listen to the voice of their father, for it was the will of the LORD to put them to death (1 Samuel 2:23-25).
These two priests stand in stark contrast to the young Samuel who ministered before the LORD at the time when Eli and his sons served as priests: "Now the boy Samuel continued to grow both in stature and in favor with the Lord and also with man" (1 Samuel 2:26; ESV). Rather than name drop and employ God's name for his own selfish ambitions, the young Samuel draped himself in the LORD by listening and obeying God's voice all his days.
Later we find that Eli's sons carried the Ark of the Covenant which represented God's presence into battle with the Philistines. For them, it functioned no differently than a good luck charm. Hophni and Phineas' horrendous character and complete disregard for the name the LORD was on display in how they served as priests. They treated the Ark as a talisman, and so took God's name in vain. As a result, they were put to death and God handed the Ark over to the Philistines who captured it (1 Samuel 4:11), albeit to their own chagrin as the ensuing account makes clear (1 Samuel 5-6).
If we are not careful, we can be like Eli's two sons, even trying to use Jesus' name for our advantage under the appearance of doing good: "Not everyone who says to me, 'Lord, Lord,' will enter the kingdom of heaven, but the one who does the will of my Father who is in heaven. On that day many will say to me, 'Lord, Lord, did we not prophesy in your name, and cast out demons in your name, and do many mighty works in your name?' And then will I declare to them, 'I never knew you; depart from me, you workers of lawlessness'" (Matthew 7:22-23; ESV). Unlike Hophni and Phinehas and those Jesus rebukes in the Sermon on the Mount, may we like Moses and Samuel and later Jesus' apostolic community engage God's name based on deep dependence and abiding obedient connection (See Matthew 7:24-27).
All too often we limit consideration of God's name to cursing and oath taking. There is far more to it, though. Mac C. Sandlin speaks to this matter:
The prohibition against vain usage of God's name, however, has a much broader scope than this [insertion: than oaths to tell the truth, etc.]. God has called Israel to bear his name, not just on her lips, but as an essential marker of her identity. The familiar Aaronic blessing from Numbers 6.22–26:

"The LORD bless you and keep you;

The LORD make his face to shine upon you and be gracious to you;

The LORD lift up his countenance upon you and give you peace,"

is not simply a ritual blessing. The very next verse tells us that this is the formula by which "they shall put my name upon the people of Israel and I will bless them" (Num 6.27). The heart of the commandment is rooted in God's identity and reputation in the world. Not only is Israel forbidden to lie in God's name, she cannot do anything which will dishonor his name among the nations.

Idolatry, injustice and evil are blights on any people, but they are infinitely worse when committed by those clothed in the name of YHWH [insertion: generally translated as the LORD] since the sins of the people ruin his reputation in the world.[1]
Let's not name drop God's name "the LORD" or the Lord Jesus for personal benefit and as a good luck charm, which will only harm God's reputation in the world. Rather than name drop, let's drape ourselves in his name whereby it enfolds and transforms our persons, our character, our intentions, and actions.
As indicated above, claiming and proclaiming God's name doesn't make all one's problems go away. Look what happened in Moses' case. Pharaoh upped the ante. But so, too, did God. Persecution will no doubt result, as it did for Moses and Israel and as it did for the apostolic community (Acts 3-5). But it does lead us deeper in dependence and abiding connection (Matthew 28:18-20; John 14-17). Our lot in life becomes one with Jesus and the New Testament community's lot as we move forward out of Egypt and into the Promised Land in dependence on Jesus' name—Joshua—salvation (Hebrew for Joshua—"Yehoshua," meaning "YHWH (God) is salvation"; Jesus' name is related; Matthew 1:21). Paul puts it this way in Romans 10, as he recounts the biblical story of redemption from God's deliverance of Israel under Moses to our salvation secured in and through faith in Jesus' name as Lord of all (the LORD):
For Moses writes about the righteousness that is based on the law, that the person who does the commandments shall live by them. But the righteousness based on faith says, "Do not say in your heart, 'Who will ascend into heaven?'" (that is, to bring Christ down) "or 'Who will descend into the abyss?'" (that is, to bring Christ up from the dead). But what does it say? "The word is near you, in your mouth and in your heart" (that is, the word of faith that we proclaim); because, if you confess with your mouth that Jesus is Lord and believe in your heart that God raised him from the dead, you will be saved. For with the heart one believes and is justified, and with the mouth one confesses and is saved. For the Scripture says, "Everyone who believes in him will not be put to shame." For there is no distinction between Jew and Greek; for the same Lord is Lord of all, bestowing his riches on all who call on him. For "everyone who calls on the name of the Lord will be saved" (Romans 10:5-13; ESV).
From the moment we rise each day of life's journey from the wilderness to the Promised Land, let's call on the name of the Lord Jesus. May we begin every day by praying as the Lord Jesus himself instructed us to pray: "Our Father in heaven, hallowed be your name. Your kingdom come, your will be done, on earth as it is in heaven" (Matthew 6:9-10; ESV). May we pray that his kingdom will come, that his will is going to be done on earth, including in our lives. That way we guard against taking God's name in vain.
Rather than name drop God's name, let's drape every aspect of our being in God's name by loving God with all our hearts, souls, minds and strength, and our neighbors as ourselves in our work and leisure (Mark 12:30-31). May we drape ourselves completely in the name of the LORD all the time. Let's not leave home and return home without it.
_______________
[1]Mac S. Sandlin, "Blasphemy, Risk and the Name of God," Leaven, Vol. 21/2 (2013): 75-76; available at: https://digitalcommons.pepperdine.edu/leaven/vol21/iss2/6.