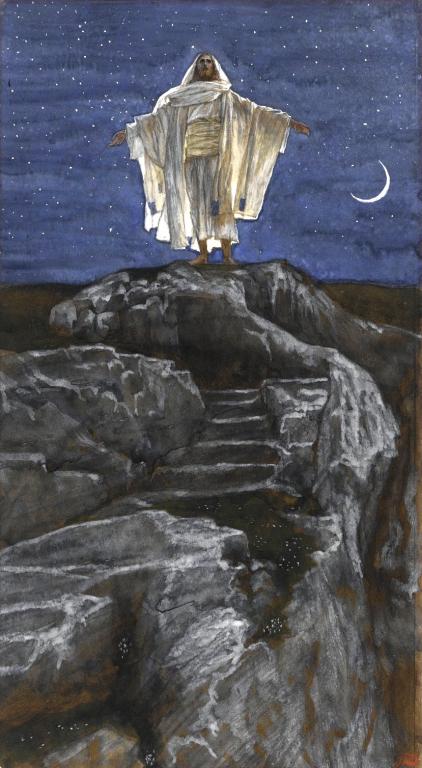 Care givers must also care for themselves. Some may think this statement suggests selfishness. To the contrary, if those who provide care for people in great need do not take care of themselves, they will eventually burn out and not be able to help anyone.
Regardless of whether Jesus was ever in danger of burning out, he did indeed withdraw at various times from caring for people's great needs to be alone with God. Whether it was to recharge his battery or to discern his next steps in ministry, Jesus determined he needed to regroup. Here is one account that highlights this point:
While Jesus was in one of the towns, a man came along who was covered with leprosy. When he saw Jesus, he fell with his face to the ground and begged him, "Lord, if you are willing, you can make me clean."

Jesus reached out his hand and touched the man. "I am willing," he said. "Be clean!" And immediately the leprosy left him.

Then Jesus ordered him, "Don't tell anyone, but go, show yourself to the priest and offer the sacrifices that Moses commanded for your cleansing, as a testimony to them."

Yet the news about him spread all the more, so that crowds of people came to hear him and to be healed of their sicknesses. But Jesus often withdrew to lonely places and prayed. (Luke 5:12-16; NIV; consider, too, Mark 1:29-39)
The Gospels note Jesus' divine power as well as his human frailty. In Mark 4:35-41, we find both dimensions in play. Jesus is found sleeping on a cushion in the stern of a boat crossing a lake. A furious storm arose, and the waves nearly devoured the boat. Jesus didn't budge. No doubt, he was completely exhausted. In their panicked state, the disciples woke Jesus in hopes he would help them. In other words, 'All hands on deck.' Jesus did more than help. He stilled the storm. The disciples were amazed and wondered who in the world—or heaven—Jesus was. Here's the account:
That day when evening came, he said to his disciples, "Let us go over to the other side." Leaving the crowd behind, they took him along, just as he was, in the boat. There were also other boats with him. A furious squall came up, and the waves broke over the boat, so that it was nearly swamped. Jesus was in the stern, sleeping on a cushion. The disciples woke him and said to him, "Teacher, don't you care if we drown?"

He got up, rebuked the wind and said to the waves, "Quiet! Be still!" Then the wind died down and it was completely calm.

He said to his disciples, "Why are you so afraid? Do you still have no faith?"

They were terrified and asked each other, "Who is this? Even the wind and the waves obey him!" (Mark 4:35-41; NIV)
Jesus stilled the raging storm with a rebuke from the deep stillness within his soul. His question to his followers is one he asks me today: "Why are you so afraid? Do you still have no faith?" (Mark 4:40; NIV)
As I help with care for my son, who is presently in a coma, I need to take time to decompress, to replenish, to care for my own person. Otherwise, I will be of no use to my son or other family members. I need to step back and consider how Jesus needed to step back and rest to reengage. I also need to consider him—who even the overwhelming stormy winds of life obey. Paul, why are you so afraid? Do you still have no faith?
All of us who provide care for others need to take inventory from time to time and 'stock our ships' for the journey across the waters of life. As I have been taking inventory, I am making sustained effort to stock my ship—that is my daily life—with my early morning biblical meditations. I am also making sustained efforts to get a good night sleep and eat regular meals. There are a few trusted souls with whom I process to help with decision making and with regulating my emotions. I also enjoy reading other books in addition to Scripture, as well as writing. Reading includes accounts of inspirational people who underwent incredible duress and turned obstacles into greater opportunities for transformative growth and change. Exercise is also important, such as going for a long walk. I encourage other care givers to make sure they are caring for themselves, just as others are encouraging me. Otherwise, none of us will be able to provide effective care for those in need of our care for long.
Lastly, speaking of those we provide care for, we need to make sure that we do not get short with people closest to us. We can easily take them for granted when so much of our energy goes to supporting the critically sick or injured in our inner circles. Times of duress can cause great distress for the rest of our important relationships. Let's invest relationally in showing care for others we love, who are also providing care for those in great need. Otherwise, we will all be on relational life support.
Care givers must care for themselves to care more effectively for others. This is by no means a selfish point. Rather, it accounts for the fact that none of us are self-sufficient. Please take inventory today.