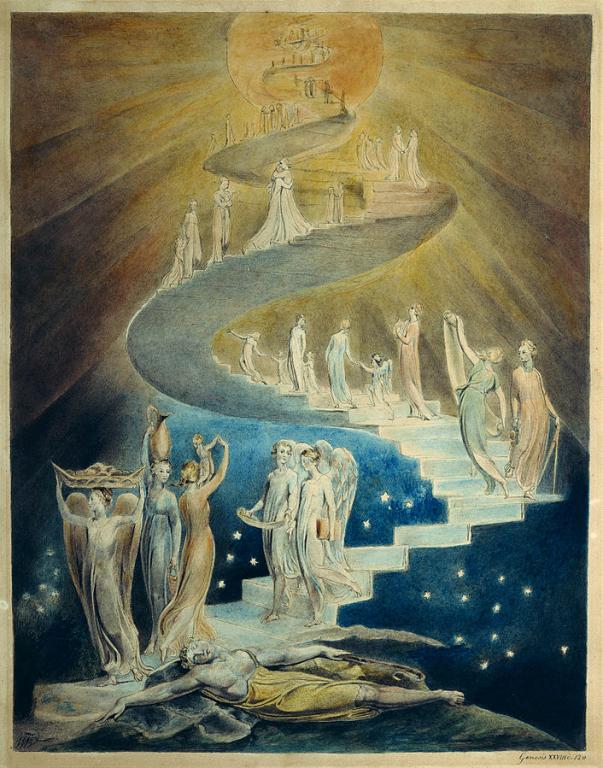 I must confess I feel as if I have been living in hell ever since we received the news of my son Christopher's traumatic brain injury and emergency surgery in January. But if I am totally honest, I need to add that I have also experienced glimpses of heaven breaking into this nightmare. I told a friend last night that the entire saga got me to thinking of the atheist existentialist philosopher Jean Paul Sartre's play titled "No Exit." The play is Sartre's account of hell.
Sartre's vision of hell looks very different from what we might find in medieval lore or in a horror film. There are no flesh-roasting fires, no blood chilling screams, and no carnivorous demons. Here in Sartre's hell, we find three individuals stuck in a room existing in total isolation for all eternity. The door is locked from the outside. They can't get out. They can't get away from each other even for a moment. They can't even close their eyes, as their eyelids won't shut. There is no escape and they are driving one another insane. At one point one of the characters exclaims: "Hell is other people." While the surroundings look very different, still one could easily write above the entrance to the room what we find inscribed over the gates of Dante's hell: "Abandon all hope, ye who enter here."
If Sartre is right that hell is other people, the same could be said of heaven. Heaven is other people, too. And yes, the eyes are wide open in heaven. It's not that the eyelids cannot close, but that our heavenly eyes have panoramic and penetrating vision. We see each other for what we were made for, who we truly are, what we could ever hope to be. Here I call to mind two Scriptures about this heavenly mindset for us here on earth:
Love is patient, love is kind. It does not envy, it does not boast, it is not proud. It does not dishonor others, it is not self-seeking, it is not easily angered, it keeps no record of wrongs. Love does not delight in evil but rejoices with the truth. It always protects, always trusts, always hopes, always perseveres. (1 Corinthians 13:4-7; NIV)

Finally, brothers and sisters, whatever is true, whatever is noble, whatever is right, whatever is pure, whatever is lovely, whatever is admirable—if anything is excellent or praiseworthy—think about such things. (Philippians 4:8; NIV)
Just think how we would approach others if we perceived them and all of life in this way?
Please bear with me a bit longer in this reflection on Sartre's play—after all, we have all eternity. I have at least one objection to make regarding Sartre's account of hell. Hell is not locked from the outside, but from inside our hearts. As C.S. Lewis enlightens us in his dream-like allegorical account of heaven and hell in The Great Divorce,
There are only two kinds of people in the end: those who say to God, "Thy will be done," and those to whom God says, in the end, "Thy will be done." All that are in Hell, choose it. Without that self-choice there could be no Hell. No soul that seriously and constantly desires joy will ever miss it. Those who seek find. Those who knock it is opened.
God gives us what we want–communion with God and other persons, or life in isolation. It is also important to note that heaven's doors remain wide open forever: "On no day will its gates ever be shut, for there will be no night there." (Revelation 21:25; NIV) One of the questions that arises for me as I reflect on Sartre's play is: Would we rather live in total isolation or in interpersonal communion for all eternity?
As I said at the outset of this post, I have seen glimpses of heaven breaking into our nightmare, as we wait, hoping and praying for Christopher to open his eyes and speak to us. Surely I have struggled greatly with God during this dark night of the soul. Please be assured that the living God revealed in the Bible—not some paperweight deity—invites the struggle. But I have also struggled to keep my composure after experiencing divine comfort through incredible acts of human kindness involving people's compassionate care. People's heart-warming words, penetrating prayers, various generous gifts, and perpetual gracious presence. A doctor or nurse speaking gently to Christopher, carefully assessing his situation, treating his body as a sacred trust as they clean, cover, and reposition him, and as one of them literally offers me a cup of cold water before they leave the room. Their offer reminds me of Jesus' words: "Truly I tell you, anyone who gives you a cup of water in my name because you belong to the Messiah will certainly not lose their reward." (Mark 9:41; NIV) Divine comfort in human form.
Christopher's hospital room is a sanctuary to me these days. Being with him, I am not alone. People being with our family, we are not alone. Praying over him in Jesus' name, he is not alone. We are not alone. Cling to all hope, ye who enter here.