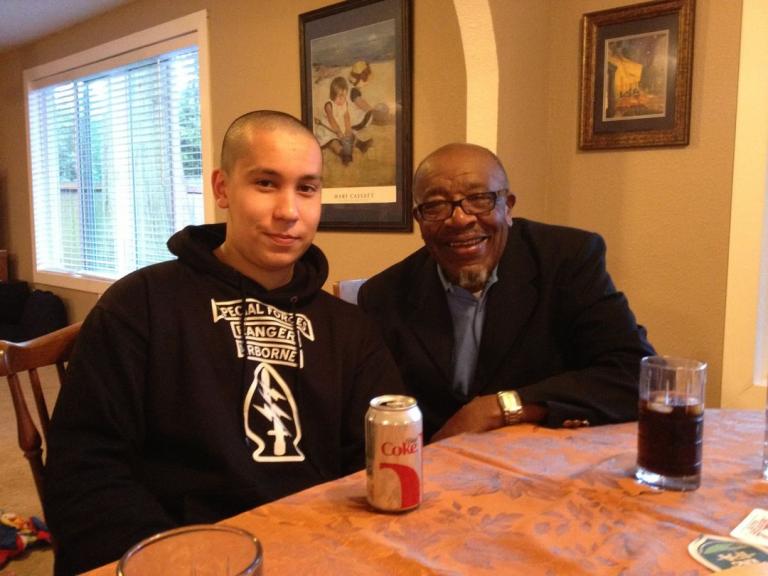 Christopher has always had a special place in his heart for Dr. John M. Perkins. Here is a picture of them taken in Vancouver, Washington several years ago. So, the other day, I called and left a message for Dr. Perkins, asking him to call me about an urgent matter, if at all possible. We hadn't spoken in awhile, but his influence on me and impact on my family haven't waned. Nor has his remembrance of Christopher.
The very first question Dr. Perkins asked me when he called back two days ago was how my son is doing. He had no idea that I had called to share about Christopher's traumatic brain injury and comatose state, which has lasted more than six weeks. After I explained the medical situation, Dr. Perkins told me in a tender and anguished tone how precious Christopher is and that he would definitely talk to Christopher and pray for him over the phone.
So, yesterday, when he called, I put the phone on speaker close to Christopher's ear there in the hospital room. Dr. Perkins' strong, deep voice reverberated with gentleness, compassion, and affirmation of my son's inherent dignity as he spoke to Christopher and prayed God's love and healing mercies over him. Dr. Perkins recalled their intuitive bond of mutual affection and respect when talking to my son. It was a moving experience, as was our conversation after he finished his prayer for my beloved boy. Dr. Perkins told me how honored he felt that I would call and ask him to talk and pray over Christopher during our hour of greatest need as a family.
Dr. Perkins is no stranger to pain. He knows what it is like to experience trauma. All one needs to do is read his autobiography Let Justice Roll Down to get a vivid sense of the kind of tortuous suffering Dr. Perkins has endured. I believe Dr. Perkins' authentic and transparent faith refined by fire has always spoken to Christopher. Christopher hates fake faith and there is nothing fake about Dr. Perkins' Christian journey.
Many years ago, when Christopher was still a child, my son and I listened to Dr. Perkins share with a group of teens about his life experience during a conference in Olympia, Washington, where we served as speakers. This civil rights leader and Bible teacher reflected on Galatians 2:20, as I recall, and spoke of his own cruciform life in following the Lord Jesus. The Apostle Paul's words recorded in Galatians 2:20 read: "I have been crucified with Christ and I no longer live, but Christ lives in me. The life I now live in the body, I live by faith in the Son of God, who loved me and gave himself for me" (NIV). In his talk, Dr. Perkins referenced a well-documented beating he received in 1970 for his civil rights work addressing racism and poverty in Mississippi. The beating nearly killed him. He also mentioned in passing how the throbbing in his head from the trauma he endured lasted for decades. I realized then and there that Dr. Perkins has "an incredible threshold for pain," as one mutual friend later told me. Christopher wrote on a card that afternoon how Dr. Perkins' reflection on Galatians 2:20 and his testimony really helped Christopher understand clearly the good news of Jesus Christ.
Dr. Perkins has also helped me over the years to understand better the good news of Jesus Christ. Yesterday our conversation in Christopher's hospital room was no exception. I reminisced with Dr. Perkins about a talk he gave to a group of New Wine, New Wineskins leaders at Bob and Cooky Wall's house years earlier. There he exhorted us: "Be creative in your suffering." Given my family's own current state of agonizing pain, I asked him to develop further that theme. In his explanation, this senior sage and mentor summed up James 1:2-4: "Consider it pure joy, my brothers and sisters, whenever you face trials of many kinds, because you know that the testing of your faith produces perseverance. Let perseverance finish its work so that you may be mature and complete, not lacking anything" (NIV). Rather than see our trials as mere obstacles, we need to realize that they are opportunities to lead us catalytically on the path of mature discipleship in Jesus Christ.
Yesterday was the second time I was in a hospital room with Dr. Perkins, albeit over the phone on this occasion. In fact, he referenced the prior incident with me on the phone just the other day. A few years back, he had to stop short his lecture to my doctoral students at Multnomah Biblical Seminary due to severe aggravation of his stomach. We had to rush him to emergency at a Portland hospital. The cause was that same 1970 beating and a blotched surgery involving scar tissue.
I pushed back the tears yesterday as I listened and spoke with Dr. Perkins. God pulled back the veil as we sat next to Christopher lying in his bed. As we read in Galatians 2:20 and James 1:2-4, God does not waste trials and suffering. What about us? For God's beloved son and my beloved son's sake, I refuse to allow the hellish suffering and trials we are going through as a family to be wasted. I need to be creative in my suffering for Jesus and my son's sake. What that looks like down the road, I do not yet know. But what I do know is that Jesus always confronts harm, including victimizing hate, indifference, and callousness, head-on with God's holy, victorious and just love to bring relational healing. Dr. Perkins, and my son Christopher's abiding connection to him even now, while in a coma, is living proof.