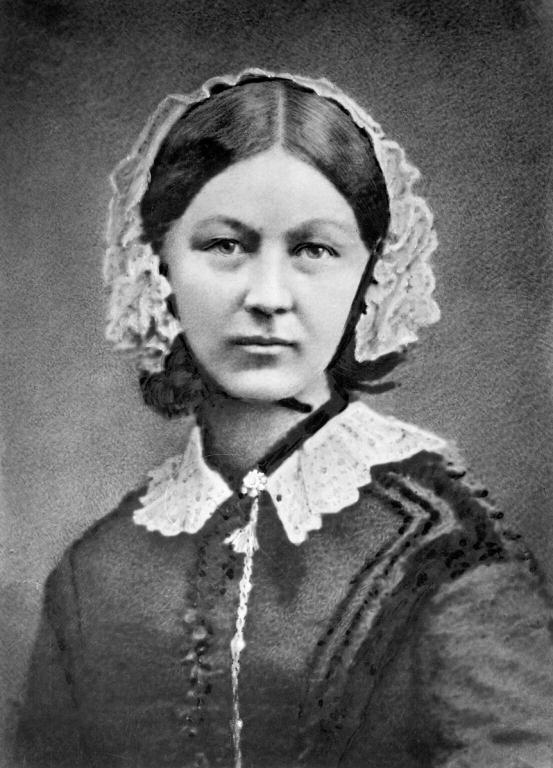 We often take for granted the necessities of life, like fresh air, clean water, and good nursing care. Where would any of us be without these necessary ingredients to human flourishing? Where would you and I be if someone did not nurse us as infants? Where would my own family be if we did not have good nurses caring for my son in his comatose state resulting from a traumatic brain injury suffered over three months ago?
As some of you know, yesterday concluded International Nurses Week (May 6-12). It is worth noting that May 12th is also Florence Nightingale's birthday. Nightingale (1820-1910), who is pictured here, is often hailed as the founder of modern nursing. I had hoped to write this post earlier in the week, but my son's critical care needs over the past few days took precedence. Providentially, for my son, we were not alone in tending to his needs in a battle with pneumonia presently. He had/has good nurses caring for him.
If it weren't for my son's situation, I doubt I would be writing a post about nursing at this time. After all, good nursing is one of those necessities of life, which we often take for granted. But when we ourselves are in critical care situations, we realize how dependent we are on their care.
Here is an intriguing reflection on nursing, including the historical context of the word's meaning:
Nursing has been called the oldest of arts and the youngest of professions (Donahue,1996). The history of nursing is synonymous with the history of woman. The connotations of the word nurse [have] changed over the course of history. The words nurse and nursing have many meanings. The word nursing itself is derived from the Latin nutrire "to nourish". The word nurse has its roots in the Latin noun nutrix which means "nursing mother", often referring to a wet nurse (a woman who breast fed the babies of others). The French term nourrice also referred to a woman who suckled a child. The original meaning of the English word was the same and the term first used in English in the 13th century and its spelling underwent many forms, norrice, nurice or nourice, to the present, nurse.
I recall that, when I was a child, people often viewed "nursing" as a profession for women. Of course, women like Nightingale have been influential in the cultivation of the profession. Moreover, historically, as the etymology of the word "nursing" suggests, there were historically maternal associations that society naturally made. That said, my son has female and male nurses who provide quality care. After all, those who care for one in need are living out their identity as humans—to nurse people back to health is humane.
While foundational to our survival and flourishing as humans, nursing requires skill and expertise. Nightingale led the way in promoting nursing education and standards for the profession. She also improved the quality and conditions of hospitals (Refer to her books Notes on Nursing and Notes on Hospitals). As the discipline of medicine grows and expands, and as societal challenges involving such problems as indifference and isolation grow, the needs and demands associated with nursing also intensify. No doubt, as the article quoted above maintains, nursing is an art and a science. It involves holistic, empathic, and clinical care for the sick.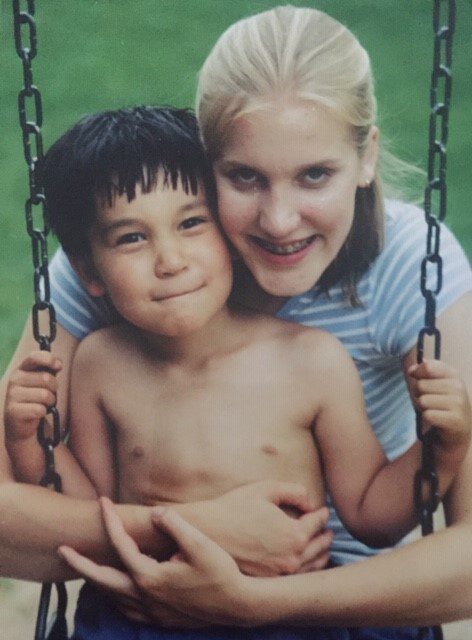 My niece Megan is a nurse. You see her pictured here in this post with my son Christopher, when they were much younger. Megan models the qualities noted above and was introduced at an early age to the profession, as she was the bone marrow donor for her older sister Hannah. Hannah died of leukemia after heroically battling it for many years. Megan has inspired my daughter Julianne, whose own career path and calling in nursing has taken on even greater significance because of her older brother's struggle for life. My niece Gretchen is also pursuing a career in nursing. Gretchen shared with me that nursing as a vocation aligns with what she takes to be second nature: having "always been driven towards caring for people." So, nursing as a profession appears to run in the family.
Nursing also runs in the human race. In one sense or another, nursing is bound up with human nature. As noted above, where would anyone of us be without someone having nursed us as infants? And while my son is on life support presently, he is not the only one: my entire family is on life support in an extended sense due to the ongoing ordeal. And so, we are grateful for the multitude of people who seek to nurse us back to health from our traumatic state of existence.
In addition to nursing being a human endeavor, God also operates as a nurse. God "heals the brokenhearted and binds up their wounds" (Psalm 147:3; NIV). Jesus speaks of himself as a mother hen who has often longed to gather his people together: how often I have longed to gather your children together, as a hen gathers her chicks under her wings" (Luke 13:34; NIV). In Exodus 34:6, God's self-depiction includes compassion: "The Lord, the Lord, the compassionate and gracious God, slow to anger, abounding in love and faithfulness" (NIV). In her treatment of compassion in "God is Like a Nursing Mother," Carissa Quinn of the Bible Project writes,
The word "compassion" in Hebrew is rakhum, and it is related to the word "womb," or rekhem. The word itself conveys the emotion and nurture that a mother has for her vulnerable child. This relationship to the word womb also gives us a sense that compassion originates in the core of a person—a gut instinct or something that you feel in your inner being.
Matthew's Gospel speaks of Jesus' compassion: "When he saw the crowds, he had compassion on them, because they were harassed and helpless, like sheep without a shepherd" (Matthew 9:36; NIV). The people's plight hit Jesus in his gut. He responded and alleviated their suffering. To God in Christ Jesus, compassionate, nursing care is first and second nature. At this time in our family's sojourn, I do not take such care for granted.
To all of you who are nurses, CNAs, and nurse practitioners, thank you. To all those tending to the sick and elderly, thank you. To those nursing children, thank you. To all who nurture and mentor others in pursuit of human flourishing, thank you. Where would our race be without you? We wouldn't be anywhere. We would cease to exist.