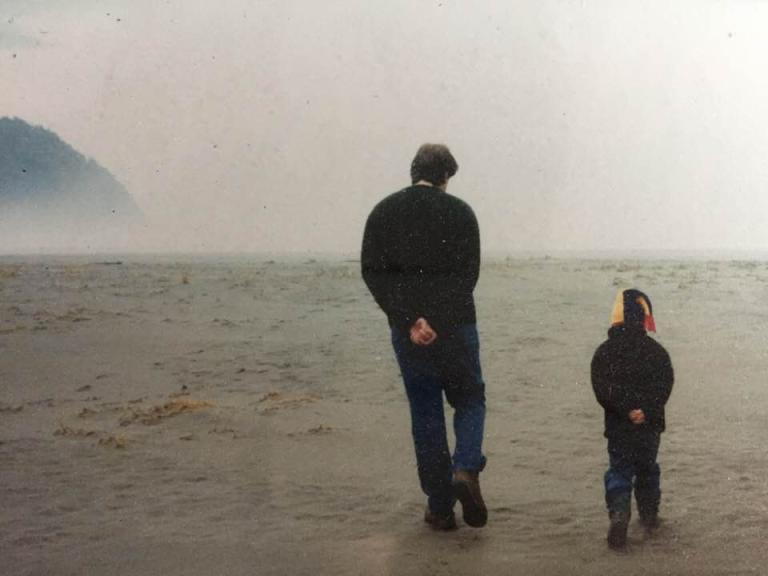 What's it like to go through life without a father, or a good dad? I think about those whose fathers passed away before they were born, or when they were young, or those whose dads were dead to them even when they were alive. I think about these questions especially now—on Father's Day. My son Christopher is a dad. A very good dad, but he can't talk or see his little girl today. Due to a traumatic brain injury suffered in January, he lies on a bed in a minimally conscious state in a rehabilitative care facility with a trach and a feeding tube in place to support his life.
We will play for him audios today of his daughter Jaylah talking and playing. We know Christopher can hear us. We will bring him flowers, as we witness glimmers of light that Christopher can now see, at least movement, albeit sporadically. We will give the incredibly active and every moving Jaylah special attention today, knowing that for Christopher every day is Jaylah's day, even on Father's Day.
Christopher has always adored children. They've always had a special place in his heart. No one more so than Jaylah, though. After his injury, when we collected his belongings, I turned on his phone. A reminder popped up with a screen saver picture of Jaylah. The reminder read "Brush Jaylah's teeth." Pain of affection and grief stabbed my heart: How he always made sure to care for her. She was, and is in his minimally conscious state, I hope and pray, always on his mind. Questions seize my mind: What kind of reminders pop up on our phone screens? How to get ahead? How to make a buck? Wash behind someone's ears, brush their teeth?
Now caregivers brush my son's teeth, just as his wife Keyonna brushes Jaylah's. My daughter-in-law does such an amazing job caring for her. I pray the day comes when Christopher can brush his own teeth again and tend to Jaylah's needs and desires, as he had done for the first few years of her life.
I try my very best to be a good dad for my son and a good granddad for my granddaughter. I can't tell you, though, how great the weight is that I feel. I cannot bear the burden of being a dad on my own. I sometimes call out to my own dad for help, who like Christopher is the best father one could ever hope to have, though my dad passed away from cancer several years ago. Christopher adored him and always delighted in hearing me say how much he reminds me of Grandpa: Grandpa was such a deeply loyal and loving family man. A picture of him and my Mom watches over Christopher in his room.
Today, on Father's Day, while I cherish the memory of my Dad and tend to my son Christopher's care, I call out to my Heavenly Father. Jesus taught us to address God in intimate terms, as "our" personal heavenly parent (Matthew 6:9). One finds in the canonical gospels a deep and abiding sense of Jesus' intimate relationship with God as "Abba" Father.* Jesus refers to God in this way on the night of his passion, namely as "Abba"—Father (Mark 14:36). Through him, we can experience a unique relationship with God as Father. As he said to Mary prior to his ascension, 'I am ascending to my Father and your Father, to my God and your God'" (John 20:17; NIV). Paul tells his family of faith that the Spirit testifies with our spirits that we are "Abba's" children: "The Spirit you received does not make you slaves, so that you live in fear again; rather, the Spirit you received brought about your adoption to sonship. And by him we cry, 'Abba, Father'" (Romans 8:15; NIV).
May I not live in fear today, Abba, Father. Help me carry the load. Lift my burden. Provide for them. Protect them from all evil. And so, I pray as Jesus taught us to pray:
"Our Father in heaven,
hallowed be your name,
your kingdom come,
your will be done,
on earth as it is in heaven.
Give us today our daily bread.
And forgive us our debts,
as we also have forgiven our debtors.
And lead us not into temptation,
but deliver us from the evil one" (Matthew 6:9-13; NIV).
Regardless of the relationship we have had with our fathers, and regardless of how we perceive God, if we allow Jesus to shape our understanding of God, then we can come to see the Ancient of Days as "Abba"—our Father.
I sometimes say to myself, if it is good enough for Jesus, it's good enough for me. If God is good as Heavenly Father in Jesus' mind, then he's good as Abba to me. Will we dare to call God our Heavenly Father today? Will I dare to reach out to Abba and ask God to take care of Christopher, to take care of his wife and daughter on Father's Day and beyond? Abba, help them. Help me in my efforts to care for them to rely on you and draw on your care for them. Support their lives. Support my wife and me as we care and advocate for them. Help those who struggle to call you Abba to learn from Jesus and see you as their heavenly parent who will care for them and support their lives, including on Father's Day.
*For more on Jesus' unique relationship with God as Father, see Joachim Jeremias, "Abba," in Studiem zur Neutestamentlichen Theologies und Zeitgeschichte, 15–67. Gottingen: Vandenhoeck & Ruprecht, 1966, translated by John Bowden in The Prayers of Jesus. SBT Second Series 6 (Naperville, IL: Alec R. Allenson, 1967). Edward Schillebeeckx, Jesus: An Experiment in Christology, translated by Hubert Hoskyns (New York: Seabury, 1974), 256-261.