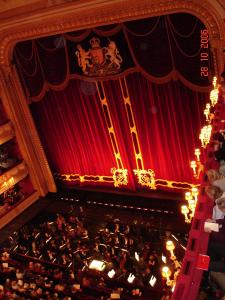 If you could go backstage with a singer or performer, who would it be? You may have seen the viral outpouring of reactions to Rolling Stones' lead singer Mick Jagger having a beer at the Thirsty Beaver Saloon in Charlotte, North Carolina. No one recognized him until later when he posted a picture of his outing on Twitter (Check out this news station account of the story). People just to his left were talking about how they had tickets to go see the Stones concert at which he would be performing on stage. People were paying over $400 for tickets to see the show, but they didn't have to pay anything to be that close to the rock legend. It was like being backstage.
It must have been a relief to Jagger in one sense. I cannot imagine what it must be like for him most days. I would assume people are always flocking to him. His fame or glory must be like a great weight or burden at times.
I didn't know about Jagger's incognito appearance at The Thirsty Beaver until my friend Brad Harper told me yesterday to check out the story. I tried sharing the CNN piece with Christopher at his room in his rehabilitative care facility last night, as he has always enjoyed listening to and playing Stones songs like "Gimme Shelter" on his guitar. I couldn't get the news story to play. Christopher, who endured a traumatic brain injury in January of this year, appeared to be waiting attentively, as I tried to get the story to play. He just watched my eyes. However, I had no difficulty showing him a live rendition of the Stones' "Jumpin Jack Flash" a few minutes earlier. This version was recorded at The Rolling Stones Rock and Roll Circus in London, 1968. Check it out here if you missed meeting Jagger at the bar or seeing The Stones perform live in concert in Charlotte the other night.
Christopher was facing the drawn curtain to his left, as I played the song. I positioned my iPhone just in front of his eyes. Slowly, I moved the camera with the video playing to his right. Christopher's eyes and head slowly moved to follow the screen wherever I positioned it. I hadn't seen him move his eyes and head like that for many days. So, that was a great thrill. My son was evidencing more conscious control last night than many of the fans in the audience jumpin' around to the live version back in 1968. I also started moving about, jumping or jigging to the music. But I could never match Jagger's choreography, even now when he is 78. So, I am glad the blinds were shut and the curtain was drawn.
It's hard to put to words what I encounter at times in my son's presence. There are moments when God's glory breaks through mysteriously and divine light and beauty penetrate the darkness, tragedy, and my searing pain. In those glorious moments, it's really like I am backstage with Christopher and God after the show.
I would pay a lot more than $400 to watch Christopher play "Jumpin Jack Flash" on his guitar or to take in a concert with him now. I told him last night that we have got to get him up and out of his bed so I can take him to whatever concert he wants to attend. I could tell he was listening and processing what I was saying. I hope my promise formed a new memory for him to which he holds me down the road. No matter what, I will hold myself to it. Still, I can play concerts on my computer for him in his room until then. All I know is that I would rather be behind the curtain in Christopher's presence than backstage with the Stones, as cool as that would be. Christopher's my living legend, a real "miracle man," as I like to tell him. He has come so far and endured so much.
I bet the people sitting around Jagger in the photo he posted on Twitter wish they had turned around and noticed him at The Thirsty Beaver. How often do we go through life not realizing we are in the company of greatness? I don't mean rock stars like Jagger, but people created in the image of the invisible God whose glory infinitely and eternally exceeds any legend's fleeting fame. It reminds me of something CS Lewis wrote about in The Weight of Glory:
There are no ordinary people. You have never talked to a mere mortal. Nations, cultures, arts, civilizations – these are mortal, and their life is to ours as the life of a gnat. But it is immortals whom we joke with, work with, marry, snub and exploit – immortal horrors or everlasting splendors. This does not mean that we are to be perpetually solemn. We must play. But our merriment must be of that kind (and it is, in fact, the merriest kind) which exists between people who have, from the outset, taken each other seriously – no flippancy, no superiority, no presumption.
Sure, we could tweet something in response to a photo where people have their backs to Jagger, unaware of his presence: "Turn around. Mick Jagger is having a beer behind you." But we should really tweet, or better, take to heart the immortals all around us: "Turn around. An immortal is having a beer/a coffee/a soft drink behind you." Take to heart that you are an immortal, too. Let's not turn our backs to one another, or discount ourselves.
I was backstage or behind the curtain last night to witness God's glory on display. The CNA who tended to Christopher last night treated my son as if he were royalty. You should have seen how he positioned Christopher's pillows to guard against bed sores and held my son's head as he vigorously coughed up secretions. It was as if he knew my child's immortal. Christopher's CNA is also immortal and I told him how much I appreciate him and how he cares for my son. And by the way, if no one has ever told you, you are immortal, too.
You don't need to go to a Stones concert to experience greatness, or go backstage with the band. Let's be attentive to one another, taking "each other seriously – no flippancy, no superiority, no presumption." We bear the weighty imprint of God's glory, which is difficult to fathom and comprehend. As C.S. Lewis writes in The Weight of Glory, "To please God… to be a real ingredient in the divine happiness… to be loved by God, not merely pitied, but delighted in as an artist delights in his work or a father in a son- it seems impossible, a weight or burden of glory which our thoughts can hardly sustain. But so it is." Yes, indeed. So it is.
To see all posts related to Christopher and our journey as a family, please go here. Thank you.