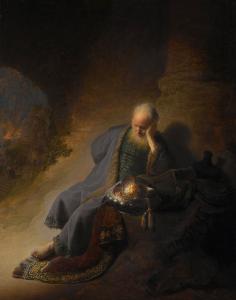 I have returned to Lamentations 3 repeatedly the past several days in view of my family's ordeal surrounding my adult son Christopher's traumatic brain injury. Often attributed to Jeremiah, known as "the weeping prophet," Lamentations recounts Jerusalem's destruction by the Babylonians in 587 B.C.E. and the trauma and humiliation of her people. According to one source, "…scholars for a time found the primary theological purpose of the book in the Deuteronomic righteousness-reward theology with its hope in the possibility of repentance". However, "more recent discussions have viewed Lamentations as an unresolved expression of grief following the trauma of Jerusalem's devastation." Here is a poignant and powerful selection from Lamentations 3:
I remember my affliction and my wandering,
the bitterness and the gall.

I well remember them,
and my soul is downcast within me.
Yet this I call to mind
and therefore I have hope:

Because of the Lord's great love we are not consumed,
for his compassions never fail.
They are new every morning;
great is your faithfulness.
I say to myself, "The Lord is my portion;
therefore I will wait for him."

The Lord is good to those whose hope is in him,
to the one who seeks him;
it is good to wait quietly
for the salvation of the Lord.
It is good for a man to bear the yoke
while he is young.

Let him sit alone in silence,
for the Lord has laid it on him.
Let him bury his face in the dust—
there may yet be hope.
Let him offer his cheek to one who would strike him,
and let him be filled with disgrace.

For no one is cast off
by the Lord forever.
Though he brings grief, he will show compassion,
so great is his unfailing love.
For he does not willingly bring affliction
or grief to anyone. (Lamentations 3:19-33; NIV)
My own unresolved grief finds an emotional connection with the prophetic lament disclosed in these verses. So, too, my unrelenting hope find an emotional connection with the prophet's longing for God's deliverance. The prophet remembers his pain and suffering, his "bitterness and gall." But there is more. There is that little word "yet," which actually looms large in this passage (Lamentations 3:21). Although the circumstances surrounding Jerusalem's fall were devastating and catastrophic, yet the prophet and those who look to the Lord with a flickering eye of hope are not consumed. They find that God's compassionate care never fails. They are renewed every morning. So, they continue to wait for God in the midst of their unrelenting grief.
Sometimes hope slumbers and then reawakens, like my son's fluctuating consciousness. I live for those moments when my son's eyes and face register someone's voice and presence. All of a sudden, he wakes up and becomes aware of his surroundings, like a computer screen that has reemerged from sleep mode. It's like hope being renewed. For a time after the catastrophic brain injury, there was no light in Christopher's eyes. His eyes looked as if they were dead. But over time, some level of healing has manifested itself and we see light when we look into his deep brown eyes.
I thought of the light in Christopher's eyes when recounting the film The Courier the other day. The film is based on the true story of the alliance between British businessman Greville Wynne and Soviet colonel Oleg Penkovsky. Penkovsky provided Wynne with weapons program secrets to pass along to the US and British intelligence communities in the effort to deescalate nuclear tensions between the Soviet Union and the West during the Cold War. They were caught and thrown into prison. Wynne was later released while Penkovsky was executed. Their confinement in the prison quarters was harrowing. All that kept them alive were their hopes for reunion with family and for the world's survival. In one scene, the light goes on in Wynne's eyes when Wynne's wife visits him in prison and tells him what awaits him at home when he is released. Later, the light goes on in Wynne's and Penkovsky's eyes when Wynne shares with him during their one encounter behind bars that Penkovky's actions helped to defuse tensions between the USSR and US surrounding the CUBA Missile Crisis.
The same unrelenting hope manifests itself in the closing scene of John Steinbeck's Grapes of Wrath set in the Great Depression. A young woman Rose of Sharon grieves the loss of her baby who has just died. But still she keeps going. With unconquerable resolve, Rose of Sharon lifts herself and tends to a man who is withering away from hunger and feeds him. Her love of humanity keeps her going with unrelenting hope in the face of her unresolved grief:
For a minute Rose of Sharon sat still in the whispering barn. Then she hoisted her tired body up and drew the comfort around her. She moved slowly to the corner and stood looking down at the wasted face, into the wide, frightened eyes. Then slowly she lay down beside him. He shook his head slowly from side to side. Rose of Sharon loosened one side of the blanket and bared her breast. "You got to," she said. She squirmed closer and pulled his head close. "There!" she said. "There." Her hand moved behind his head and supported it. Her fingers moved gently in his hair. She looked up and across the barn, and her lips came together and smiled mysteriously.
Even Samuel Beckett's Waiting for Godot conveys the importance of hope. As one summary puts it, the principal characters "Vladimir and Estragon are a pair of human beings who do not know why they were put on earth; they make the tenuous assumption that there must be some point to their existence, and they look to Godot for enlightenment. Because they hold out hope for meaning and direction, they acquire a kind of nobility that enables them to rise above their futile existence."
Hope in search of meaning in life shapes people to rise above futility, when all else comes crashing down around them. Like Vladimir and Estragon, like Rose of Sharon, like Wynne and Penkovsky, like Jeremiah, I experience the tension of unresolved grief and relentless hope.
There are times when I struggle with the threat of nihilism in view of the fact that my own figurative city of Jerusalem, as in aspirations for my son's life as originally conceived, have come crashing down, at least for now. Will God rebuild his life? If so, when? Will God rebuild my life with Christopher? I agonizingly hope so.
Given that I am able to continue functioning in every domain of responsibility may lead some to think I have moved on from my son's tragedy. Some of the emails and phone calls I receive and the questions people ask suggest such a perspective. But how can I move on when my son lies flat on a bed? I lie there with him in my soul.
As our medical consultant Dr. Potter said to me this week in reflecting on Christopher's status, hope is a slippery thing. I like to think of it like my son's consciousness that rises and then falls back to sleep for a time.
I will go to bed this evening after visiting Christopher. I will rise again tomorrow morning with the words of Lamentations on my lips, "Because of the Lord's great love we are not consumed, for his compassions never fail. They are new every morning great is your faithfulness. I say to myself, 'The Lord is my portion; therefore I will wait for him.'" (Lamentations 3:22-24)
In closing, I wish to share with you a word that I believe God impressed upon my heart and imagination this morning while driving to work. In the midst of my struggle to hold onto slippery hope, I heard these words deep within my mind: "Stay with me, son. Stay with me." Tears welled up in my eyes while driving. "Yes, Lord. I will stay with you. Stay with my son, Lord. Stay with us, son. Wake up, Christopher. Come back to a steady state of consciousness." Until then, I am on this journey of unrelenting grief and relentless hope as I take to heart and cherish the light in my son's noble eyes.