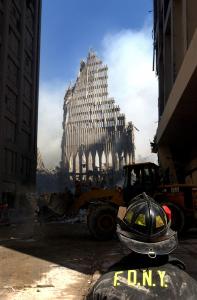 Those of us who were old enough to remember 9/11 will never forget. I still vividly recall the news coverage as station after station continued playing the footage of the planes crashing into the World Trade Center's Twin Towers. Something in the psyche of many Americans crashed, exploded, and went up in flames. A feeling of insecurity arose: we were not indestructible. Our symbols of economic prowess, military power, and democratic rule were truly vulnerable to attack, as the planes that hit the World Trade Center, the Pentagon, and as the downed plane that was on its way to strike Capitol Hill or the White House signified. When one rose the next morning on 9/12, it was clear that what took place on 9/11 was by no means a bad dream as the news reports of terror and tragedy kept streaming. It was reality.
Overwhelming emotions of morning, grief and sorrow, anger and bitterness, numbness and shock spilled out personally, nationally, and globally on 9/12 and in the days and weeks following. There was even an unbelievable sense of solidarity in various quarters after the attacks. Determinations of various and sometimes discordant kinds were made—from resolving to repair, rebuild, and make whole to getting even. Where did our emotions and thoughts take us internally, nationally, and internationally?
What stood out most to me were the accounts of uncommon courage as first responders threw themselves at the burning, collapsing wreckage in the hope of saving lives. What stood out to me were the scenes and stories of people sorting through the ruins, looking for victims, cleaning up the debris, and setting about to rehabilitate life. Such resolve and resilience always amazes me.
Twenty years have passed since 9/11. Where are we today, the morning after the anniversary of the attacks? Does such resolve to keep going and continue rebuilding remain? What will help us to keep going and never give up?
Secure attachments are essential if people are to make it in the face of unbelievable uncertainty, insecurity, and pain. My late father whose birthday is September 11 serves as a secure attachment for me even to this day. Every day he got up early to go out and work to provide for his family. Almost every night he arrived home late and went back at it the very next morning. My dad was so stable, so loyal and faithful. I could always count on him. My wife Mariko is like that, too. How she cares so deeply and so resolutely for our son Christopher who endured a catastrophic brain injury early this year. Just yesterday evening, she texted our daughter Julianne and me the following after visiting him:
"Just leaving the facility. I thought Christopher couldn't loosen his fingers when I asked for his ring finger and pinkie. I said it's ok and I will clip his fingernails another time. When I looked back at him after a minute later, those fingers were stretched out! I praised him and told him that he could hear my voice. I gripped and shook his hand telling him he did a good job."
As I look back on yesterday's text, I cherish the thought of how secure the attachment is between Christopher and his mom. Every day she pours out love like this on him. Sometimes, like yesterday, his response is visible. It might be a big smile or an open hand. Nothing is stronger than the secure bond of a parent and child, no matter how old they are, or how severe the injury.
We'll be back today to visit Christopher, picking up the broken pieces of his life, sorting through the wreckage, looking for increasing signs of recovery, and conscious control of his person. We are not alone. A vast multitude of people support us in caring for him, his wife, and daughter. We have so many secure attachments. A great many unsung heroes who have come to our family's aid and in a variey of tender-hearted and concrete ways. Among the many, many extended family members, friends, and total strangers who stand out to me are the CNAs who have done the dirty work and heavy lifting, cleaning, changing, and repositing Christopher morning after morning and throughout the days and nights. They are unsung heroes to me, just like many of you in various areas of life.
Since the morning after the traumatic brain injury to the morning after 9/11, their tireless work continues. Recently, one of them told me how much she loves her work and how she rejoices in seeing patients at the care facility make progress in healing. Perhaps it speaks hope to her, just as she speaks hope into their lives, including Christopher's. This CNA has a tattoo that suggests great pain. Mariko was struck by the tattoo and asked her about it. Our son's CNA said simply that her childhood was very rough, severe. But she does not give up. She keeps going. She clears through the debris of life and rebuilds. She keeps tending to our son and the other residents entrusted to her care. In the midst of sorrow and lament, there is hope.
One of my favorite passages of Scripture is Lamentations 3:22-23. I often quote it during my opening prayer each morning in class at the university and seminary where I teach. It conveys incredible hope in the face of tragedy:
"Because of the Lord's great love we are not consumed,
for his compassions never fail.
They are new every morning;
great is your faithfulness." (NIV)
The book of Lamentations is a series of laments that likely follows the aftermath of the destruction of Jerusalem in 586 BCE. While there is so much "unresolved expression of grief" within the book, there is still hope bound up with secure attachment to God. Such attachment provides the necessary resolve to keep going, to keep wading through the wreckage, to find life and rebuild.
How do we respond to tragedy the morning after, or twenty years after a devastating event, such as 9/12? I look for secure attachments in the midst of "unresolved expression of grief" and sorrow. God's compassions never fail. They are new every morning. So many people's compassions do not fail either. My dad, my wife, our son's CNA, and so many others keep going, keep caring, keep living for others. We can become the kind of people who resolve to keep going, to keep caring, to keep sorting through the wreckage to repair and rebuild, and provide secure attachments to withstand the devastating circumstances of life. Whether it's the morning after, or twenty years later, it's never too late to begin again.