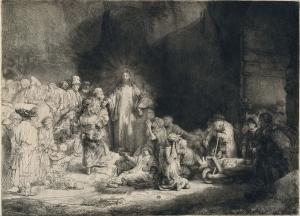 Last night, my wife Mariko and I sat at the dinner table and reflected on one of Mariko's recent visits with our son Christopher at his rehabilitative care facility. I am reflecting further on our conversation this morning, as I also consider Martin Luther's King's legacy this weekend. In this post, I reflect upon my son Christopher's battle with TBI, MLK's vision of The Beloved Community, and who we consider VIPs (very important people).
Ever since Christopher suffered a traumatic brain injury (TBI) in January 2021, we have been on the lookout for signs of conscious control. Mariko spotted one such sign during her visit, which we later celebrated at the table.
My wife shared how she started to gently and playfully nudge our son repeatedly and tenderly told him many times: "You're my VIP. You're our VIP. We're waiting for you." After a little while, Christopher faintly smiled and showed his teeth to his mom. A soft glow appeared on his face and in his eyes. "Christopher was there" with his mom in the room.
We wait with bated breath for those moments when Christopher arrives, as in a conscious state. The neurologist with whom we have met twice encouraged us to be on the alert for signs of conscious control and stimulate Christopher in those moments. Of course, we make various efforts to stimulate Christopher regardless of whether we sense he is conscious. We just do a little extra stimulation when he makes his conscious appearances.
Whether it is Christopher lip-syncing while my pastor played the guitar and sang Christmas carols for him, giving me the thumbs-up when I asked him if he wants to celebrate his daughter Jaylah's birthday next year with her in person, saying "yes" or "no" with his eyelids to the medical staff's questions, smiling and showing his teeth when his mom gently nudged him and spoke to him, or looking at his wife Keyonna with both eyes and making eye contact with his sweetheart when she shared with him about Jaylah, it is as Keyonna said, "incredible to see and experience."
As you can gather, Christopher is our VIP. I also tell him about all the VIPs who care for him. He is not alone. Who are those VIPs? All of you who pray fervently and faithfully for Christopher, think often about him, cheer him on, and provide sacrificial gifts of love and compassion to Christopher and his wife and daughter during this ongoing, unfolding ordeal on life support are VIPs to me.
To God, we are all VIPs. Unfortunately, and grievously, we all too often fail to be on the lookout for how God is conscious of everyone's inviolable and inexpressible worth, including our own. Every human being, no matter how conscious, no matter how smart, strong, successful, wealthy, or famous, is priceless to God.
I am even more conscious of such pricelessness and everyone's VIP status on the weekend we remember Dr. King. His "Beloved Community" legacy of love and his all-consuming vision to see us move from building a culture of things to cultivating a culture of persons, where we cherish every human person as created in God's image, is more important today than ever before imaginable. Every human person is a VIP. God's regard for you is unimaginable.
In a society where we host gatherings where only some people are VIPs, Jesus tells us otherwise. In a world where little children were seen as less than fully human and excluded from the inner circle, Jesus exhorted his disciples: "Let the little children come to me" and "You must become like a little child to enter God's kingdom." Jesus calls all those who are weary and burdened to come to him to find rest. He cares for the widow, orphan, and alien in their distress. He comes to heal the sick as their wounded healer and master physician. He's waiting for all those who sense their need for him to come home. They are his VIPs. He's waiting for you.
Christopher knows deep down inside his being, whether conscious, unconscious, or subconscious, how he is his mama's VIP. Keyonna and Jaylah know that they are his VIPs. He has heard his sister Julianne and me say repeatedly that he is not alone and that there are countless VIPs out there from all walks of life who are cheering him on. We can't wait for him to come home. We're waiting for you, Christopher.
For all the various reflections and updates regarding Christopher's and our journey on life support, please refer here. Thank you for your prayers. We are most grateful.