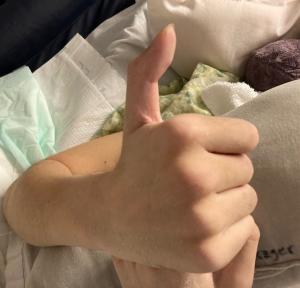 Sometimes I wonder if Christopher's movements are coincidence or instances of conscious control. It is not always easy to discern given his traumatic brain injury, but I'm holding two thumbs up for hope in the latter possibility.
Here's what transpired last night bedside. Christopher appeared to be more alert last night than over the past several days. I would think it helps that the staff at his rehabilitative care facility have been able to get him up in his wheelchair the past few days. Staff shortages over the holidays and a COVID lockdown certainly proved challenging for making connections. The increased stimulation involving the wheelchair certainly increases the likelihood of alertness.
I did my regular workout routine of moving Christopher's limbs and exercising my vocal cords. Speaking of vocal cords, I have the 'gift of gab' (though Christopher probably wishes I would take this gift back for a refund or an exchange like an after-Christmas return). I also sought in various ways to get Christopher to respond to prompts and show signs of conscious control.
The following prompt and response took number 1 on my ESPN highlight reel last night as I was courtside, or bedside:
I asked Christopher to give me a thumbs-up/to lift his thumb to show me if he wants to celebrate his daughter Jaylah's birthday next year with her. She turned 5 this past week. Here is what followed with Christopher and with other family members, as I texted Mariko, Keyonna, and Julianne play-by-play last night:
Christopher slowly raised his thumb, as you can see above in the first photo. Was it coincidence? Conscious control? You can register your answer and demonstrate conscious control by giving a thumbs up or down in your mind.
My text thread prompted other family members to show their own signs of conscious control, whereas I was a bit giddy. Here's the text exchange with Christopher's mother Mariko:
Mariko: "Is that for real?"

Paul: "That's the first time I asked him to do it in response to my question. While I can't be dogmatic, it was striking."

Mariko: "I'd love to see more and more of these responses this year."
I waited several minutes and then did the exercise again. Call it my attempt at trying to adhere to the scientific method. I got the same response. You can see it here in the second photo. Christopher slowly raised his thumb again. I thought he was trying to raise his thumb on the other hand, too.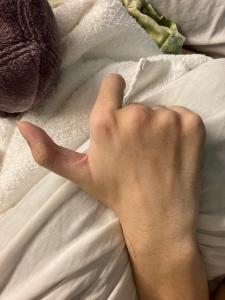 Mariko did her undergraduate degree in Missouri, so she's been influenced by the "Show me state." She needed a little more proof:
Mariko: "Where was his thumb before that?"

Paul: "Flat." His hand was "like a fist" before the prompt.

Mariko: "Wow." (My wife became a believer. Hallelujah!)
Christopher's wife Keyonna and his sister Julianne joined in with texts of "amazing" and affirmations of Mariko's responses. I'm a one-thumb-text-typist, so I'm rather slow and cumbersome. But still, the entire exchange was worth the effort and wait. So, I'll keep texting and praying in hopes that next year Christopher can celebrate Jaylah's birthday with her and Keyonna.
Handle's Messiah was playing the entire time I was bedside with Christopher. I was singing my fair share of "Hallelujahs!" in my thoughts and telling Christopher how much I love him and how proud I am to be his dad.
My son's a warrior. You cannot imagine all Christopher has gone through this past year with his traumatic brain injury. I can't imagine it either. But Christopher keeps grinding. He keeps going. Such resilience. Most of all, I sense that his tenacious love for little Jaylah deeply moves him to respond, to keep fighting, in his minimally conscious state. His love for her has always deeply moved me. It prompts me to respond with "Two thumbs up, way up!"
Paul writes in 1 Corinthians 13 that love always hopes. Here's the context:
Love is patient, love is kind. It does not envy, it does not boast, it is not proud. It does not dishonor others, it is not self-seeking, it is not easily angered, it keeps no record of wrongs. Love does not delight in evil but rejoices with the truth. It always protects, always trusts, always hopes, always perseveres. (1 Corinthians 13:4-7; NIV)
Talk about conscious control! This passage is often read at wedding services. Let's not leave it there: it's a good passage to read every day of the week to shape our entire lives and our various relationships.
Biblical love does not generate hype that is a figment of one's imagination or self-fulfilling prophecies of hopelessness. While one cannot be dogmatic about predicting other people's responsiveness, and there are times when we have to guard against not letting our hopes soar too quickly so they don't come crashing down, one who loves always longs for growth and development and does whatever one can to assist in that journey.
In this new year, I long to live with hope for Christopher, for others, and for myself. Hold out hope for me, please! I'll do the same for you. May we show signs of conscious control that does not give rise to hate and indifference, but to discerning faith, hope, and love. Paul writes that faith, hope and love alone remain in the end and that the greatest of them is love (1 Corinthians 13:13). Since faith, hope, and love triumph in the end, may we do the necessary range of motion exercises that stimulate them rather than cynicism, pessimism, indifference, and hate in this new year.
Life with Christopher this past year has taught me more than any course of formal study. He has been my greatest teacher as I learn to grow in faith, hope, and love. I am holding up two thumbs for hope in 2022 that Christopher, you, and I will continue to grow together.
You can read the various posts about Christopher and our family journey on life support at this link. Thank you for your prayers and caring thoughts. Blessings of faith, hope, and love for you in the new year!