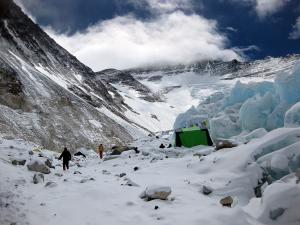 On New Year's Eve, I watched a Seinfeld episode involving Kramer and his new hot tub, a Trinidadian and Tobagonian marathon runner whom Elaine was chaperoning in NYC, and Elaine and her "Himalayan walking shoes." "The Hot Tub" episode helped me unwind after visiting my son Christopher in his rehabilitative care facility.
As one might expect, there were various missteps along the way: Kramer's hot tub malfunctioned; the Trinidadian and Tobagonian marathon runner overslept and almost missed the NYC Marathon; and Elaine had to write a story about the walking shoes for the Peterman Catalogue, but got writer's block. It was only during her frantic search on NYC streets for the marathon runner who had disappeared the night before the big race that she realized how "resilient" her feet were. She was relieved and rejoiced that she had taken off her heels and was wearing her "Himalayan walking shoes"! No more writer's block!
Seinfeld is often labeled a "show about nothing." Jerry Seinfeld took issue with that label. Still, I think it's fair to say the 'show about whatever,' as I would label it, can get you to laugh amid dealing with most anything in life.
Nearly a year has passed since my son Christopher's traumatic brain injury. Christopher and our family haven't been in any hot tubs, but we have experienced fluctuating temperatures. We don't literally wear Himalayan walking shoes, except in my mind as we are on an emotional marathon race or mountain climbing excursion on Mt. Everest. We are seeking to build endurance and resilience. By no means is our story a silly and hilarious show about nothing, but a daily battle for emotional survival. Perhaps you feel the same way about your own journey in life.
It was a blessing to be with Christopher yesterday, just as it always is. I talked to him about various matters, played music and Scripture for him on his tablet, listened to a chapter from the book about Churchill titled Darkest Hour, did his range of motion exercises, and prayed for him. All in a day's visit.
Yesterday's visit was not an episode about nothing, as if nothing significant happened. But it wasn't as if Christopher started talking to me or sat up and got out of bed either.
What was significant was the respiratory therapist and nurse showing such compassionate care for my son. They are so worried about how he keeps biting down involuntarily on his lower lip. Of course, we are very worried, too. The lip is so bloated and there is the constant fear of infection, or that he might cut a part of it off.
We are pondering the possibility of purchasing and forming a bite guard, but my dentist fears that it won't stay in place. Others of us fear he could bite a part of the bite guard off and swallow it. It could lodge in his throat. There is no easy answer. Serious risks abound. Please pray that Christopher would stop biting down on his lower lip with his sharp teeth and powerful jaws. Please pray that we might have wisdom.
The only time Christopher appeared to be alert was when I called the nurse by name. Christopher's eyes and face perked up and he turned his face to look at his nurse, who was massaging his left shoulder. I had just asked the staff if they had noted any consciousness in Christopher that day. The nurse paused to highlight how Christopher responded just then to the nurse's name being called. The alertness did not appear to last long. But Christopher did make a featured appearance on my daily show about emotional survival playing on the screen of life.
Christopher slept a lot yesterday. Sleep sure factors into resilience, as does humor. Seinfeld helps me take a few deep breaths and gives me a few hearty laughs. Fortunately, I can still laugh, not simply cry. And generally, I sleep well at night. Writing also helps. It's therapeutic to me, though my prose might put you to sleep. Remember, sleep is good. It assists with building resilience.
I think we will all need more resilience this new year—Christopher, his caregivers, you, me, everyone. Whether you take dips in a hot tub or wear Himalayan walking shoes, just think: we all made it through 2021. It was the darkest year for many people, including us.
And yet, light has a way of penetrating the darkness. And as the old saying goes, when the going gets tough, the tough get going. That's how it was with Churchill, whose inspiring story I am listening to with Christopher. That's how it was with 'camel-kneed' James, Jesus' half brother. They say James had camel-knees from praying while kneeling so much. James could have used some Himalayan knee covers. Still, James rejoiced in how his trials produced in him perseverance and resilience. One can only reach maturity in faith, hope, and love, if one perseveres. With this in mind, I recall James' words at the outset of his epistle:
"Consider it pure joy, my brothers and sisters, whenever you face trials of many kinds, because you know that the testing of your faith produces perseverance. Let perseverance finish its work so that you may be mature and complete, not lacking anything." (James 1:2-4; NIV)
Christopher has a ton of perseverance and resilience to go around. He keeps fighting, keeps grinding, and not just his teeth. He's my inspiration in so many arenas of life. So, we keep hoping, praying, and rejoicing amid the trials, and I keep laughing at Seinfeld.
Well, it's time to put on those Himalayan walking shoes, as I begin the day. Bring on the new year!
You can find the various posts about our journey with Christopher over the past year by going to this link. Thank you for your caring thoughts and prayers. Blessings on your new year of life!