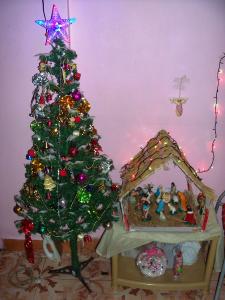 My view of Jesus is a bit different than Will Ferrell's version in Talladega Nights. His character named Ricky Bobby begins family dinner by praying to "eight pound six-ounce baby Jesus." He prefers to pray to "baby Jesus" rather than "grown-up Jesus" or "bearded Jesus". He likes thinking of Jesus being so "tiny" and cuddly" and wearing "golden-fleeced diapers".
No doubt, baby Jesus was tiny and cuddly. Perhaps he even had "tiny, little, fat, balled-up fists," as Ricky Bobby prays. But I'm not so sure about the "golden-fleeced diapers". Still, I will give Ricky Bobby this: for all Jesus' cuddliness, Ricky Bobby does acknowledge Jesus' omnipotence, that is, his infinite power. He's "so cuddly, but still omnipotent." On top of that instance of theological depth, the whole table grace scene is quite hilarious and culturally adept.
I reflected on Ricky Bobby's prayer this morning after my morning devotions—not as part of them! I thought back to the past week, last night, and forward to the weeks ahead. Speaking of last night, my son's singing CNA asked me how my Christmas break has been. I let him know it has hardly been full of silent days and silent nights. It has been quite tumultuous in view of everything going on surrounding my son Christopher's traumatic brain injury. Still, I said that I'm glad I have the break to attend to various, pressing crises and challenges that have suddenly appeared. I also shared that I try and look for any sign of the sun breaking through the winter storm clouds. So, in that sense, having the break to deal with all the pressing challenges has been a great help.
A few signs of the sun or Son breaking through the storm clouds occurred last night when this same CNA and I were changing Christopher's clothing. We pulled off his shirt that he wore for the day and put a nightgown on him. Suddenly, our CNA paused and said that Christopher assisted him in moving his shoulder and arm so that he could remove the shirt from Christopher's body. He said, "That wasn't me. That was Christopher" helping us. We were elated that Christopher showed a sign of possibly regaining certain motor skills. We applauded my son. As I said before, I look for any sign of the sun breaking through. Later, my wife Mariko and I rejoiced at home when I shared with her this good news.
Another sign of the sun breaking through was when our CNA broke out singing "Amazing Grace," while repositioning Christopher. I joined in. That said, I realized halfway through the second verse that we were singing different lines. So, I changed gears and got in-sync with my choir master. I doubt Christopher or anyone else overhearing us down the hall would have mistaken us for Plàcido Domingo and Luciano Pavarotti. But in my estimation at the time, we were close. No doubt, the N95 facemasks and face shields enhanced the timber or tonal quality.
Our CNA is a big guy with a big heart. It takes a great deal of effort at times to move Christopher's heavy head and upper body. Even though he has been lying on his back, or sometimes sitting in a wheelchair, for nearly a year now, his shoulders and arms are incredibly strong. I break out in a sweat when doing his range of motion exercises, especially when Christopher voluntarily or involuntarily puts up some resistance. It's a good thing our singing CNA has broad shoulders, too. He can move Christopher's body almost effortlessly, while gently speaking words of affirmation and encouragement to my son. It's all so dignifying.
It was late in the evening when all this took place, but the sun was still breaking through the clouds in my mind. Christmas time is often very hard for people, including me this year. As one of the residents at my son's facility told me Christmas Day, "Christmas is the worst" for depression. Some of us may experience emotional highs amid Christmas festivities, but the feelings of exuberance often give way to flurries of depression. This is where I take comfort that Jesus, whose birth many of us celebrate on Christmas, did not disappear on December 26th or whenever we take down the Christmas tree and nativity set.
Jesus didn't disappear. He grew up and became "a man of sorrows, and familiar with suffering" (Isaiah 53:3; NIV). The realization of that truth can help those like me who struggle with depression over the holidays and in January. The year mark of Christopher's injury on January 21st is fast-approaching. Knowing that Jesus is "God with us–Immanuel" all the time and all the way is so comforting and life-giving.
Most people don't realize that Christmas continues after December 25th. The Christmas season extends for forty days, beginning on Christmas Eve and coming to fruition on February 2nd . February 2nd marks Jesus' presentation as a baby in the Temple on the liturgical calendar. Luke 2 chronicles the birth and presentation.
All one needs to do is read Luke 2 and the rest of Luke's Gospel to realize Jesus didn't wear golden fleece diapers or eat off a golden platter. The same goes for the other gospel accounts. Jesus' entire life was hard, yet full of vibrancy and resilience. No doubt, cuddly little Jesus grew up with calloused hands as a carpenter's son. He later bore nail wounds in those hands from hanging on a wooden cross. This cuddly infant was "so cuddly, but still omnipotent." He grew up to be one who can bear the weight of what we are enduring on those broad shoulders of his. Jesus says,
"Come to me, all you who are weary and burdened, and I will give you rest. Take my yoke upon you and learn from me, for I am gentle and humble in heart, and you will find rest for your souls. For my yoke is easy and my burden is light." (Matthew 11:28-30; NIV)
Far better than a Hallmark card with nostalgic scenes of Christmas magic is the mystery of Jesus' entire life from the cradle to the cross to bearing my burdens today in his undying life. Jesus didn't stop coming to earth on Christmas Day.
I will continue to try and help Christopher stay limber by moving his heavy and strong shoulders and arms, legs, and feet. I will welcome the support of my friend, the big-hearted singing CNA, who also has strong shoulders and arms. I will delight in knowing that Christopher moved his shoulders and arms and helped us change him last night. Above it all and through it all, I take comfort in knowing that baby Jesus grew up and has the broadest of shoulders imaginable to bear my burdens through Christmastide and throughout the coming year.
You can find my various reflections on the liturgical calendar at Setting the Spiritual Clock: Sacred Time Breaking Through the Secular Eclipse.