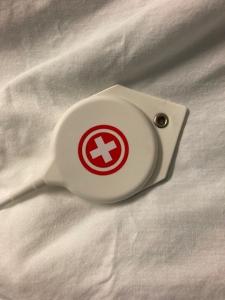 Last night, the nurse stopped by Christopher's room to tell me that Christopher intentionally hit the call light button during the day. The call light went on twice. The nurse was in the hallway the first time it happened. He wondered out loud to the CNA how that could be. After all, Christopher has largely been stationary since his traumatic brain injury in January of last year. Curious to find out what had happened, the nurse went into Christopher's room to check on him and turn off the light. Before his very eyes, Christopher did it again! He moved his right arm over to the call light button and then placed his hand on it. He was looking at the call light button as he moved his arm over to it and turned it on again.
I asked the nurse if he thought it was a coincidence. It was clear to the nurse that Christopher's action was conscious control. The nurse added that in the past he was skeptical when my wife informed him that the call light button should be on Christopher's bed so he can hit it, if need be. After all, as I said above, Christopher is often passive due to the TBI. But now the nurse is a believer: he witnessed Christopher's actions with his own eyes.
The CNA also dropped by to talk to me. I was doing passive range of motion activities for Christopher at the time. I was relieved to take a short break to talk with her. She told me that Christopher was defiant yesterday. He would not let her put his boots on him. The boots are intended to help guard against foot drop. The CNA said it was obvious Christopher was being defiant based on the kind of expression Christopher made with his face. It was that determined and defiant look that he gives: something like "Over my dead-head dad's body!" I saw that look a lot when he was growing up. THE CNA graciously refused my apology for Christopher and said she would rather Christopher resist her than be passive all the time. Me, too!
I texted the report from the nurse and CNA to Christopher's wife Keyonna, my wife Mariko, and our daughter Julianne. They were ecstatic, texting back "Wow!… Amazing!… That's a big step! That's incredible."
I thanked the nurse for sharing with me this good news. He always tries to encourage me as a fellow believer in Jesus. I reflected out loud with him how his report got me to thinking about Jesus being on divine call. The nurse resonated with the words. God is there, waiting for us to call.
Jesus is the divine doctor who is open to receiving calls at any hour. He welcomes little children to come to him and sit on his lap. He praises people who come to him as their last resort in search of healing, like the woman with the issue of blood and beggars and lepers who want to rise up and be made whole, just like me. Jesus wants us to "inconvenience" him and cast all our cares on him. As Jesus' follower Peter wrote,  "Cast all your anxiety on him because he cares for you." (1 Peter 5:7)
On returning home from visiting Christopher last night, Christopher's dead-head dad played some music to accompany this encouraging report. I did not settle on The Grateful Dead, but Johnny Cash and his remake of "Personal Jesus." I played it repeatedly last night and wrote about it many years ago in my volume The Gospel of John: When Love Comes to Town. Regardless of what one makes of Depeche Mode and Marilyn Manson's earlier versions, Cash heard it and recorded it as a very personal, gospel-centric tune. Cash's version is stripped down and gritty, just like Cash's take on faith in Jesus, as I see it. No fluff. No flourish. Just the fundamentals: "God, I need you. Please have mercy on me!"
God's not looking for great prose or poetry or theological profundity, just simple, childlike trust. As the psalmist said in crying out to God: God will not deny or despise a broken and contrite heart. (Psalm 51:17).
I am going to keep hitting that divine call light in my agony for Christopher and his family. No matter the hour of the day or night, I am going to hit that call light button and pray to my own personal Jesus. God, fire and rewire Christopher's brain! God, may he show signs of increasing consciousness this year! May he go from passive range of motion exercises to active range of motion! Lord, may he resist efforts to put on his foot drop boots so he can put on his own shoes, rise, and walk! May he cry out to you deep in his heart, open his mouth, and pour out words again at the top of his very strong lungs!
Hit that divine call light button when all around you gives way. Inconvenience Jesus. He is waiting for you. God will meet you in your time of need.
To read the various updates on our unfathomable journey with TBI this past year, please refer here. Thank you for your prayers!