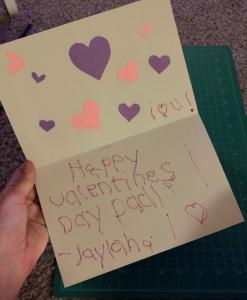 I appreciate the philosopher Rene Descartes' rigorous thought experiment on existence. He summed up his conclusion on certainty of existence with the following line: "I think. Therefore, I am." But thinking is not the summation of life. To me, the heartbeat of life is: We are loved by God. Therefore, we are. This truth does not change, even when we lose consciousness or others are not conscious of us. God upholds us in existence in divine love in those moments, seasons of life, and forever.
Such is the case for my son, Christopher. Even when he is minimally conscious with TBI, God is maximally conscious of him. He is not alone. He is loved.
God embraced me with this truth yesterday, even as I reflected upon my granddaughter Jaylah's recent words of affection for her Daddy. I was taking her home to Mommy one recent evening. I told Jaylah that after dropping her off, I would then go and see Daddy in his care facility. Her response moved me to tears: "I want to hug and kiss Daddy. I want to go to the hospital." I long for the day when that can happen. Until then and throughout her life, may God embrace her, Mommy, and Daddy with unbounded affection.
It is the keen awareness of love that keeps me going since Christopher's traumatic brain injury. I see such love on display in so many contexts, including how Keyonna loves Jaylah, how Jaylah expresses her affection for her Daddy, how Christopher expresses his loving care for Jaylah. Recently, he gave me a thumbs up when I asked him if he would like to spend Jaylah's birthday next year with her in person. He can't speak presently (except on very rare occasions), but that gesture was worth a thousand words. Two thumbs up for love all around!
Whenever I see such love, I trace it back to God's love. We did not first love God, but God first loved us and gave his Son for us (1 John 4:8-9). For God so loved the world that he gave his one and only Son to draw us to himself (John 3:16). Nothing can separate us from the love of Jesus—neither demons nor sword nor TBI. Here is what Paul writes in Romans 8:
Who shall separate us from the love of Christ? Shall trouble or hardship or persecution or famine or nakedness or danger or sword? As it is written: "For your sake we face death all day long; we are considered as sheep to be slaughtered." No, in all these things we are more than conquerors through him who loved us. For I am convinced that neither death nor life, neither angels nor demons, neither the present nor the future, nor any powers, neither height nor depth, nor anything else in all creation, will be able to separate us from the love of God that is in Christ Jesus our Lord. (Romans 8:35-39; NIV)
Elsewhere Paul writes that when he was a child, he thought like a child. But now that he is an adult, he has put childish things behind him. Now we see through a glass dimly, but someday we will experience and know God face to face. Now we know heaven's mysteries in part. Then we shall know them in full, just as God knows us fully—no matter if we are fully cognizant or enduring TBI. Now three things remain: faith, hope, and love—but the greatest of these is love (1 Corinthians 13:11-13).
One thing that is never childish is love. No matter how old we get, may we never put love away as a childish thing. Without love, we die inside. Jaylah's affection for her Daddy inspires me and shapes my heart. They say you can't teach an old dog new tricks. Hopefully, this getting-old-theologian is not like that. My granddaughter teaches me that true love never gets old and keeps us young. We are loved by God and one another. Therefore, we are.
To read the various posts related to my son's ordeal with TBI, please refer here.