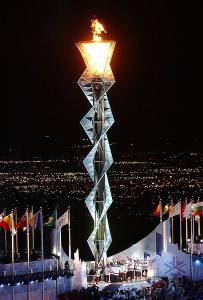 I visited my son Christopher at his rehabilitative care facility on Saturday. The staff had turned on the TV. The channel was set to the Winter Olympic games. It appeared as if Christopher might have been paying attention to the coverage.
I could only stay about an hour, so I planned on returning to visit him again later in the evening. However, I started to feel a little under the weather before departing for his facility to visit him again, so I thought I shouldn't risk it for his sake. Fortunately, as I suspected, the ill-feeling was simply the result of exhaustion and depression. After a good night's sleep, I was much better the next morning.
I couldn't help but wonder how Christopher might be processing the Olympics. There he is so stationary, apart from the occasional moving of his head and limbs. Perhaps my son who had been so active and so athletic before the traumatic brain injury last January felt so helpless (that said, his arms, legs, shoulders, and neck are still so powerful—just try to move him when he resists!). I wish Christopher could talk and let me know what he is thinking in his state of minimal consciousness.
Whether Christopher felt helpless with the Olympics playing on the TV, I sure did. That night was the first time in over a year I just could not gain the necessary strength to head over to see my son. Whether I do any good, I just want to be with him and to try and help stimulate him. And yet, I must pace myself. This is no game. Christopher and I are running the equivalent of an Olympic marathon race—for his life.
Christopher has the heart and lungs of a champion, but loneliness and discouragement can take its toll on the best of us. I often tell Christopher that there are so many people cheering for him, his wife, and daughter, that he should keep hope alive, and keep pressing on.
Training in sports and in life can be so exhausting and discouraging. So much tedious and grueling activity, like stretching and moving Christopher's limbs and joints. I always try and prepare him for the pain he will experience when I move his limbs and joints and apologize to him in advance. I hate watching him grimace or pull back his legs, when I work with his feet, just as the therapists taught me. They would also apologize to him, knowing he would feel some level of pain at points. I do everything possible to minimize the pain, while also trying to keep him limber and guard against "foot drop."
At this stage, there is not enough stimulation of conscious activity on Christopher's part to provide satisfaction in training for the Olympics of Christopher's life. The satisfaction I receive is simply the result of giving it my best effort. My son deserves my best.
But what if my best is not enough? There's no way in the world I can do whatever it takes for Christopher to heal. I can only assist in the hoped-for healing process. That realization is humbling and also an occasion for taking a breath and sigh of relief in order to regroup. I can't do it alone. Thankfully, I'm not doing it alone.
This weekend, Christopher's sister Julianne shared a song by Cain with me. It is titled "There Was Jesus." You can listen to it here. What a powerful song! I take comfort from the realization that Jesus is with Christopher. When I couldn't be with Christopher Saturday night, "there was Jesus" with him to coach him, to comfort him, and cheer him on. Lord, please stimulate my son's brain when we can't be there to do it.
The staff are so busy tending to so many patients. Therapy stopped when he plateaued due to insurance regulations. Omicron limits visitation primarily to pastoral care. Airbrushed life can't cope with the reality playing out before our eyes. But Jesus can. He has run the ultimate Olympic race and triumphed. He has endured the cross and despised its shame.
Hebrews 12 provides encouragement to keep fighting, to keep running, to keep pressing on:
Therefore, since we are surrounded by such a great cloud of witnesses, let us throw off everything that hinders and the sin that so easily entangles. And let us run with perseverance the race marked out for us, fixing our eyes on Jesus, the pioneer and perfecter of faith. For the joy set before him he endured the cross, scorning its shame, and sat down at the right hand of the throne of God. Consider him who endured such opposition from sinners, so that you will not grow weary and lose heart. (Hebrews 12:1-3; NIV)
Of course, the context of Hebrews 12 is different. The author was writing to a Christian community undergoing persecution for their faith and were thinking about throwing in the towel. But the exhortation still stands this morning and throughout the day and night: there was Jesus, there is Jesus, there will be Jesus. He is the pioneer and perfecter of faith. He has run the race.
Christopher, when all else gives way, when no one else is around, when so many have abandoned hope, there is Jesus. May we not grow weary and lose heart. No matter how much waiting, searching, hurting, brokenness, or loneliness, there is Jesus.
Even when we can't see it or know it, you are there, Jesus. Lord, please bring forth out of the broken pieces blessing for Christopher in this marathon race for life.
To read the various posts related to Christopher and our family's unfathomable journey with TBI, please go to this link. Thank you for your prayers!