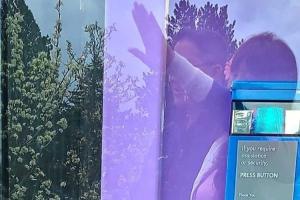 Christopher's mom and I were going through the equivalent of neuro-storming this past week. The relentless struggle in advocating for Christopher and his precious family hit a new emotional level of high fever pitch. Just as we were processing how to cope and hope with Christopher's TBI and find a way forward, I received a text from my niece Megan. She said she suddenly felt an "overwhelming desire to pray for Christopher" and all of us. "Wow! Amazing!" were the words Mariko and I uttered in unison. I texted Megan in response: "Wow! Unbelievable movement of the Holy Spirit!…Your text could not have come at a better time!"
Megan's empathic connection led me to ponder Abraham's Lincoln's words "the mystic chords of memory" taken from his first inaugural address. The website "Learning for Justice" provides the following interpretation of the phrase: "A common history or spiritual unity as fellow Americans. 'Chords' refer to a harmony of several notes. Lincoln is alluding to the fact that there is great difference within the United States, but their 'memory' or common history and culture, unite them in a 'chorus of the Union.'"
Speaking of unity, Megan's text illustrates her empathic bond, both as a nurse and as a close family member. No doubt, others have received "overwhelming" sensations to pray for us out of the blue. I experience the same kind of emotion at times when thinking of others. As fellow believers and as fellow humans, we share much in common, no matter our nationalities, political affiliations, and worldviews.
During times of intense conflict, it is very difficult to keep in mind our common bond as humans. Further to Lincoln's words given at a time of incredible social upheaval just prior to the U.S. Civil War's outbreak, empathic connections run in our spiritual, psychological, and physiological veins. May those bonds continue to flow and lead us to find a way forward together through the tensions that rage interpersonally, nationally, and internationally. Lincoln was beckoning his fellow Americans to take up the common chorus of their union. He coped with hope that "The mystic chords of memory, stretching from every battlefield and patriot grave to every living heart and hearthstone all over this broad land, will yet swell the chorus of the Union, when again touched, as surely they will be, by the better angels of our nature." I will join that tune.
Mariko and I continue to cope with hope on account of the mystical chords of empathy that stretch across time and space and arrive at our hearts, doorsteps, phones, and inboxes just when we need them most. This week, I received an email from someone in Florida, whom I have never met. This empathic soul on the other side of this vast land prays daily for Christopher—daily! This caregiver reads all my updates and longs to see God answer prayers.
So many people of all walks and ways of life reach out to us in various ways. They are chords in that vast harmony which participates in the mystical bond of empathic care and prayer across time and space.
Last night, I shared this meditation with Christopher at his bedside and asked him if he has had conversations with his late Grandma and Grandpa, as well as his cousin Hannah. I think he could hear me. I think he listens to them. When my sister Nancy spoke to him about his grandparents and cousin during a visit from Connecticut with my brother-in-law Peter this past summer, Christopher smiled. We are not alone.
May the mystic chords of empathy yet swell the chorus of our union as believers in that mystic presence that breaks through barriers of time and space, indifference, and hatred. God bless you! My prayers accompany you in that angelic chorus.
For all the updates related to Christopher and our family's unfathomable journey on life support, please click here. Thank you for your prayers.