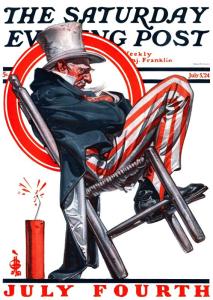 Most of my life, I have taken freedoms for granted. I'm kind of like Uncle Sam in this July Fourth picture, who leans back and snoozes in his chair. In general, I have taken my liberties lightly. I could often go where I wanted to go, read what I wanted to read, discuss what I wanted to discuss, eat what I wanted to eat, and do what I wanted to do. Those same opportunities are available to me today on this Fourth of July weekend, though not my son.
Since his traumatic brain injury in January 2021, my twenty-six-year-old son Christopher lies on a bed at a thirty-degree angle due to his feeding tube machine, except when medical staff pause the machine and lower the bed to change his clothes and reposition him. Thank goodness for the Hoyer Lift that moves him to and from his wheelchair and the occasional transport that takes him back and forth between appointments at the hospital or pain clinic. It's hard to imagine how often Christopher traveled with us to and from England and Japan and across the U.S. as a child and teenager, and who moved about the country as a young adult. He also loved to run for miles every day until the afternoon TBI stopped him in his tracks.
Christopher loved to read. He was a walking encyclopedia. My son wore my brain out on all kinds of subjects. Given how much he collected in his brain, I can only hope there is a deep reservoir of memory from which he can draw, and that he can learn new memories. There is no way of knowing presently how much he recalls. Currently his main way of communicating is the blinking of his eyes for "yes" and "no" answers, though such controlled, responsive blinking is not yet always clear or constant. That said, Christopher's eyes were very clear and focused on the video recording of his daughter Jaylah that his sister Julianne played for him yesterday. His eyes followed the iPhone wherever Julianne moved it, while the video played. Thank God for such deliberate eye movement. There is nothing liberating about random, erratic, unconscious movements of the eyes.
Christopher gets his nutrition through a feeding tube. Thank God for technology, such as the feeding tube and trach. The good news is that according to a nurse and certified nursing assistant, Christopher's throat muscles appear stronger and he is swallowing more since the baclofen pump surgery. The staff and we are telling him to keep swallowing. Yesterday, the nurse and CNA told my daughter that he will no longer need the trach and can eat normally, if he can learn to swallow more regularly and gain greater consciousness. Amid so many bitter pills to swallow these past eighteen months, that is a very hopeful word to digest!
It's also worth noting with hope that Christopher has not had any more low-grade fevers since the surgery. Perhaps the significant reduction in spastic activity plays a part in his balanced temperature. He is also sitting up better in his wheelchair rather than sliding down the chair like a slippery board, no doubt due to greater fluidity with limbs and less pain resulting from reduced contractions.
I have to step back time and again to ponder how big such little steps toward increased freedom are. It's hard to imagine how much I take my freedoms for granted, including the freedom to get up out of bed,  sit, walk, run, read, talk, and swallow.
Christopher is moving both arms now at times in response to prompts—however slight at times and often at a snail's pace. He is hitting his call light button more to let the staff know he needs help. His personality and facial complexity, color, and good looks are emerging. One of the staff said the other day how handsome he is.
I pray that Christopher keeps emerging. I will continue to assist him in whatever way possible to make progress and express himself. We want him to go where he wants to go, read what he wants to read, discuss what he wants to discuss, eat what he wants to eat, and do what he wants to do. Sometimes we show Christopher pictures of Rome and tell him we want to take him there. He talked of wanting to go there someday. Hey, if he wants to go to outer space, we'll even try to make that happen. I just need Elon Musk's phone number. With outer space in mind, I'm putting some NASA pictures of vast star formations up in his room today. A NASA scientist who is praying for Christopher made them available  to those of us at a faith and science retreat recently. Maybe I'll even play Frank Sinatra's "Fly Me to the Moon" or David Bowie's "Starman." Both songs are on his tablet's playlist, which I made. One of these days, I am going to play my favorite space movie for him, "Interstellar," with its depictions of blackholes and wormholes.
Taking freedom for granted ends up being a dead end, like a blackhole. Taking freedom to heart is more like a wormhole that hypothetically serves to connect two distinct places, times, and with them people, like the father and daughter in Interstellar. I am not going to take for granted the freedom I have to visit Christopher as often as possible, to assist him with range of motion activities whenever I wish, and to do whatever possible to foster increasing stimulation of his brain.
My hope and daily prayer is that this TBI my son endures will not be a blackhole, but a wormhole that connects him and Jaylah and that serves in some small way to connect all those compassionate souls who read my posts with those they love. I also hope and pray that we will use our freedom allotted to us to love those we so readily discount or hate. Here I recall the liberating words of Paul: "You, my brothers and sisters, were called to be free. But do not use your freedom to indulge the flesh; rather, serve one another humbly in love. For the entire law is fulfilled in keeping this one command: 'Love your neighbor as yourself.' If you bite and devour each other, watch out or you will be destroyed by each other." (Galatians 5:13-15; NIV)
Those who take their freedom for granted, and who indulgence the flesh rather than serve one another humbly in love, are like Uncle Sam sitting back in his chair snoozing, while the firecracker stick of dynamite burns behind him.
Better is love with TBI than hate and indifference with limitless freedom this Fourth of July weekend and beyond. May I refuse to take for granted my freedom to move, to read and discuss, to say a kind word, to eat, and pray. May we take to heart these freedoms all in the effort to love someone else today.
To read the various posts about our journey with TBI dating back to January 2021, please go here. Thank you for your prayers and care. Blessings to you on this Fourth of July holiday weekend.