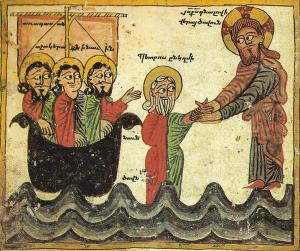 I remember standing in front of our kitchen window looking out at the backyard early one morning. It was shortly after my son Christopher endured a traumatic brain injury that required emergency surgery in January 2021. All of a sudden, I cried out, quoting Peter's words to Jesus: "Lord, to whom shall we go? You have the words of eternal life." (John 6:68; NIV). Where else was I to go but to Jesus in my time of crisis?
I did not go to him because of great faith. I had no such reservoir. I did not turn to him as a creature of mere instinct and thoughtless habit. I turned to him because he had never failed me. I knew he wouldn't fail me then either, even though I had no idea what his deliverance would entail.
The context for Peter's words recorded in John 6 is a turning point in that gospel. Jesus had informed his disciples that they must eat his body and drink his blood as the bread of life. They could not stomach his teaching. Many abandoned him that day.
I don't think the host of disciples or learners misunderstood Jesus to be promoting cannibalism. Rather, I sense that they took issue with him because he was not their "father's Oldsmobile" kind of messiah. In other words, he was going to die. The sense of the passage is that it would be a violent, bloody death. That's not the kind of messiah they were looking for.
While most of Jesus' followers left him, the twelve remained. When Jesus turned to ask them if they would leave him, too, Peter uttered these words conveying total dependence. They had nowhere else to go. Jesus alone had the words of eternal life. That was true then for Peter. It is true now for me. We were and are hanging by a very thin though extremely strong thread, trusting in trustworthy Jesus.
Those of you who are younger than I may not understand the reference to "father's Oldsmobile." After all, GM doesn't even make Oldsmobiles anymore. But when I was a kid, I distinctly recall the day when my dad purchased a dark green Oldsmobile. It was brand new, and I was so proud to ride around in it. No way could I imagine then that the Oldsmobile brand would dissolve around the turn of this century. The 1988 slogan "This is not your father's Oldsmobile" introduced a new line of Oldsmobiles that never quite separated them from the old. After all, "old" is in the word itself—the Olds-mobile is still an old mobile. One way or another, it appears the car was a "victim of its own brand." The new ad campaign may have been the reason for the Oldsmobile's demise. 
In Jesus' case, he really wasn't just another kind of Oldsmobile. He was one of a kind. But most of his early followers weren't ready to move away from the old to this totally new model. I can relate. Like them, I am a
 creature of comfort. I so readily settle for the old even when a better kind of car or the genuine messiah comes around. Besides, the kind of comfort Jesus offered then and that he offers now is not so reassuring if we are trying to avoid suffering.
We easily settle for the well-worn American prosperity gospel messiah who promises to give us Panera bread every day of the week for free or put a chicken in every pot and a car in every garage. That message gets old quick when your life, or the life of a family member, is on the line—indefinitely, as in the case of Christopher.
According to Jesus, the reason why Peter and the eleven stayed with him after the rest of his disciples vanished was not because of strong faith or habit, but because he had called them. The jury's still out on me though. Who's to say I am called? I will only know in the end, as hindsight alone is 20/20. All I do know is that Jesus' person alone gives me sustenance in the present tense to stand when everything around me appears to give way. His words stick to my ribs and take away gnawing spiritual hunger pains amid so much other pain and turbulence in nearly every domain of my life.
Peter and the eleven did not know what was in store for them. What they did know is that this was not their father's Oldsmobile messiah—old or new. All but Judas realized that Jesus has the words of eternal life.
Jesus utters hard words, like eating his body and drinking his blood. Jesus provides comfort and peace, but not the kind that entails removal of all discomfort and turmoil. He is my stillness in the storm and sustenance in the face of scarcity. He has the words of eternal life. Where else will I go in times of crisis?
Where will we go when we experience relational, psychological, mental, physical, financial, and societal loss? To whom will we go in times of crisis?