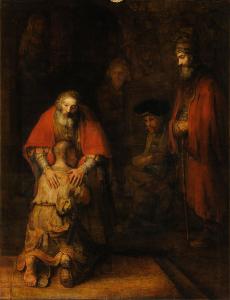 One of the most pressing challenges facing society at large is the temptation to reduce all relationships to transactions whereby we commodify life. It gives rise to a throwaway culture. God calls us to resist this trend. May we cherish life and our relationships in view of how God restores humanity as the divine masterpiece in view of Jesus.
Pope Francis addressed this subject back in 2014. He claimed that we live in a "throwaway culture." Whereas for Pope Francis, "human life is sacred and inviolable," by and large, we live within the framework of an "economy of exclusion and inequality." The Pope reflected further: "This economy kills. Human beings are themselves considered consumer goods to be used and then discarded. We have created a 'throwaway' culture which is now spreading."
I am very thankful that the biblical story counters a throwaway culture paradigm. God does not throw away humans or the world at large. If that were the case, God would not have become flesh and blood to heal and transform the creation through the Son in the power of the Spirit.
The creation is like a beautiful mural in which humanity is the featured subject. And yet, human sin and depravity have so marred the masterpiece that God determines to restore and transform it. Instead of throwing away the canvas that has been so severely stained, God determines to repaint it by sending his Son to serve as the model for the masterpiece. St. Athanasius reflected upon this truth in The Incarnation of the Word:
You know what happens when a portrait that has been painted on a panel becomes obliterated through external stains. The artist does not throw away the panel, but the subject of the portrait has to come and sit for it again, and then the likeness is re-drawn on the same material. Even so was it with the All-holy Son of God. He, the Image of the Father, came and dwelt in our midst, in order that He might renew mankind made after Himself, and seek out His lost sheep, even as He says in the Gospel: "I came to seek and to save that which was lost." This also explains His saying to the Jews: "Except a man be born anew . . ." He was not referring to a man's natural birth from his mother, as they thought, but to the re-birth and re-creation of the soul in the Image of God. (Chapter 3.14)
If God thought of us as cheap, mass-produced copies of a painting, perhaps God would have no difficulty throwing each of us away. But each of you is an original—more valuable than a great Rembrandt, Hokusai, Monet, Van Gogh, or Picasso. We need to cherish human life and the entire creation, for all life is sacred and the work of the divine artist.
Speaking of Rembrandt, consider his painting inspired by Jesus' parable of the Prodigal Son (shown here) recorded in Luke 15. The father does not discard his son, who demands his inheritance while the father is still alive. The son then departs with his riches to spend it all on life in the fast lane. Later, he returns home in rags, broken down, perhaps feeling deeply scarred like damaged goods. He begs his father to take him back as a servant. Though he has dishonored his father and shamed the family name, the father does not cast him aside or throw him away. Nor does his father begrudge his request to be welcomed back as a servant. Rather, the father welcomes the young man back with open arms as his long-lost and cherished son: "… the father said to his servants, 'Quick! Bring the best robe and put it on him. Put a ring on his finger and sandals on his feet. Bring the fattened calf and kill it. Let's have a feast and celebrate. For this son of mine was dead and is alive again; he was lost and is found.'" (Luke 15:22-24; NIV)
How might this perspective influence us in our various relationships, exchanges and conversations, our public discourse, and engagement on social media? If God does not throw us away, how might we live in relationship with others? Rather than throw one another away or cast each other aside once life together gets a bit challenging, a little dull and tarnished, might we not try to restore and heal our relational connections?
Of course, we will need the master artist to help us. The stains run too deep for us to restore ourselves, our relationships, and society at large. Thank goodness God does not limit his care for us to cosmetic surgery. Rather, God operates at the deepest level to recreate each and every soul through the Spirit. Rather than throw away the canvas, God repaints the human portrait in view of Jesus, the supreme image of God.
You and I are not damaged goods. God longs to restore and transform us, and the creation at large, in view of Jesus rather than throw us away. After all, you are God's masterpiece!
I address this theme at length in my forthcoming work, More Than Things: A Personalist Ethics for a Throwaway Culture (IVP Academic, 2023).