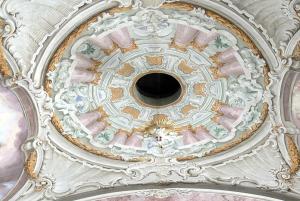 My son Christopher's catastrophic brain injury over two years ago left a giant size hole in my family's collective heart. It's really hard to patch it up when various ordeals keep tearing away the scab and create an open wound. But it is this very hole through which the Holy Spirit can flow to bring healing and anointing in various ways. On Pentecost Sunday, I call to mind the "Holy Ghost Hole" found in medieval church architecture. You can find the Holy Ghost Hole in the ceilings of many medieval churches and cathedrals. The hole symbolized the Holy Spirit's entrance in congregational life. It is important that Jesus' followers remain attentive to the Spirit's entrance not only on Pentecost Sunday, but every day. This post is about the importance of keeping our eye fixed on the Holy Ghost Hole. It is important that we always look to the Holy Spirit to flow through the open wounds and holes in our hearts not just on Pentecost, but every day of the year. May we not become callous and crippled by tragedy, bitterness, hate, and cowardice, but filled daily with the life-giving power of God's holy and courageous love to bring new life.
I mentioned above that it is very hard to patch up the hole in my family's heart. And yet, the Holy Spirit has a way of flowing through that hole in life-giving ways. It reminds me of Jesus' wounds in which Thomas placed his finger and hand following the Lord's resurrection from the dead. Jesus invited Thomas to put his finger and hand in his fresh wounds so he might fully believe. Rather than become bitter, Jesus used the occasion to make his people better. The same can be true for each of us concerning our various ordeals and tragic situations. Rather than seek to get even, Jesus made his people whole through the outpouring of his holy love and the descent of the Holy Spirit at Pentecost. Will I try to plug the hole in my heart with the scar tissue of bitterness, or keep my eyes on the ascended Lord and that Holy Ghost Hole? How about you?
The other night, I was talking to one of my son Christopher's CNAs (Certified Nursing Angels). She was in awe of how healthy and fit Christopher is, even now after two-plus years of lying on his back. She said he has very fine muscle tone and is so strong. Another CNA concurred. I shared with them what transpired two Fridays ago when I accompanied Christopher to ER at the local hospital so they could replace his PEG-tube that had developed a gaping hole. A nurse and CNA at the hospital could not hold down his right arm when they tried to insert the needle for an IV for nutrition. I had to assist the two of them. They couldn't believe how strong Christopher is. Similarly, our medical advisor throughout this entire ordeal, Dr. Potter has also said it is quite remarkable how few health concerns Christopher has had despite the TBI and bed-ridden state. As the CNA said to me the other night, Christopher must have friends in high places. I should check this morning when I visit Christopher if there is a hole in his ceiling!
Every ordeal, every tragedy, is an occasion for God to work miracles. Think of Jesus' crucifixion. It did not end there. The resurrection, ascension, and Pentecost followed. Like my Lord, whose name my son bears, Christopher was counted out early by many medical experts and personnel, but not those with greater understanding of the mystery of the brain and every individual human person. I still remember how one surgeon said that in his estimation Christopher would never awake. A neurosurgeon later apologized for his colleague's remark and said something to the effect of "We just don't know. It's beyond my pay grade. The brain is just so mysterious." The neurosurgeon kicked the determination regarding Christopher's ultimate prognosis upstairs, as if he were pointing to the Holy Ghost Hole in the ceiling.
How pleasantly surprised they would be if they were informed of a neurologist's declaration months later that Christopher had progressed to a minimally conscious state. No doubt, those who gave disheartening reports on his MRIs would be dumbstruck that Christopher has since spoken contextually fitting statements on at least a few occasions. Dr. Potter has claimed that the MRIs did not adequately reveal what was still intact. I for one am amazed that despite how far Christopher has yet to go to experience meaningful recovery, his journey is by no means meaningless and a cause for defeat in bitterness. Christopher, whose name means "bearer of Christ," bears witness to the Lord. As the old saying goes, you can't keep a good person down.
I woke up in the middle of the night yesterday and cried out with a hearty laugh, "I don't believe less in God, but more in God," in the face of our relentless ordeal. Believe me. There have been times when I was tempted to ditch the faith these past two years. But somehow or another, and not by my own capacity, I kept looking to the Holy Ghost Hole for God to enter the picture.
So, it was for the early Christian community. Faced with the tragedy of Jesus' horrifying crucifixion and defeat in death, they could have thrown in the towel. But the empty tomb and Jesus's appearance in their midst despite barricaded doors extinguished their fear and cowardice. Jesus' invitation to Thomas to place his finger in the hole of his hand and Thomas' hand in the hole in Jesus' side opened their minds to God's unfathomable ability to make a way out of no way. Open wounds can serve as the occasion for God's holy love and resurrection power to flow through.
Many days later, the disciples watched Jesus ascend to heaven. They stood there looking into the sky until angelic messengers encouraged them that Jesus would return in like manner. Until then, they needed to be keeping their eye on the Holy Ghost Hole. After all, as Jesus himself said, "…you will receive power when the Holy Spirit comes on you; and you will be my witnesses in Jerusalem, and in all Judea and Samaria, and to the ends of the earth." (Acts 1:8; NIV)
No matter where you and I live, no matter the size of the hole in our hearts, we can be the occasion for divine visitation. May we be eagerly waiting and watching for the Holy Ghost hole to open before us, not just on Pentecost, not just in Jerusalem. Come, Holy Spirit, and fall upon the grief stricken in hospital rooms and care facility corridors, at grave sites on memorial days and anniversaries of loss. Raise up the downtrodden to new life. Put the wind of your holy love in their sails.
You can find and read the various posts (not all of which are here at Patheos) dating back to the beginning of this journey with TBI at this link. Thank you for your prayers! God bless you in your own faith journey as you keep looking with expectancy to the Holy Ghost Hole!