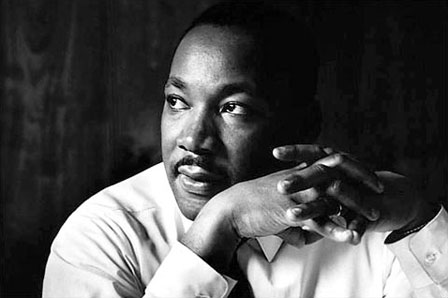 From the Rev. Dr. Martin Luther King's sermon on loving your enemies:
There's another reason why you should love your enemies, and that is because hate distorts the personality of the hater. We usually think of what hate does for the individual hated or the individuals hated or the groups hated. But it is even more tragic, it is even more ruinous and injurious to the individual who hates. You just begin hating somebody, and you will begin to do irrational things. You can't see straight when you hate. You can't walk straight when you hate. You can't stand upright. Your vision is distorted. There is nothing more tragic than to see an individual whose heart is filled with hate. He comes to the point that he becomes a pathological case. For the person who hates, you can stand up and see a person and that person can be beautiful, and you will call them ugly. For the person who hates, the beautiful becomes ugly and the ugly becomes beautiful. For the person who hates, the good becomes bad and the bad becomes good. For the person who hates, the true becomes false and the false becomes true. That's what hate does. You can't see right. The symbol of objectivity is lost. Hate destroys the very structure of the personality of the hater…

Now there is a final reason I think that Jesus says, 'Love your enemies.' It is this: that love has within it a redemptive power. And there is a power there that eventually transforms individuals. That's why Jesus says, 'Love your enemies.' Because if you hate your enemies, you have no way to redeem and to transform your enemies. But if you love your enemies, you will discover that at the very root of love is the power of redemption. You just keep loving people and keep loving them, even though they're mistreating you.

Here's the person who is a neighbor, and this person is doing something wrong to you and all of that. Just keep being friendly to that person. Keep loving them. Don't do anything to embarrass them. Just keep loving them, and they can't stand it too long. Oh, they react in many ways in the beginning. They react with bitterness because they're mad because you love them like that. They react with guilt feelings, and sometimes they'll hate you a little more at that transition period, but just keep loving them. And by the power of your love they will break down under the load.

That's love, you see. It is redemptive, and this is why Jesus says love. There's something about love that builds up and is creative. There is something about hate that tears down and is destructive. So love your enemies.
Responding to hatred with love is a recognition that there is no ontological difference between the hater and the hated. People in the South (and the North) who tried to push African-Americans out of public life and, for all intents and purposes, out of the shared community of humanity, were living within a narrow, pinching understanding of who was a person.
Continuing to love people who are being hateful is a rebuke to the impulse to throw people away. A person might be very far from, as King put it in his sermon "hav[ing] agape in your soul" but the fact that the person has an agape-shaped hole, that could be filled up, is reason enough to do what you can to mend the wound and repair the deficiency.
Reading this sermon, I was reminded of one passage from G.K. Chesterton's Orthodoxy:
Perhaps the nearest we can get to expressing it is to say this: that his mind moves in a perfect but narrow circle. A small circle is quite as infinite as a large circle; but, though it is quite as infinite, it is not so large. In the same way the insane explanation is quite as complete as the sane one, but it is not so large. A bullet is quite as round as the world, but it is not the world.

There is such a thing as a narrow universality; there is such a thing as a small and cramped eternity; you may see it in many modern religions. Now, speaking quite externally and empirically, we may say that the strongest and most unmistakable mark of madness is this combination between a logical completeness and a spiritual contraction. The lunatic's theory explains a large number of things, but it does not explain them in a large way.

I mean that if you or I were dealing with a mind that was growing morbid, we should be chiefly concerned not so much to give it arguments as to give it air, to convince it that there was something cleaner and cooler outside the suffocation of a single argument…

[I]t might be the third case, of the madman who called himself Christ. If we said what we felt, we should say, "So you are the Creator and Redeemer of the world: but what a small world it must be! What a little heaven you must inhabit, with angels no bigger than butterflies! How sad it must be to be God; and an inadequate God! Is there really no life fuller and no love more marvellous than yours; and is it really in your small and painful pity that all flesh must put its faith? How much happier you would be, how much more of you there would be, if the hammer of a higher God could smash your small cosmos, scattering the stars like spangles, and leave you in the open, free like other men to look up as well as down!"
Martin Luther King's love, expressed through non-violence, was a way of offering a gift to people trapped in the very small circle of racism. There was a much bigger and more beautiful world around them, with more people to offer and receive agape than they were able to believe.
May we be able to offer others agape strong enough to smash their small circles, and may others offer us the same mercy, since, from inside our cramped eternities, we don't know to ask for them.