---
UNFAIR: Christians and the LGBT Question by John Shore
Softcover | Kindle edition | NookBook edition
Direct from author, autographed and inscribed according to your directions
Shore is one of America's leading writers on the subject of the relationship between LGBT people and Christianity. His essays are widely credited with being central to the sea change in Christian thinking that has occurred on this issue in recent years. UNFAIR offers the best of Shore's writings on homosexuality and Christians/Christianity, along with heart-wrenching letters from gay people telling what it's like to grow up, and live today, both gay and Christian.  The opening chapter of UNFAIR is: Taking God at His Word: The Bible and Homosexuality.
"To find out why I've called John Shore America's preeminent non-douchey Christian, buy and read this book." — Dan Savage (American Savage, Savage Love, founder of the It Gets Better Project)
---
Seven Reasons Women Stay in Abusive Relationships, And How To Defeat Each One of Them by John Shore
Paperback | Kindle edition | NookBook edition
Since its publication thousands of women have used John Shore's revelatory Seven Reasons Women Find Themselves in Abusive Relationships to completely and permanently turn around their lives. Penetratingly clear and breathtakingly insightful,Seven Reasons is a must-read for any woman ensnared in a physically or emotionally abusive relationship. Such a relationship is like a frighteningly dark cave; Seven Reasons carefully, directly, and lovingly walks any women trapped in such a cave back out into the light. As surely as any abused woman will recognize herself in the seven reasons Shore gives for why people first get attracted to and then stuck in such relationships, she will find salvation in his prescription for defeating each one. A women in an abusive relationship has lost something core to herself; Seven Reasons restores it to her.
---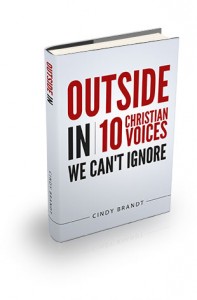 Outside In: Ten Christian Voices We Can't Ignore by Cindy Brandt
Kindle | Nook | Free W/ Newsletter Signup
Perk up your ears to the stories from the edge! Listen to ten Christian voices who help the church become a more vibrant community.
Every Christian community longs to be a place where people can connect with God and others in an authentic, life-changing way. And yet, so often there are people who struggle to find a place for themselves.
Find out more about Outside In at cindywords.com/outside-in/.
---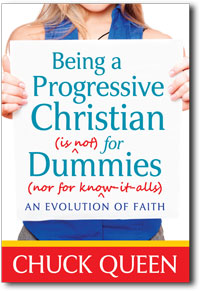 Being a Progressive Christian (is not) for Dummies (nor for know-it-alls): An Evolution of Faith by Chuck Queen
Chuck Queen explores the following themes from a distinctly progressive Christian viewpoint: Scripture, faith, Christianity, salvation, discipleship, and the Beatitudes. Each chapter consists of seven reflections; each reflection is followed by questions that probe deeper into the topic and facilitate group discussion. As an introduction to progressive Christianity, the author wrote with the church in mind, providing a good resource for church discipleship and study groups.
---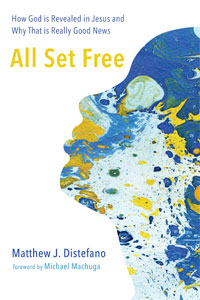 All Set Free:
How God is Revealed in Jesus and Why That is Really Good News by Matthew Distefano
What is the ending to the human drama? Will all be reconciled to God in the end? Does God demand an altar, a corpse, and blood? Or, rather, is the Christian God set apart from all the other gods throughout history?
All Set Free sets out to answer some of the more difficult questions Christians today are faced with. It will challenge the Augustinian understanding of hell and the Calvinist understanding of the atonement; replacing them with a more Christ-centered understanding of both doctrines. This book will also use the work of Rene Girard in order to reshape how many understand "what it means to be human." Then and only then should we ask: "Who is God?" Come explore what has become Matthew's theological pilgrimage to this point. Come discover the God of peace.