I'm excited to share an announcement about an upcoming theology conference (March 3-5) in Redondo Beach, California: "Enfolding Theology: Theology After God."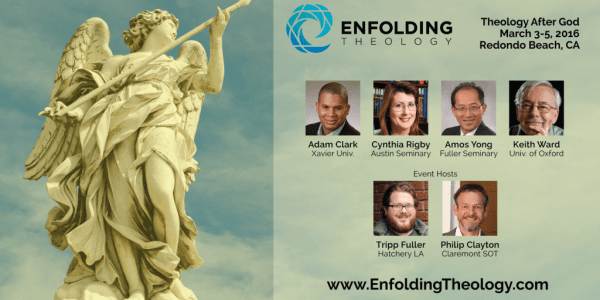 It's a pretty excellent lineup of conference speakers. And, it's in southern California.
This blog, Unsystematic Theology, is one of the affiliate sites for the conference, so we'll be promoting the conference, providing relevant links and information, as well as some theological commentary related to the conference.
One unique feature of the conference is that there will be eight, live, videoconference events leading up to the event, which will feature one of the plenary speakers. As an "affiliate," I'll also be participating in several of these video-conferences, posing questions to the speakers, and will be happy to ask some of your questions too. 
Tomorrow (Tues, Jan. 5), in fact, is the first pre-conference, live video event, with noted Arminian theologian Roger Olsen. It will take place at 1 PM Pacific Time (3 PM, Central).
For more information about and to register for the pre-conference video calls, go here .
To register for the conference itself (March 3-5), and to receive my affiliate 10% discount, use this link, and enter the promotional code: "Unsystematic Theology."
Here is Tripp Fuller, on the toilet, talking about the conference as only he can:
https://www.youtube.com/watch?v= https://www.youtube.com/watch?time_continue=64&v=i1e1rF4w_Kg
Stay tuned for more updates and information!