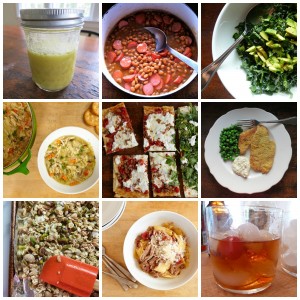 Amidst the din of global news and professional things-to-do, one of my great joys and daily forms of calming-my-soul-and-mind the past several weeks has been the recipe. What a wonderful meditative act it is to read someone else's orderly list of instructions, to follow them as closely as possible while personalizing them as appropriate and inspired, and to then have a finished, nourishing product, all in well under an hour. I've been newly energized lately by the passion and positivity of Jenny Rosenstrach, author of multiple books & many articles, including this blog based on the book by the same name: Dinner: A Love Story.
For many years (maybe even decades?) Jenny has been making a list of what she and/or her family will cook and eat for dinner during the week ahead, and keeping that in a journal that she can refer back to and see changing and evolving as her family changed and evolved, and their tastes and interests in food changed and evolved. For me and our little family, simply the act of planning ahead at least 8 hours before, if not a few days before, has brought so much more calm to our dinner experience. Long before dinnertime arrives with a sudden end-of-day lurch, recipes have been identified and a menu chosen. Groceries have already been bought. The ingredients are in the fridge. Taking the frenetic end-of-day "hangry" feeling out of our lives and knowing that all we have to do is allow at least one adult in the family to get dinner assembled has made our evenings much more pleasant. I feel very lucky to be able to get home by six p.m. most days, to be able to plan ahead and buy groceries as needed, and enjoying dinnertime more also means that we are appreciating our kid's always-fairly-late bedtime a little more, too.
We've tried a bunch of new recipes and have incorporated some old favorites into our regular rotation. I've only been keeping the "dinner journal" for about a month now, but already it's fun to look back and remind myself of what I was into cooking in mid-August — "oh yeah, let's have that again, I forgot about that!," is now my thought. Mostly I'm just grateful for the insights into ways to make cooking and preparing the daily evening meal more of a sweet enjoyment, an unwinding-and-creative time, and less of a stress event. Just quietly chopping some vegetables, following the recipe, bringing another meal into the station, another day turning towards the nighttime moon.