During my recent flight into JFK, an excitable tourist reminded me of the power of consistent vision.
I've lived in New York City for sixteen months. It's always been a dream of mine. My wife and I travel a lot, and every time we fly back into the city we love watching the energy of the skyline coming into view. This is especially true with the tourists on board.
This week, I was returning from North Carolina and I saw the most excited of all the tourists I've ever seen on a plane. When the pilot made the announcement that we were approaching JFK, this woman started darting her head around. She pushed her boyfriend forwards and backwards. She stuck her neck across the aisle and basically into the guy in that seat, like an awkward giraffe.
She was filled with so much anticipation; she literally could not contain herself. The stewardess came through the aisle at one point and had to ask her to put the backpack she had kicked, during a spasm, back under her seat.
I couldn't help but smile. The women's antics reminded me of why I came to live in this city.
Over a year ago, Kylie and I made the bold decision to follow our dreams in New York. We took a look at our passions and values, we listed ambitious goals, and we followed our hearts to New York.
After a year, it can be easy to forget. What was once new and exciting is now… home. Repetition normalizes our dreams. If we're not careful, we are chasing passion rather than accepting its fruit.
We have a false idea that our dreams coming true is like the magic moment of a Disney film lived over and over again. But life doesn't work that way.
Life is hard and confusing. It is thrilling and boring. Living your dream can be monotonous, even challenging. That's what makes it worth it.
I sometimes pretend to be too cool when the tourists on planes crane their neck to see the skyline. But I haven't been on a flight into NYC yet where I don't try to look. And as that woman huffed and wiggled like a kid ready for recess, I couldn't help but look.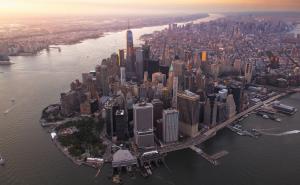 What did I see. Home. The Freedom Tower, near where my office is and right next to Ky and I's favorite movie theater. The Brooklyn Bridge that connects our home borough to our church. I could almost see the C train running beneath the river. The Empire State Building, next to a coffee shop I sometimes go to for a day of writing.
I don't see the postcard anymore. I see a home.
And how did New York get that way? By trial, struggle, the repetition, the mundane. My relationship with New York is more complicated than it was sixteen months ago. But it is better for it.
My vision often gets sidelined when struggle comes along. Or, when passion asks to manifest in discipline rather than emotion, I start to wonder if there is an easier way.
The Bible says that perseverance produces character. Perhaps our world is experience a crisis of good character because we do not have the courage to commit to our vision. We fail to understand that the very things that make it difficult are the things that make it good.
I'm glad that tourist is getting a taste of the magic of this city. And I am glad for our journey that continues to show us how deep and wonderful and tragic that magic is.
I pray that we will have the courage to commit to our vision. And I pray that I never stop glancing out the window.