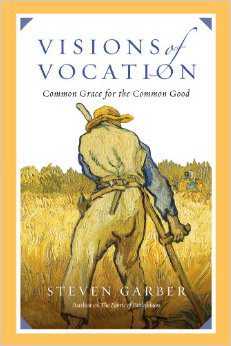 We're always so please to see that people are reading, enjoying, and taking meaning from Visions of Vocation, the new book by Steve Garber that gives its name also to this blog where Steve shares his visions of vocation. The most recent review we bumped into was several weeks ago by Susan Fiske for By Faith, the online magazine of the Presbyterian Church in America:
How can we fully know and still love? This is the question at the heart of Steve Garber's new book,"Visions of Vocation: Common Grace for the Common Good." With knowledge of brokenness, injustice, disappointment, and tragedy, how can we still love? Most of us, discovering the truth of the world, resort to cynicism and stoicism to protect ourselves from hurt and pain, says Garber. But what can we learn from those who respond differently?

Garber says he asked the question, "What is it about someone's sense of vocation that keeps them going? No one that I know well has gone unscarred in some way. People have suffered, experienced injustice, been disappointed. Yet they kept at it." "Visions of Vocation" grew out of Garber's interest in these people, and his own vocation: helping people develop visions of vocation that will keep them going without getting burned out or overwhelmed by the difficult realities in this broken world.
Susan goes on to note how the book plumbs the difference between vocation and occupation and challenges the church to take people's vocation seriously and centrally:
Garber says that, tragically, the church often fails to teach the centrality of vocation. Part of his mission is correcting that error: "What we teach pastors is that vocation is integral, not incidental to the mission Deo, the mission of God."…..

Garber defines our vocation as human beings as imitators of Christ, who took on the most difficult task imaginable. "To choose to know, and still love, is costly; it was for God, and it is for us. … God knows us and still loves us. That is the heart of the incarnation."

"Visions of Vocation" illustrates the immensity of our calling through stories of those who dared to step into the mess of the world, undeterred by dirty feet. As we read, we're challenged to ponder the question in our own lives: Because Christ has known and loved me, how can I know and still love the world?
Check out the rest of the review over at ByFaith. If Steve's book has been meaningful to you, we'd love to hear from you, too!