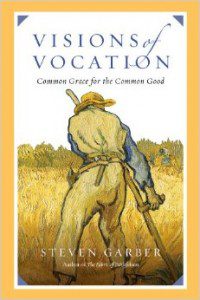 We're always happy to run into evidence that people are reading and enjoying Steve Garber's Visions of Vocation.  Here's a recent sampling:
Ken Camp, The Baptist Standard: "Garber challenges Christians to embrace realism and "make peace with the proximate," even while working toward elusive goals. We cannot do everything or achieve all we might desire, but we can do something and achieve some measure of success. And in the striving, God's people find fulfillment."
Doug Smith, DougSmithLive.com: "As soon as I started reading this book, I could not put it down.  All other reading was put on hold. This book is a game changer. I recently wrote an entire blog post on the primary challenge Visions of Vocation presents: Knowing what you know about the world, what will you do?  That question will go with me everywhere I go and challenge me in everything I do. This book will challenge for you to take responsibility, for loves sake, for the way the world turns out."
Kristine Morris, Foreword Reviews:   "A vocation is much more than a job, writes Steven Garber in this book for all who want their work life to reflect their innermost beliefs and values."
Have you read the book? What do you think?  Let us know, and your review just might appear in this space!