On my last trip to Jamaica after a heartfelt conversation with a Rastaman I found sleeping on the beach at sunrise, I finally asked him what he thought the key to Caribbean culture and spirit was? He responded simply "Love and pain."
I think those words are very wise. In a way I think that is what the soul of voodoo is about too. That's some big stuff, Love and Pain. I've done psychic readings professionally for over 20 years now, and I used to answer the phone to my customers "Love or money?" I stopped phrasing things that way, it was love most of the time anyway, because that's what makes the world go 'round according to my vintage music box. And for better or worse Love can help the pain go away.
My advice to those seeking love help with a spell is a simple few things: Be careful what you wish for; Be open and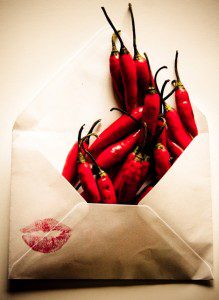 available; Think outside the box ( that may be a pun.) Your self and your environment should be physically and spiritually clean before you begin creating. Light white candles, black candles, sprinkle sea salt and use whatever methods you usually do for cleansing.
I can't guarantee the results, but if you follow the instructions I have given you should be headed in the right direction. I do guarantee all the psychic work and formulas I personally create so if you want something that isn't listed below please contact me at voodoouniverse@yahoo.com
The following spells are designed to be created as oils in a Sweet Almond base. These can be worn on your body, a few drops can be placed in the bath or floorwash, or you can use it to anoint a candle. The possibilities are endless.
Love Potion #9
This formula will change things up in your love life, bring you new insight and opportunity for growth.
3 drops Bergamot Oil
5 drops Cinnamon Oil
3 drops Jasmine Oil
3 drops Magnolia Oil
Sweet Almond Oil (base)
Love Potion #10
Use this for strengthening a union, cementing a bond of love, deepening your connection.
5 drops Rose Otto Oil
5 drops Honeysuckle Oil
5 drops Gardenia Oil
pinch Garnet Dust
Sweet Almond Oil
Love Potion #11
Sex in a bottle. L'amour Fou. La Petit Mort. 'Nuff said.
9 drops Musk Oil
3 drops Patchouly Oil
9 drops Ylang Ylang Oil
5 drops Amber Oil
Sweet Almond Oil
To find these oils please check out the link to our store above, and for more recipes for love, money and more please see my African-American Ritual Cookbook, and Good Luck!