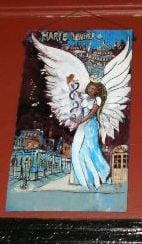 People have been singing about Marie Laveau probably since the time she was born. This famous Voodoo Priestess is the stuff of legend. People sing her praises, people sing to warn others of her power, people sing to remember. If you would like to know more about her legend and lore please read the Real Voodoo Queen Marie Laveau.
The most popular Marie Laveau song is probably the one written by Shel Silverstein. Mitch Myers is Silverstein's nephew and he gives us this information about the creation, " Marie Laveau has been described and conjured in history books and legends of voodoo women in New Orleans for decades and decades….I don't know how far back it goes, to the early 1900s or whenever, but the legend of Marie Laveau has been repeated in books, in song, in poems, every way you can." Silverstein's version was first recorded by Dr. Hook
This particular "Marie Laveau" song however, was made most famous by Bobby Bare. Here he is doing a live version from Rotterdam.
There is no doubt that Marie Laveau was a legend, and there are quite a few New Orleans legends that have chosen to sing about her. Oscar "Papa" Celestin was a New Orleans Jazz pioneer, even Louis Armstrong was his second coronet in the early 1920's. He died in 1954, not long after recording his "Marie Laveau " tribute. His classic can be heard here.
The HBO show
Treme
even gave a shout out to Marie Laveau and Papa Celestin with actor Wendell Pierce's character, Antoine Batiste, using it to explain traditional musical call and response.
There are a lot of traditions in New Orleans. It's almost Mardi Gras day when I write these words, and my regular blog guests ( I love you guys) will know I've been writing about the history and heritage of the Mardi Gras Indians. So in the spirit of the great spirit, here is Big Chief  of the Flaming Arrow Warriors, Alfred Doucette singing his homage to Marie Laveau.
There is even an opera for this Voodoo Queen, written by John Carbone. It is clear the power of this honored Voodoo ancestor reaches far and wide. However, no musicology for Marie Laveau would be complete without a shout out to New Orleans living legend Dr. John, Mac Rebennack. His "Marie Laveau" is included on his N'Awlinz Dis Dat or D'udda. The lyrics are strong and powerful, like Marie Laveau herself.  "She made gris-gris, with an old ram horn, Stuffed with feathers, shuck from a corn. A big black candle, and a catfish fin, she make a man get religion, and give up his sin." Marie Laveau also takes center stage in Dr. John's song "Walk on Gilded Splinters." Here is a beautiful live version, shot by James Demaria and featuring yours truly dancing along. Enjoy and have a Happy Mardi Gras!